Protection module expired
One or more of your endpoints is displaying one of the following security statuses in the Network page:
Computer managed, with issues, online.

Computer managed, with issues, offline.
When checking the individual endpoint status, the Protection layers section under the General tab shows the Expired status: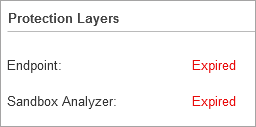 If you encounter endpoints with one or more expired protection modules, follow these steps:
Check your license for available seats and the expiry date (if applicable):

Log in to GravityZone.

Click on your profile in the upper right side of the screen.

From the drop-down menu, select My Company.

In the Licensing tab, check the remaining available licenses in the License Usage Details section.

Note

For more information on reading license information, refer to Licensing

Ensure endpoint communication with the Communication Server.

If endpoint communication is configured through a relay, or if it has a Security Server assigned, make sure that the communication channels are not restricted.

You can find a list of all the required ports and addresses for in the GravityZone Communication Ports .