Once created, you can view the company accounts in the Companies page, together with information regarding the company, products used, and licensing.
To quickly check license usage for a company (including client networks for partner companies), view the details in the Usage breakdown column.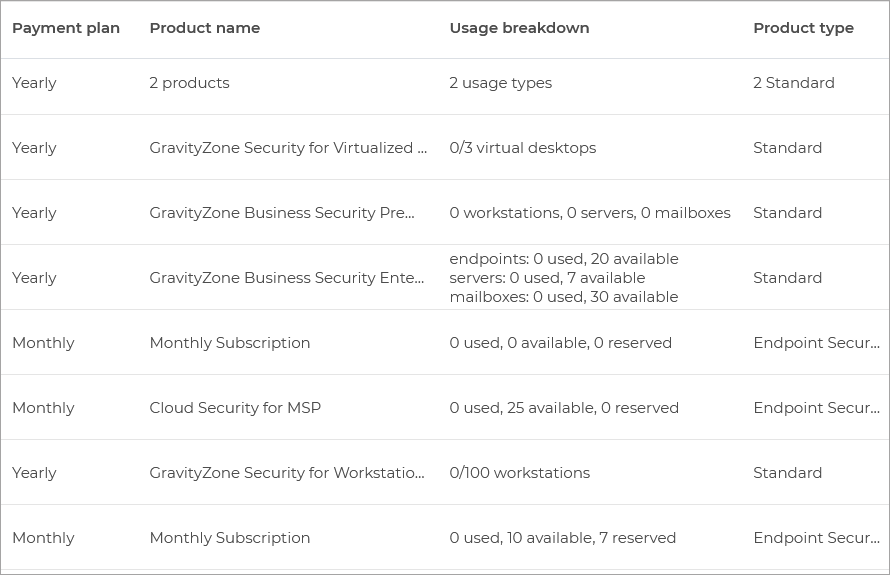 The usage information is displayed differently depending on your license type.
It can be shown as a simple a/b representation, where a is the number of used seats and b is the total number of seats, or by using a combination of the following terms:
endpoints - Shows the total number of seats, ensured either through reservation or a license key.

Note

Some licenses offer seats only for specific endpoints. In these cases, the usage is broken down by endpoint type: workstations, servers, physical workstations, physical servers, virtual desktops, and virtual servers.

used - Shows the number of seats used from an active license. A license seat is used when the Bitdefender client has been installed on an endpoint.

available - Informs you about the number of endpoints you can allocate a seat to so the maximum allocated value is not exceeded.

reserved - Shows MSP companies the total number of seats that a partner company has reserved for its clients.

mailboxes - Informs you about the number of protected mailboxes, if the company's license also includes the Security for Exchange service.
To make sure the latest information is being displayed, click the

Refresh button. This may be needed when you spend more time on the page.
You can also view detailed information about licenses in the following reports: