The Bitdefender GravityZone Email Security is a cloud-driven email security gateway able to protect any type of email service against various types of email-centric threat vectors.
The Bitdefender GravityZone Security for Email provides the following features:
Policy Engine is an out of the box system to control email delivery and filter messages through a comprehensive rule builder.

Connection Rules monitors connection attempt to and from mailboxes.

Email Authentication supports SPF, DKIM, and DMARC.

User Synchronization manages Active Directory users and groups.

Mailbox Synchronization synchronizes Microsoft Azure Active Directory.

Antispam technologies detect spam and sophisticated targeted phishing attacks.

Antimalware uses security content and behaviour to detect malware.

Quarantine uses a company-wide policy.

Safe and Deny Lists configures individual and company-wide lists.

Executive Tracking List detects users' real names within the header and envelope address fields to protect against impersonation attacks.

Disclaimer adds an HTML text disclaimer to outbound emails.

Reports and Charts provide detailed visibility of mail flow, triggered rules, and taken actions.

Scheduled Reports link reports to schedules and sends alerts to recipients.

SecureMail adds an additional layer of security to emails by only allowing access to the contents of said email through an end user portal.

AD connect provides automatic integration and synchronization with Active Directory groups.
Email Security

documentation
This chapter contains all available Email Security documentation.
GravityZone Security for Email

mail flow
GravityZone Security for Email uses MX record redirect and outbound "Smart Host" configuration to control the mail flow.
The following diagram shows the relationships among the GravityZone Security for Email components.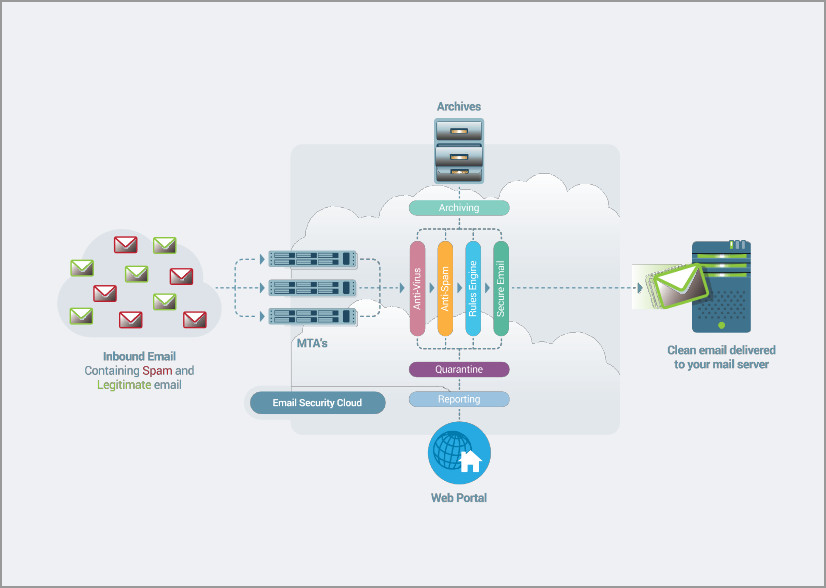 Bitdefender GravityZone Security for Email is available in the following languages: