The Patch Management module releases you from the burden of keeping the endpoints updated with the latest software patches, by automatically distributing and installing patches for a vast variety of products.
Note
This module is available for:
Windows for workstations

Windows for servers

The following Linux distributions: CentOS, RHEL, and SLE. For details, refer to Patch Management.
Note
Availability and functioning of this feature may differ depending on the license included in your current plan.
The Patch Management section in the policy settings displays the assigned maintenance window that controls automatic patch assessment and installation.
Before assigning it, you need to have a maintenance window configured. For details on the Patch Management module and maintenance windows configuration, refer to Maintenance Windows.
Assigning a maintenance window to a policy
To apply Patch Management settings into your network, you need to assign the maintenance window to a policy.
Note
To assign a maintenance window created for other company, you have to log in
to GravityZone as an administrator of that company.
This is how you assign the maintenance window to a policy:
Go to Policies and click Add to create a new policy, or open an existing one to edit it.

In the Patch Management section, click the field next to Maintenance windows and make a selection from the drop-down list.

The list includes all the maintenance windows created by you and other users, if they have shared permissions.

Click Save to confirm the action.
Once the maintenance window assigned to the policy, the Patch Management section will display a summary that includes:
Maintenance window name

Targeted operations (Scan for patches / Apply patches)

Patch scope (Security / Non-security)

Recurrence

Reboot details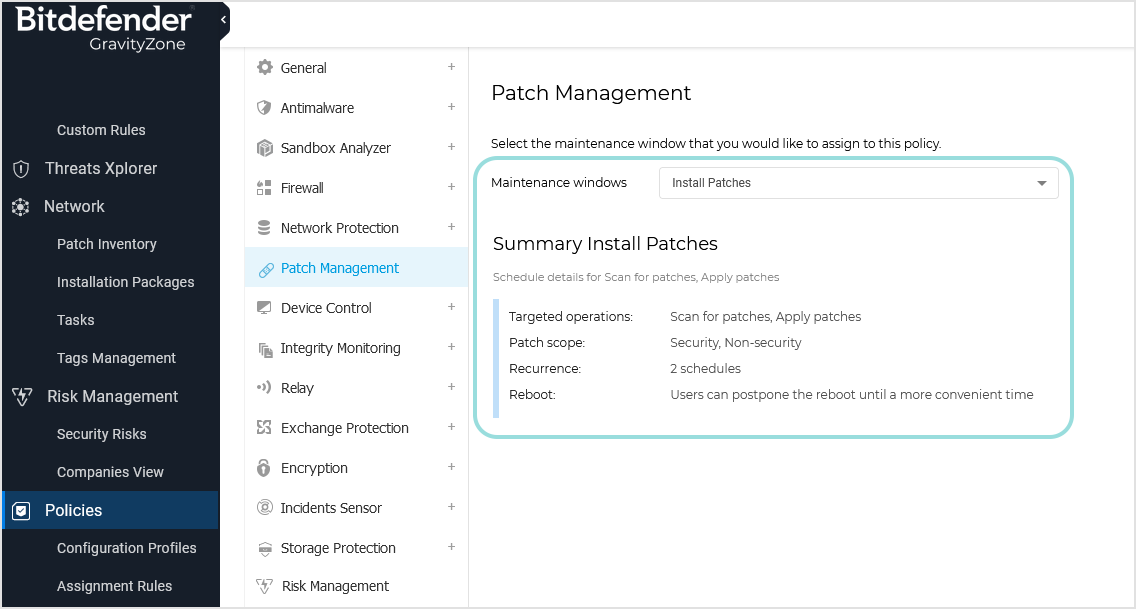 You can assign only one maintenance window per policy. To assign the same maintenance window to multiple policies, you must edit each policy one by one.
To remove a maintenance window from a policy, choose No maintenance window selected from the drop-down list next to Maintenance windows. After you confirm your choice and click Save, the Patch Management module becomes inactive.
To learn how to manually install, uninstall, scan for patches and take various other actions, refer to Patch Inventory.