Full Disk Access is not granted for
Bitdefender Endpoint Security Tools

after upgrading to macOS 13 Ventura
This article helps you troubleshoot an issue with existing installations of Bitdefender Endpoint Security Tools that occurs after upgrading to macOS 13 Ventura.
After upgrading to macOS 13 Ventura, Bitdefender Endpoint Security Tools informs you that Full Disk Access is not granted for the BDLDaemon.app file: "Bitdefender requires permissions for these modules to work properly: Advanced Threat Control, Antimalware On-Access, and Endpoint Detection and Response".
Further, you are asked to enable Full Disk Access permissions for the BDLDaemon.app component.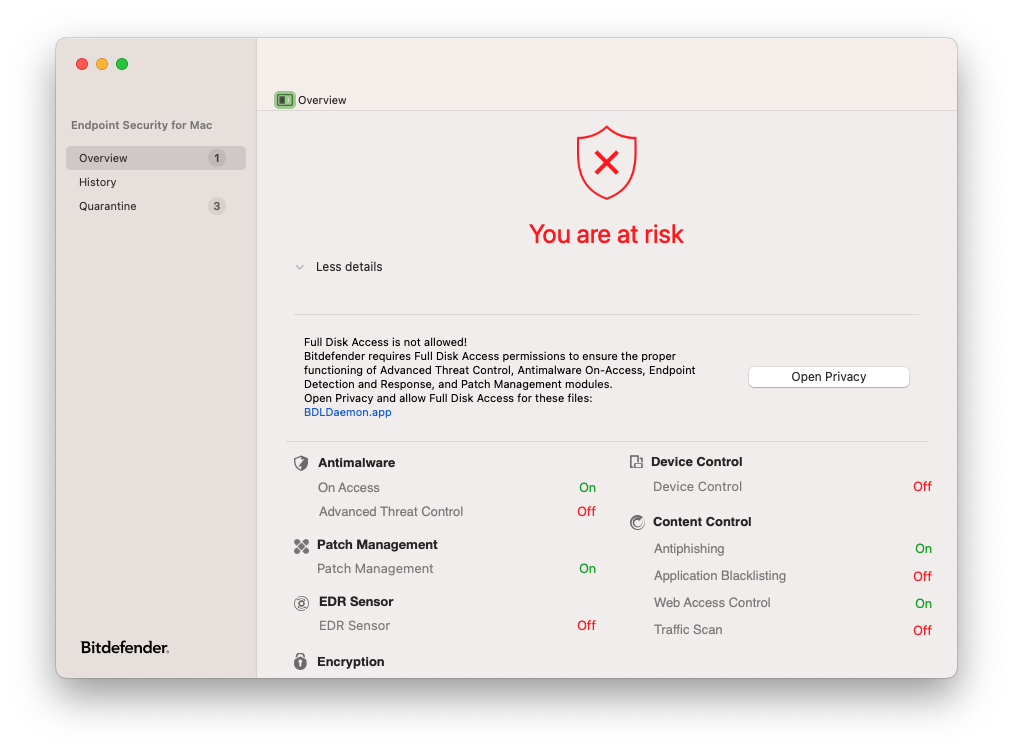 However, when checking the Full Disk Access permissions, you notice that BDLDaemon is already enabled.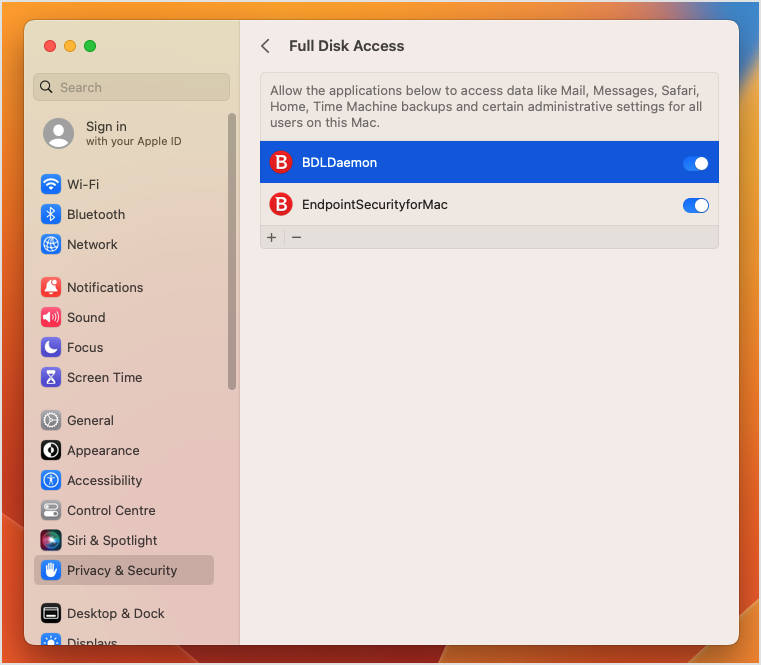 This is a known issue also described by Apple in the release notes for macOS 13 Ventura.
This situation happens due to a macOS issue that affects the existing installations of Bitdefender Endpoint Security Tools.
To fix it, you need to remove the BDLDaemon entry from the Full Disk Access list and add it back. Follow these steps:
On Mac, go to System Settings > Privacy & Security.

Select Full Disk Access and click - (minus) to delete BDLDaemon from list. If you just disable it, the issue still occurs.

After deleting, BDLDaemon automatically reappears because the operating system detects it, but it is disabled.

Click the on/off toggle to enable BDLDaemon and wait for 60-70 seconds.

BDLDaemon now has Full Disk Access permissions and the issue disappears from the BEST interface.