A new configuration profile: Maintenance Windows for
Patch Management
A new configuration profile is coming to GravityZone with Q4 2021 release: Maintenance Windows for Patch Management, which will include all the settings for this module previously found in Policies.
Overview
Bitdefender continues its advancements in modernizing the GravityZone platform by adding a brand-new configuration profile type: Maintenance Windows.
The Configuration Profiles section was introduced in July 2021 in the GravityZone platform, with its first implementation deemed to modernize how the users interact with the global Antimalware exclusions. The section was designed to help users define multiple configuration profiles that can be reused and combined across one or more policies.
The Maintenance Windows feature has been built to give control to GravityZone administrators during the day, when they can perform maintenance operations on managed endpoints without hindering the end user experience. This approach allows endpoint users to continue their work uninterrupted, but it also enforces a hard limit for the security operations to be performed.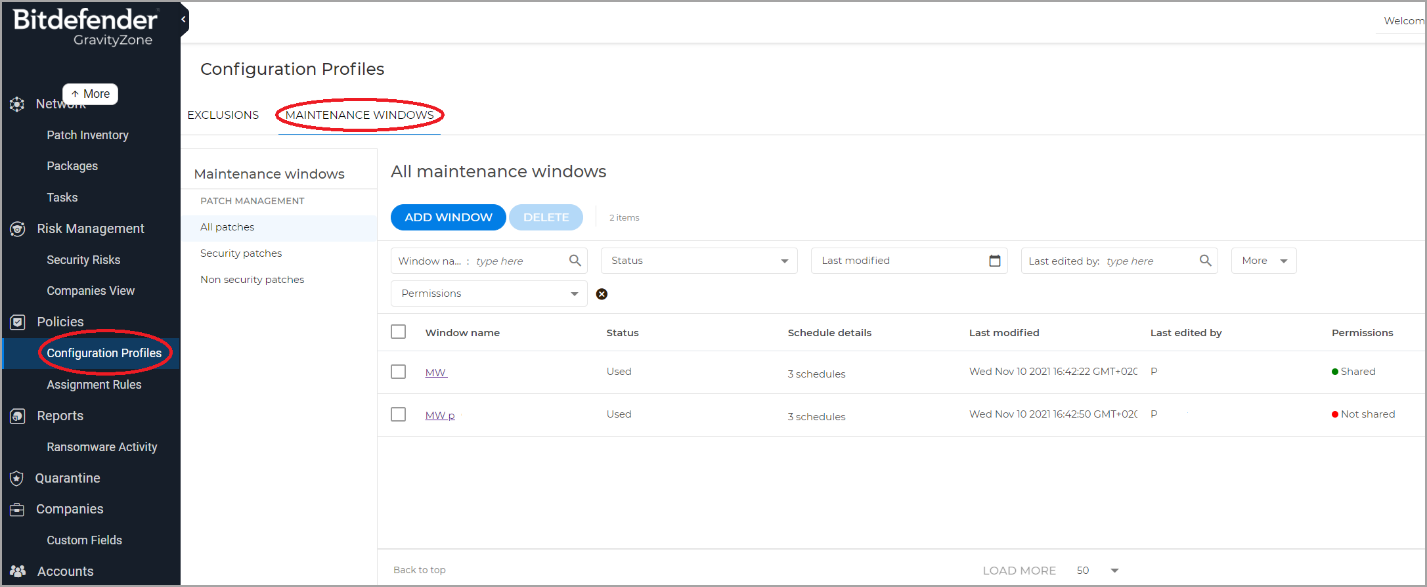 How do maintenance windows work?
In the Configuration Profiles section of Control Center, GravityZone administrators with a Patch Management license will be able to add maintenance windows for patch scanning and patch installation operations. Administrators will have extensive control over the actions taken from GravityZone perspective – they can decide with high precision what operation happens and when.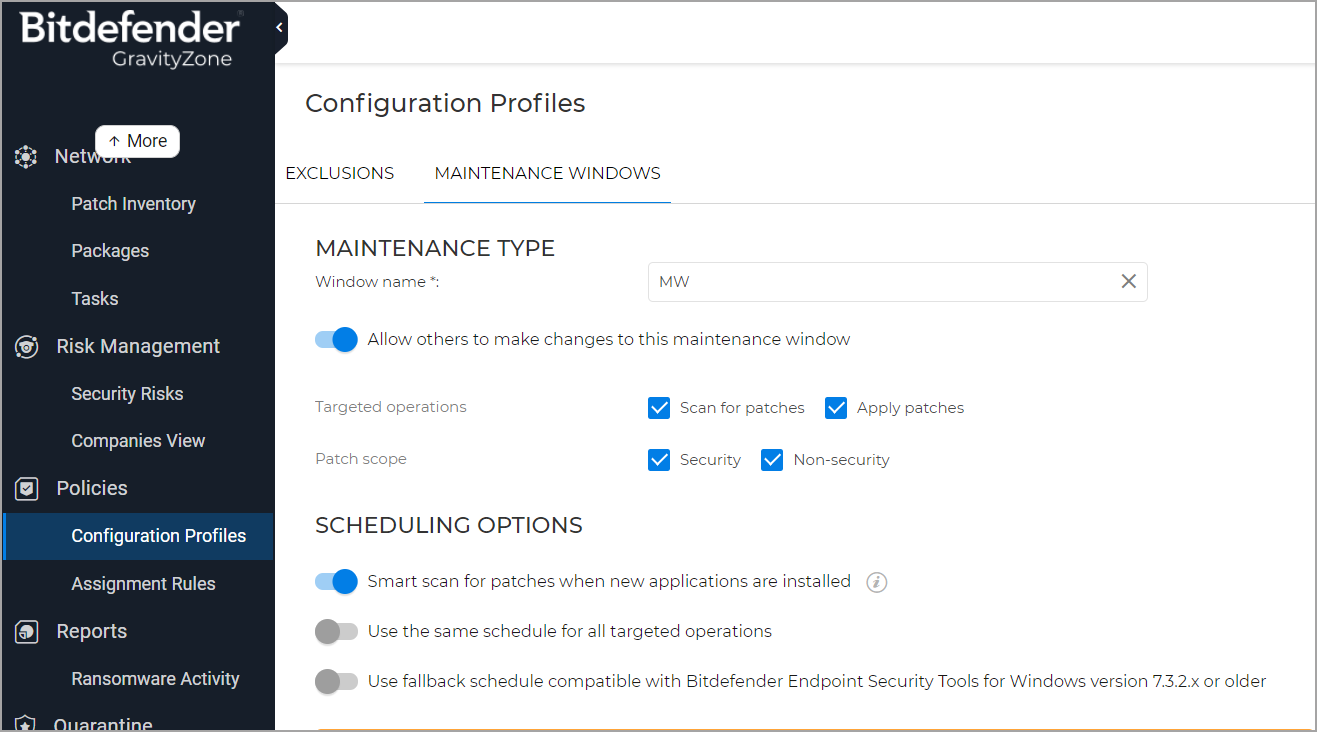 Maintenance Windows settings will provide unprecedented flexibility regarding time intervals and recurrence, whether the operations you want to happen daily, weekly, monthly, or even every few months. For example, you can set patch scanning or patch installation once a month on the third Wednesday, starting 15 December 2021, between 16:00 and 17:00.
When required for completing a patch installation, endpoint users can restart their machines right away, postpone the alert, or pick a more convenient time within a specific interval.

As a GravityZone administrator, you can share maintenance windows with other users for increased visibility and productivity, and you can use them in as many policies as needed. You can view the maintenance window assigned to a policy under the Patch Management section.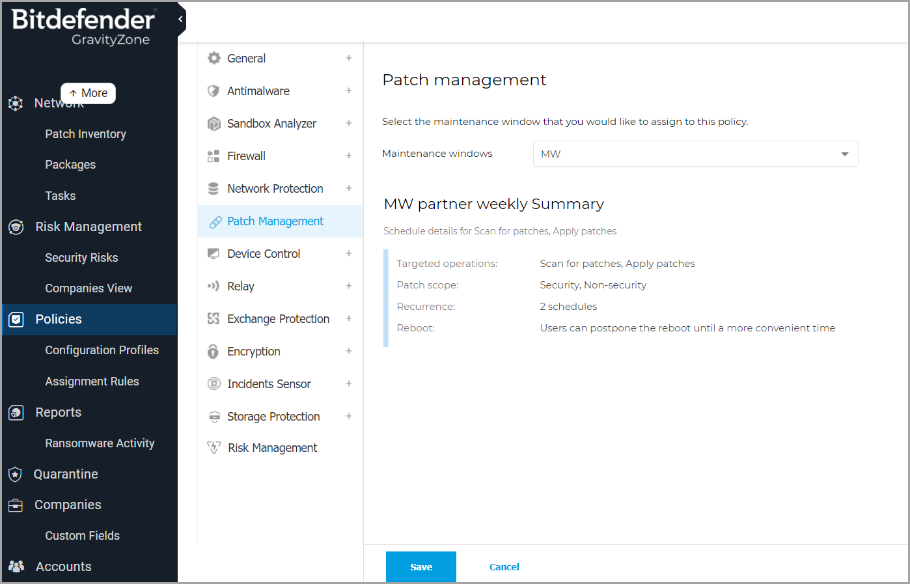 Release dates for
GravityZone

with Maintenance Windows for

Patch Management

The GravityZone release for Q4 2021 will be available as follows:

GravityZone Cloud
02 December 2021 - Cloud EU

06 December 2021 - Cloud US
GravityZone On-Premises
07 December 2021 - Wave #1 (Single appliance with all roles, less than 50 endpoints) 

09 December 2021 - Wave #2 (Single appliance with all roles, more than 50 endpoints) 

13 December 2021 - Wave #3 (Multiple appliances)
How is this impacting you?
This Maintenance Windows functionality only applies to GravityZone customers that have a valid Patch Management license.
If you already have at least one policy with the GravityZone module active, all related settings will be automatically migrated to a maintenance window in Configuration Profiles. The newly created maintenance window will also be automatically assigned to that policy.
From now on, you can use this maintenance window in multiple policies, or create your own maintenance windows and assign them to policies as needed.