Update Bitdefender Rescue CD over a proxy server
Bitdefender Rescue CD is a free tool that scans your computer in a safe environment, without the need of loading the operating system. With automatic update, the scanning engines are able to detect and disinfect even the latest malware threats.
This article explains how to configure Rescue CD to update through a proxy server.
If you use a proxy server to connect to the internet, you need to configure Rescue CD, otherwise the update will fail with the following error message: Update error: the server address is not correct.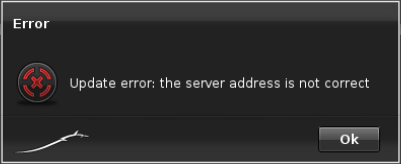 To set up a proxy server on Rescue CD:
1. Start Rescue CD. For details on how to start Rescue CD, refer to this KB article.
2. From Bitdefender Rescue CD window, click Settings to open the settings window.
3. In the Update Settings section, select Enable HTTP proxy.
4. Enter the details of the proxy server in the following fields:
• Proxy host: Type in the URL address your proxy server.
• Proxy user: If the server requires authentication, type in the username, otherwise leave blank.
• Password: Type in the valid password of the previously specified user.
5. Click Save to apply all changes and close the settings window.
6. Click Update Now to download the updates. When the download ends, click Close.
How to set up a Bitdefender Rescue CD
How to scan your computer with Bitdefender Rescue CD
How to recover files with Bitdefender Rescue CD
Can't find a solution for your problem?
Open an email ticket
and we will answer the question or concern in the shortest time possible.