How to reset SQL Server sa password using Microsoft SQL Server Management Studio Express
Bitdefender Client Security is an easy to use business security and management solution, which delivers superior proactive protection from viruses, spyware, rootkits, spam, phishing and other malware. It offers the following components: Bitdefender Management Server (with/without add-on), Bitdefender Local Update Server, Bitdefender Business Client and Bitdefender Management Agent;
The most common error encountered while connecting to Bitdefender Management Console is related to the connectivity between Bitdefender Management Server and the SQL Server Express Edition. In order to make sure that the communication is working, you will need to reset the "sa" password by following the below procedure:
1. Reset the SQL system administrator password
a)  Download and install Microsoft SQL Server Management Studio Express from this address; Make sure to choose the suitable Windows platform (x86 or x64);
b)  Open the application, and choose the authentication mode:  "Windows Authentication";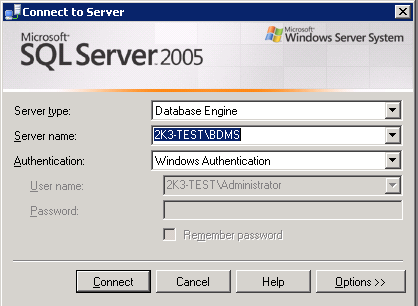 Note: If "Windows Authentication "mode is not available, please refer to this article;
c)  Press "Connect" button and navigate to the Security->Logins folder in the left side of your window; Right-click on "sa" and choose properties;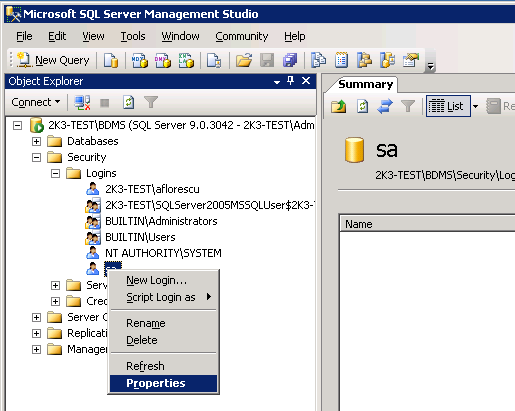 d)      Change the password with a complex one.   For e.g.: P@ssw0rd;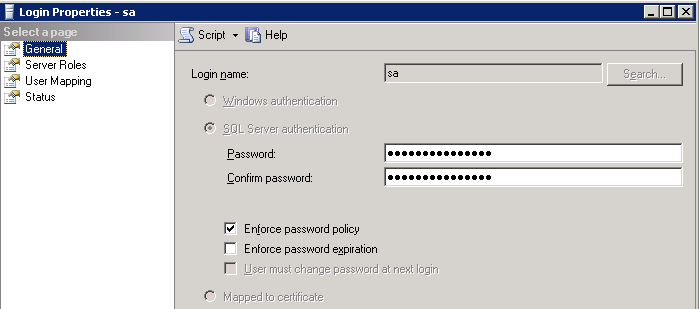 e)  Make sure that SQL Server allows the "sa" account to connect and has enough permissions; Navigate to Status-> and choose "Grant" and "Enabled" in the right side of the window.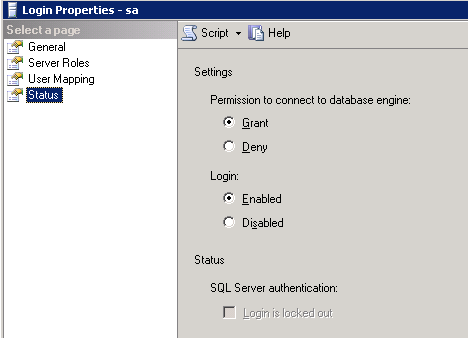 f)  Press OK and exit Microsoft SQL Server Management Studio Express
2. Change SQL Connection password in order to make the connection possible from management console; For this, you will need to open Bitdefender Management Server, and go to Tools->Change SQL Server Password option; Input the new "sa" password;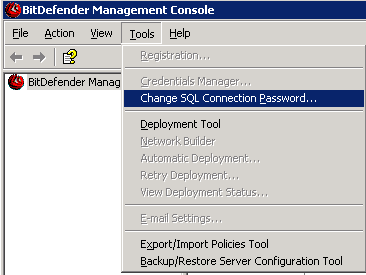 Can't find a solution for your problem?
Open an email ticket
and we will answer the question or concern in the shortest time possible.