How to enable SSL/HTTPS scanning in Cloud Security for Endpoints
Cloud Security for Endpoints by Bitdefender protects systems using security technology that has been rated number one time and time again. It does not require on-site server hardware and maintenance as it is managed by Cloud Security Console, a powerful and intuitive interface to a solution that can scale to defend any number of systems, no matter where they are located.
This article describes how to enable SSL/HTTPS scanning in Cloud Security for Endpoints.
Hypertext Transfer Protocol Secure (HTTPS) is a widely used communications protocol for secure communication over a computer network, with especially wide deployment on the Internet. Technically, it is not a protocol in itself; rather, it is the result of simply layering the Hypertext Transfer Protocol (HTTP) on top of the SSL/TLS protocol, thus adding the security capabilities of SSL/TLS to standard HTTP communications.
Cloud Security for Endpoints by Bitdefender offers the possibility to scan the traffic made through HTTPS. However, this feature is not enabled by default in the initial setup, so you will have to manually enable it from the Cloud Security Console.
To activate the SSL/HTTPS scanning feature in Cloud Security for Endpoints, follow the steps below:
Log in to the Cloud Security Console
Go to Policies > New Policy if you want to send a new policy or Policies > View Policies to edit an existing policy
In the General category, click on the Advanced tab and check the Scan SSL option
Click the Save button to save the policy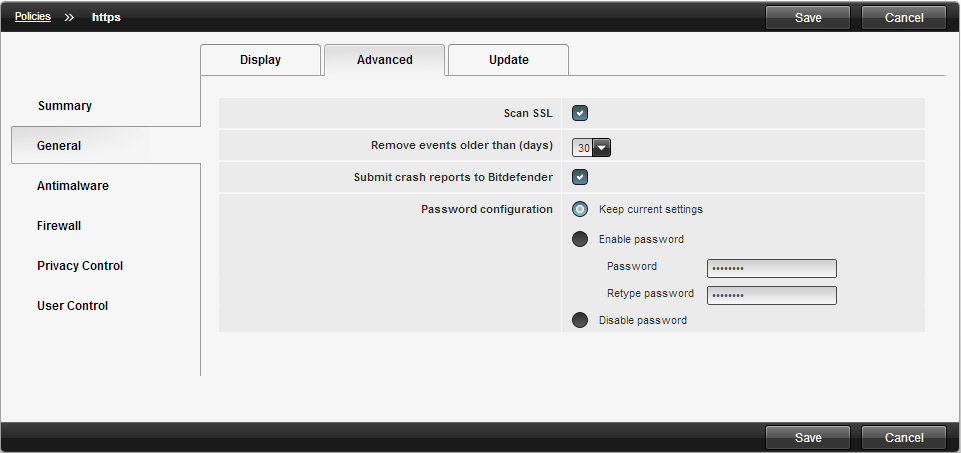 Should you need any further assistance, don't hesitate to contact Bitdefender's Enterprise Support Team.
Can't find a solution for your problem?
Open an email ticket
and we will answer the question or concern in the shortest time possible.