How to manually update Bitdefender Business Client
Bitdefender Client Security is an easy to use business security and management solution, which delivers superior proactive protection from viruses, spyware, rootkits, spam, phishing and other malware. The centralized management ensures consistent security policies, website access and application controls, audits and other remote management scripts to further improve the productivity.
Companies can effectively protect their business clients from attack by using Bitdefender's ability to detect and prevent known and zero-day threats, ensure compliance to corporate security policies and manage them effectively with fewer IT resources. This article provides instructions for update the malware signatures and product software for Bitdefender Business Client using weekly.exe and cumulative.zip files.
In order to successfully update the security solution designed for workstations, follow the steps below and choose the procedure that matches your situation.
Daily product and signature updates procedure
Download the cumulative.zip archive on the target computer, by choosing your correct computing platform
Restart your computer in safe mode with networking.
Copy the update files. Extract the content of the file cumulative.zip into the location (default):
C:\\Program Files\\Common Files\\Bitdefender\\Bitdefender Threat Scanner\\av32bit_ent_XXXX. Please note that the "XXXX" string in the "av32bit_ent_XXXX" folder's name might vary, you need to select the newest folder starting with "av32bit_ent_". Reboot your computer in normal mode.
Weekly signature updates procedure
You can download and run weekly signature updates by making sure you download the needed executables, as per your needed plaform:
For x86 arhitecture endpoints: click here
For x64 arhitecture endpoints: click here
Multiple endpoints remote update procedure
In order to apply a weekly update from the Bitdefender Management Server on multiple workstations at a time, you will be able to use the "Run program" network script available in the console (Network Tasks section), as follows:
Create a new "Run program" network task
Set the parameter /verysilent to run the update silently, having in mind that no pop-ups or confirmations dialogues will be displayed
Set the path to the product update executable at the "Application Path" box
At the destination area enter a temporary path on the computer the patch will be copied before it is executed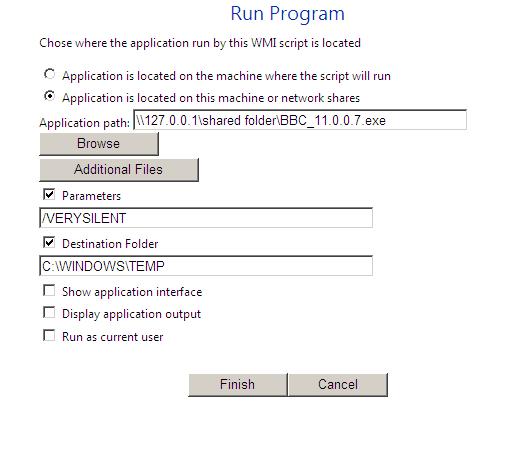 Can't find a solution for your problem?
Open an email ticket
and we will answer the question or concern in the shortest time possible.