How to install Bitdefender Management Server using an existent database instance
Bitdefender Client Security is an easy to use business security and management solution, which delivers superior proactive protection from viruses, spyware, rootkits, spam, phishing and other malware. It offers the following components: Bitdefender Management Server (with/without add-on), Bitdefender Local Update Server, Bitdefender Business Client and Bitdefender Management Agent;

If you want to install Bitdefender Management Server using an existing database instance, you will need to:

         1.  Download and run the Bitdefender Client Security v3.5 latest kit from our FTP server on the Bitdefender Management Server computer. Please make sure to select for download the correct platform (x86 or x64);

         2.  In the Setup Type windows, select the Custom install option;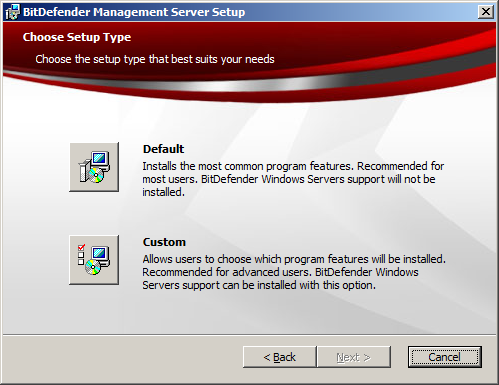 3.  Select the Bitdefender Security for Windows Server add-on if your network contains Bitdefender for Windows Server products that you might want to manage; .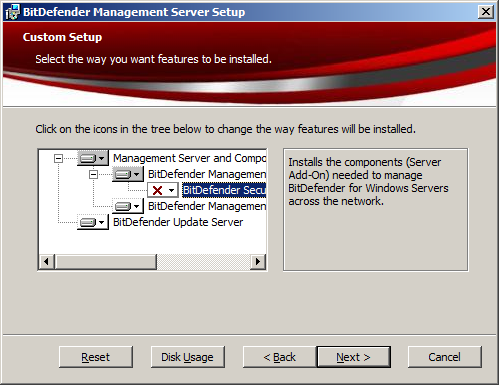 4. Select Bitdefender Management Server type that you want to run (Single, Master or Slave). For more details about Bitdefender Master - Slave architecture, we strongly recommend you to visit KB480;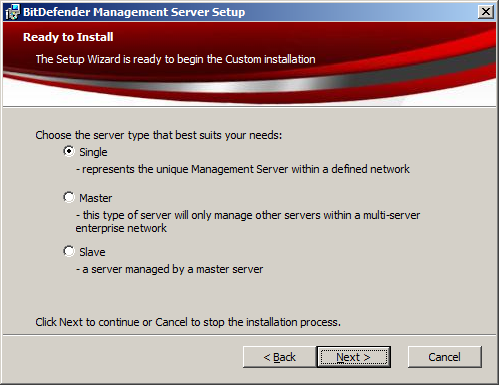 5. Select the Use an Existing Database option and click Next;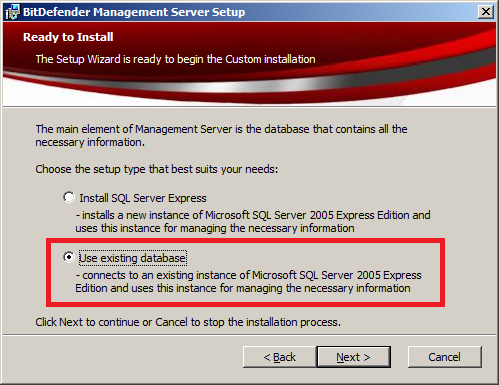 6.  The data base login credentials contains the following information needed from the administrator of the Microsoft SQL Server from your network: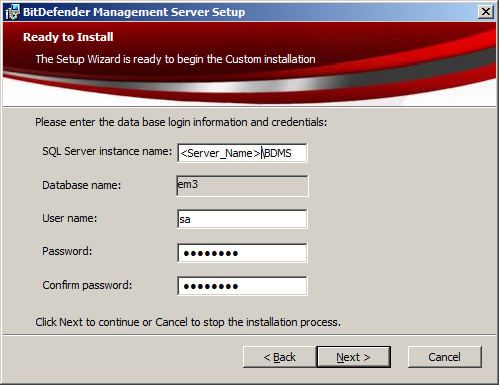 a)  SQL Server instance name - this filed needs to indicate the IP address or name and instance name for your Microsoft SQL Server machine; If the SQL Server is installed on the same machine, this filed will be auto-detected; Else, you will need to input the necessary information; For example: server_name\BDMS; 192.168.0.9\BDMS;
  
         b)  User name - this filed will always be "sa" (system administrator);

         c)  Password - you will insert the Microsoft SQL Server sa password, in order for Bitdefender Management Server to connect to the data base; If the connection was made successfully, you will be able to continue the install process;

         Note: If you wish to reset the sa password, read KB787;

         7.  Finish the install process by following on-screen instructions.
 
Can't find a solution for your problem?
Open an email ticket
and we will answer the question or concern in the shortest time possible.