How to fix "Downloading one of the installation files failed" issue
How to fix "Downloading one of the installation files failed" issue
Please follow the guidelines below in order to solve the encountered issue:
A. Check your internet connection
During the installation process the PC should be connected to internet for scanning the PC using in cloud technology, also for downloading the latest installation kit available. Please make sure your computer has access to internet before retrying to install Bitdefender.
B. Temporarily turn off any software which could prevent Bitdefender from accessing the internet
First of all, please make sure that Windows Firewall is Turned Off:
- For Windows XP click on Start -> Run -> type firewall.cpl and click OK -> on the General tab, select Off (not recommended)
- for Windows Vista,  Windows 7 or Windows 8
If you have another Firewall software, application scanning web traffic or restricting the internet access please temporarily disable them and try again to install Bitdefender.
C. Perform a Disk Clean-up:
Follow the steps from the KB article below to delete temporary files and system files, empty the Recycle Bin, and remove a variety of other items that you might no longer need that could prevent Bitdefender for being installed:
- for Windows XP, Windows Vista, Windows 7, Windows 8
D. Turn off Windows Defender:
Note: by default, Windows Defender is not included in Windows XP. If you installed it manually follow the procedure for Windows Vista
For Windows Vista, Windows 7, Windows 8
E. Disable User Account Control:
Note: User account control does not exists on Windows XP
For Windows Vista or Windows 7
For Windows 8: put your mouse at the down right side of your screen and click on Search from the toolbox. Then select Settings and typeuac in the search box. From the left part click on the result – Change User Account Control settings. Drag the slider to the bottom –Never Notify and click OK.
F. Unblock the Bitdefender installation kit
Right click on the Bitdefender installation kit and choose Properties. If you are seeing the Unblock button in the bottom right corner please click on it, then click Apply and OK .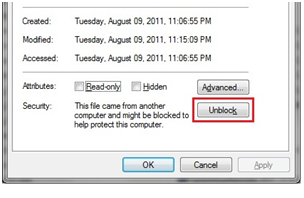 G. Now try again to install Bitdefender
Note: If you no longer have the Bitdefender installation kit, please save it from the link below choosing the appropriate product:
Can't find a solution for your problem?
Open an email ticket
and we will answer the question or concern in the shortest time possible.