The Twitter account of WWE Hall of Famer Mick Foley was compromised over the weekend by a hacker who used his account to deploy a PS5 giveaway scam. The hijacker also tried to extort money from Foley who said he did not give in to the ransom demands, having regained access to his Twitter account.
News of his Twitter account hijacking was announced on Aug. 1 in a post describing his attendance at Ric Flair's Last Match PPV show held in Nashville.
"Last night, there was this amazing sense of history and joy backstage. I am so glad I had a chance to be part a great night of wrestling history," Foley said.
He also asked his fans not to interact with his Twitter account or fall for any scams the attacker was pushing.
"In not so good news, my Twitter account has been hacked," Foley added. "Someone is trying to extort me for money, and until further notice, or you see a video of me saying otherwise, please don't fall for any scams this person is trying to perpetrate."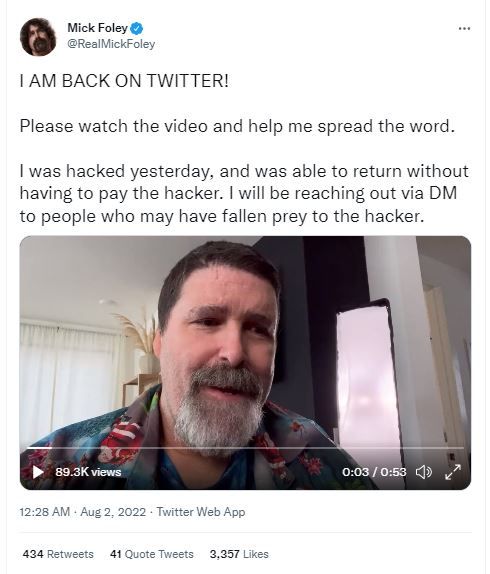 Before regaining access to his Twitter account, the fake Mick posted multiple tweets promoting a PS5 charity "giveaway." The post said he was selling PlayStation's latest gaming consoles at retail price, and that three lucky buyers would be attending one of his upcoming shows.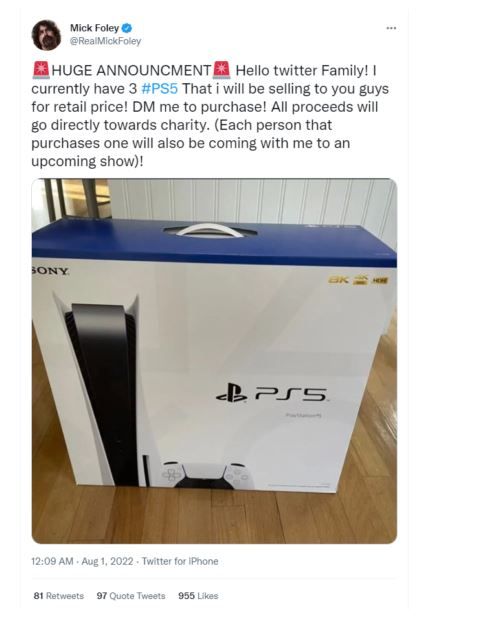 "Hello twitter Family! I currently have 3 #PS5 That I will be selling to you guys for retail price! DM me to purchase! All proceeds will go directly towards charity. (Each person that purchases one will also be coming with me to an upcoming show)!"
Celebrity-endorsed scams and giveaways often inflict financial losses on unwary individuals. That's why we urge social media to always scrutinize the legitimacy of giveaways, deals that seem too good to be true and crypto investments promoted by celebrities.
The accounts promoting the giveaways could be fake or even hijacked by a malicious individual who can bleed the bank in a matter of hours or until the account owner becomes aware of the compromise.
Digital miscreants don't just target the online accounts of the rich and famous. Regular users are often targeted by threat actors to gain access to their data and to spread malware and scams.
As such, always stick to good cyber hygiene when using social media:
· Use a unique and strong password for each account
· Enable two-factor authentication
· Don't overshare personal information
· Be wary of links and unsolicited direct messages from strangers
· Install a security solution on your device to fend off phishing and malicious attacks
Bitdefender Digital Identity Protection helps users easily manage and monitor their digital footprint and defend against potential security risks. Once subscribed you get real-time data breach alerts and a handy tool to sniff out social media doppelgangers who could ruin your online reputation alongside a 360-degree view of your digital footprint and personal data exposure throughout the years.