IoT spending to reach $1.2 trillion in 2022, IDC forecasts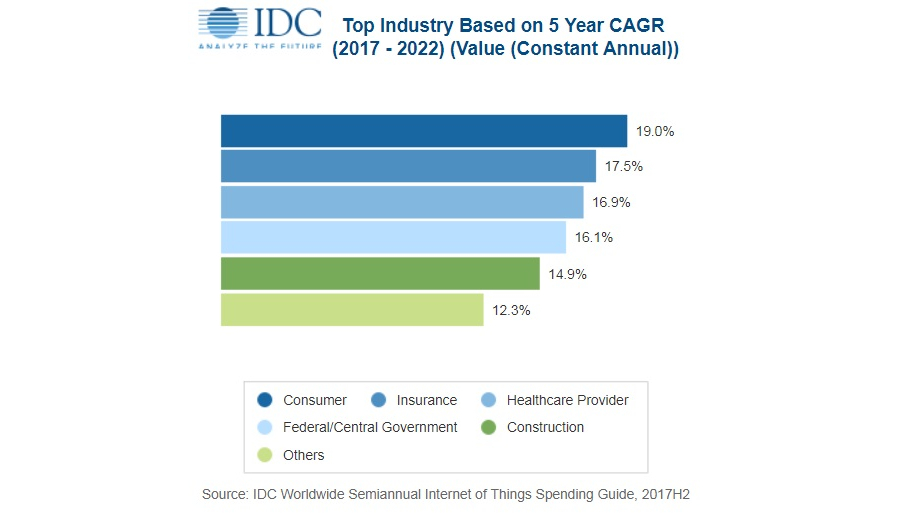 International Data Corporation (IDC) has published its semiannual Internet of Things spending guide, which forecasts IoT spending for 14 technologies across 20 verticals in 53 countries.
IDC has been busy mapping IoT use cases that have segmentations in shared domains, such as in Smart Cities and Digital Transformation investment areas, according to the group's research director for Customer Insights & Analysis, Marcus Torchia.
"As a part of these improvements, IoT supports spending forecasts for 100 use cases," Torchia said.
IDC hopes its research will help vendors better understand industry-specific opportunities for IoT technologies today by providing a granular view of key technology markets from a regional, industry, use case, and technology perspective.
The key upshot from the report, as far as IoT in general goes: the Internet of Things market is projected to reach $1.2 trillion in 2022, at a compound annual growth rate (CAGR) of 13.6% until then.
The consumer sector will lead IoT spending growth, with a worldwide CAGR of 19%, followed closely by the insurance and healthcare industries. Discrete manufacturing and transportation will each exceed $150 billion in spending in 2022, and vehicle-to-vehicle and vehicle-to-infrastructure solutions will experience 29% CAGR, the fastest from an enterprise use case perspective. Traffic management and connected vehicle security follow in their footsteps with similar numbers.
The numbers comes as no surprise. IoT security spending alone is projected to reach $50 billion by 2026, according to MarketResearch.biz. And IDC says IoT spending this year alone is set to reach $772.5 billion, a 15% increase over the $674 billion estimated to have been spent on IoT last year.
IoT hardware is projected to become the largest technology category in 2018. IDC anticipates some $239 billion in spending, largely on modules and sensors, followed by infrastructure and security.
IDC
IoT market
iot security
iot spending