A new wave of extortion messages mimicking law enforcement organizations Europol and Interpol are making a comeback in spam trends this week, according to Bitdefender Antispam researchers.
The scammers who send these bogus threats have tailored their correspondence to ensure they reach victims across Europe, including France, Spain, Portugal, Romania, Czech Republic and the UK.
The latest analyzed extortion messages were sent from Gmail addresses and other third-party mail service providers. The body of the email messages is purposely left blank to avoid antispam filters. The blackmail messages are hidden in attachments in various formats, such as pdfs, Word documents and jpeg images. No malicious payloads were found in any of the attached files.
The campaign was active throughout October 2022, with waves of extortion messages creeping into European inboxes on Halloween.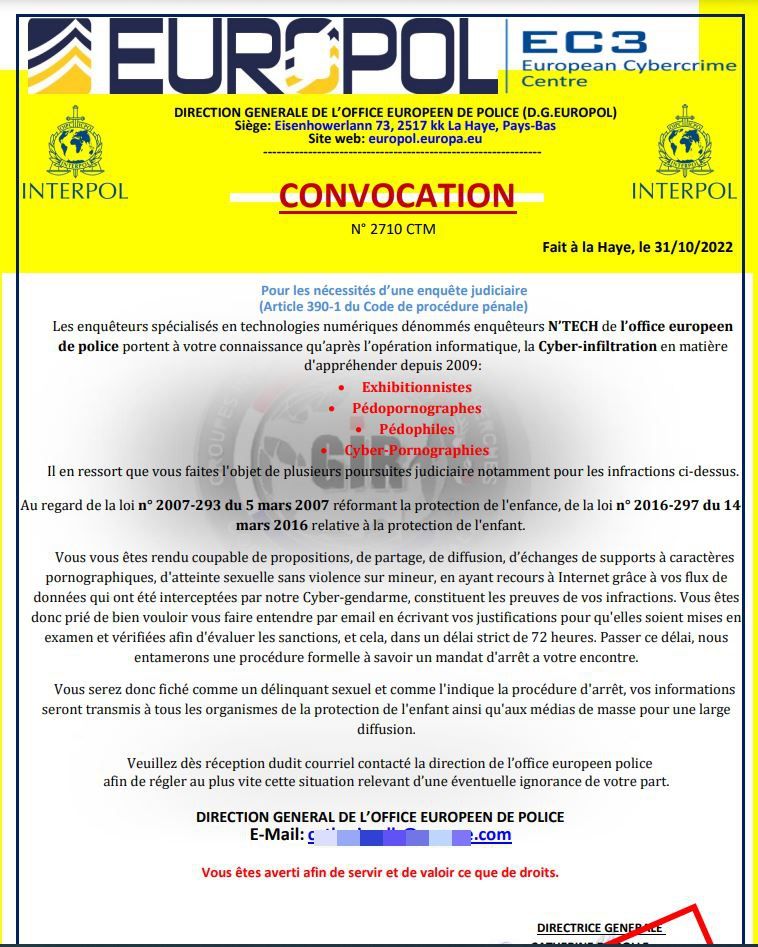 Fraudsters tell victims they are suspected of serious internet crimes such as the distribution of child pornography and exhibitionism. They inform recipients that they are also now subject to legal proceedings and are required to reply to the email, providing "justifications" for their actions.
Users have 48 hours to respond. Failure to do so will lead to severe consequences, including registration as a public sex offender and intense humiliation in front of family members and European citizens.
"After this period, we will be obliged to transmit our report to [redacted], public prosecutor at the high court specializing in cybercrime to establish a warrant for your arrest, and you will be registered as a sex offender," the letter reads.
"Your file will also be sent to the media for broadcasting where your family, friends and all of Europe will see what you are doing in front of your computer."
Some variations of the extortion letter intimidate recipients with mentions of monetary fines between 2,400 and  97,000 Euros and up to 16 years in prison.
The cyber-extortion spam market is a growing business that lacks the sophisticated features of a well-made internet swindle. Recipients, however, are more likely to respond to threatening messages paired with what seems to be an official police logo and intimidating language.
The end goal of these extortionists is to steal your hard-earned money. This type of message usually ends up with the scammer offering you an amicable settlement that involves wiring thousands of dollars or euros to the fraudster's accounts.
Hush money will not make your 'problems' go away. On the contrary, you're probably never going to hear the end of it. Extortion campaigns impersonating police or other government bodies have a long shelf life because they do work. Ruses such as these have been rampant for at least a decade, and according to a  FBI report, online extortion victims in the US lost over $107.5 million in 2019.
Have you received an extortion email message? Here's what you need to do:
1.     Don't panic. The likelihood that the person or organization contacting you has any embarrassing or humiliating pictures or videos is very slim.
2.     Remember that no official police organization or head of any law enforcement agency will ever contact members of the public directly by phone, email or other forms of communication, requesting you to wire money or immediately reply to ensure smooth collaboration and 'amicable resolution'
3.     Ignore the message. Never reply to an extortion email, even if you know it's a scam
4.     Never send personally identifiable information or money to fraudsters
5.     Always watch out for scam variations, including extortion messages that include mentions of one of your passwords. While you should ignore the message, make sure to change the password if you do recognize it.
6.     Report extortion and threatening emails to police
Wondering how scammers get a hold of your email address and other personal info to spam you with unsolicited and fraudulent correspondence?
Use a digital footprint monitoring tool to help manage and control your digital identity. With Bitdefender Digital Identity Protection you can:
Discover the extent of your digital footprint with an instant mapping of your online persona
Find your personal information in illegal and illegal collections of data
Get 24/7 data breach monitoring for up to five email addresses
Detect social media doppelgangers who can ruin your reputation
Receive instant alerts to new breaches and privacy threats
Stay Safe!