Bank customers are often targeted by cybercrooks who want to steal sensitive financial information to conduct their fraudulent schemes.
This month, Bitdefender Antispam researchers have been monitoring the flux of finance-themed spam and filtering out fraudulent correspondence that may threaten consumers' online security, privacy and finances.
Here's what we found:
According to Bitdefender telemetry, more than 1 in 5 (23%) of finance- and bank-themed spam emails analyzed this month were marked as phishing attempts.
Some of these attacks were carefully crafted to mimic official correspondence sent by legitimate banks and financial institutions, including:
UK's national taxing authority (HMRC)
Bank Austria
La Banque Postale
Crédit Agricole
BNP Paribas
Postbank
Credit Suisse
Most of the phishing emails contain replicated bank logos and layouts and depict the general tone of actual messages customers receive from their bank or financial institutions.
While these emails may look legitimate at first glance, the attempts analyzed by our researchers contain various red flags that should immediately put recipients on guard, including:
The sender email address contains unfamiliar domains – unrelated to the bank or financial organization
The messages convey an unusual level of urgency, prompting recipients to act quickly, without hesitation, to resolve some issues on their account
The cybercriminals behind these fraudulent campaigns are in search of banking logins, PINs and other financial information from customers that will enable them to commit credit card fraud, take over financial accounts or peddle stolen info on dark web marketplaces.
When dealing with unsolicited correspondence from financial institutions or banks, we encourage customers to exercise caution and look for red flags that may suggest a phishing attempt:
Misspellings and unfamiliar sender addresses
Urgent requests, notifications or threatening language
You are asked to verify your account and data
Claims that a financial account has been blocked or compromised and that payments have been suspended
Requests to act immediately and open attachments or click on links
Samples of the fraudulent correspondence can be found below: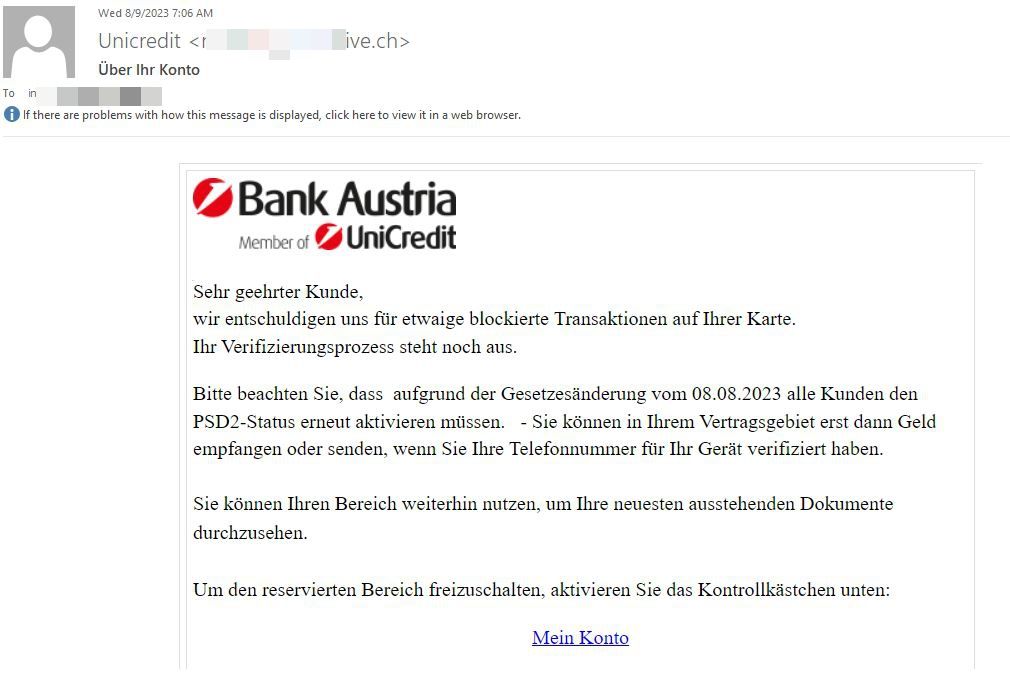 Need more peace of mind when roaming the internet and interacting with unsolicited correspondence and online platforms?
Take a look at Bitdefender's all-in-one plans!
Our comprehensive security solutions help secure your identity and data by defending against malicious attacks, phishing and scam websites across the digital scape.