The US State Department is offering a bounty of up to $10 million for information that may lead to the identification and location of five key people believed linked to the infamous Conti ransomware group, the department said in an announcement Thursday.
The individuals accused by the agency of over 1,000 ransomware operations against the US and international critical infrastructure were listed only using their online aliases of: "Target," "Reshaev," "Professor," "Tramp," and "Dandis".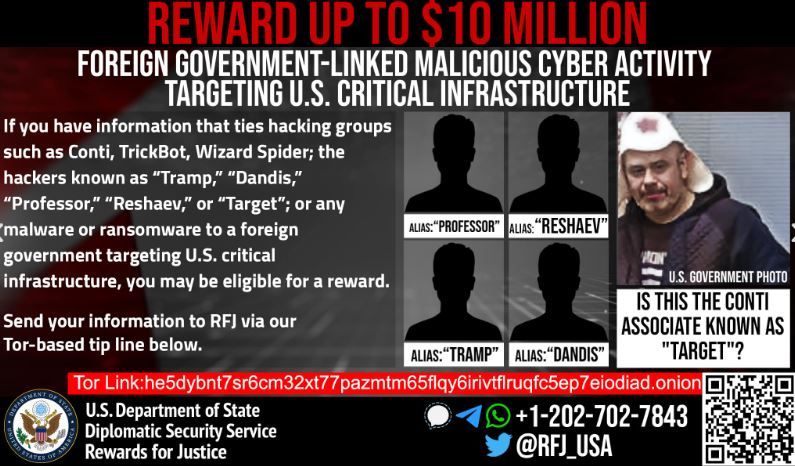 "Rewards for Justice is offering a reward of up to $10 million for information leading to the identification or location of any person who, while acting at the direction or under the control of a foreign government, participates in malicious cyber activities against U.S. critical infrastructure in violation of the Computer Fraud and Abuse Act (CFAA)," the agency said.
The Russian-based ransomware gang had made a name for itself well before the beginning of the war in Ukraine, with payments allegedly exceeding $150 million, according to law enforcement.
"First detected in 2019, Conti ransomware has been used to conduct more than 1,000 ransomware operations targeting U.S. and international critical infrastructure, such as law enforcement agencies, emergency medical services, 9-1-1 dispatch centers, and municipalities," the Rewards for Justice announcement reads. "These healthcare and first responder networks are among the more than 400 organizations worldwide victimized by Conti, over 290 of which are located in the United States."
However, following the criminal organization's public statement of support for Russia invading Ukraine, Ukrainian researchers leaked online messages between gang members alongside the source code for the Conti ransomware encryption, which led to them shutting down operations.
Many Conti ransomware gang members are believed to have set up shop in Russia and surrounding regions, and the Rewards for Justice officials have issued their request for information in multiple languages in an attempt to reach as many individuals as possible, including a post on their Twitter page.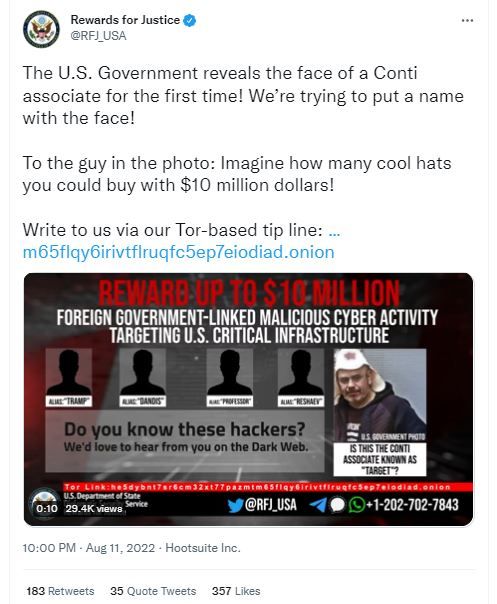 The US State Department urges anybody with information on the mentioned members to contact law enforcement via their tips-reporting channel on Tor.
Tips submitted via the dedicated channels will need to be verified thoroughly before any payments are made.