The International Criminal Court says it recently detected strange activity in its IT infrastructure, prompting it to strengthen its cybersecurity framework.
"At the end of last week, the International Criminal Court's services detected anomalous activity affecting its information systems," reads a statement shared by the ICC on X (formerly Twitter). "Immediate measures were adopted to respond to this cybersecurity incident and to mitigate its impact."
The ICCis an international tribunal seated in The Hague, Netherlands, wielding jurisdiction to prosecute individuals for the international crimes of genocide, crimes against humanity, war crimes and the crime of aggression.
The ICC has recently started investigating alleged war crimes and crimes against humanity in Ukraine.
"As the Court continues to analyse and mitigate the impact of this incident, priority is also being given to ensuring that the core work of the Court continues," the statement reads.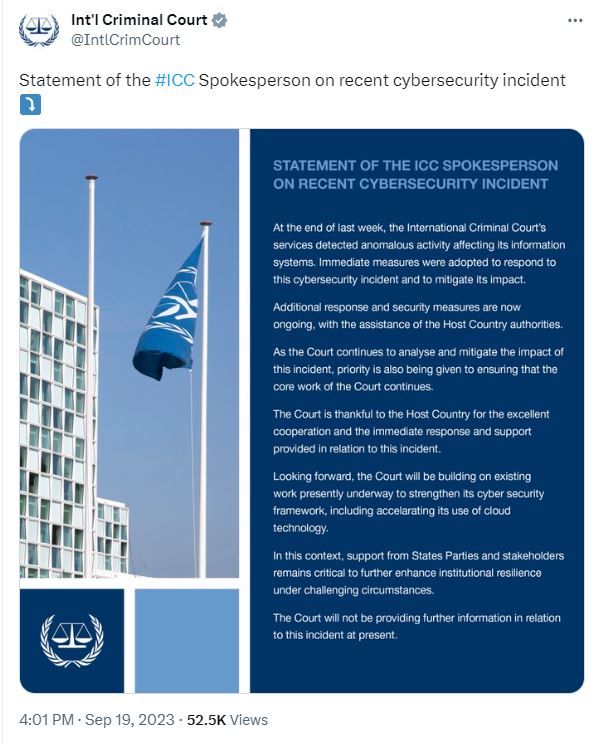 The Court says it is now bent on strengthening its cybersecurity, which includes moving some systems and processes to the cloud.
"Looking forward, the Court will be building on existing work presently underway to strengthen its cyber security framework, including accelerating its use of cloud technology," says the ICC.
The ICC is keeping press enquiries at bay, saying it will "not be providing further information in relation to this incident at present."
It is unclear whether this incident is the result of a state-sponsored attack, or a hack by financially motivated threat actors (i.e. ransomware operators).
The ICC constitutes a high-profile target for nation state actors, having been at least once targeted with espionage. According to reports, a spy identified as Sergey Vladimirovich Cherkasov tried (and may have succeeded) accessing "highly valuable" intelligence on the ICC's probe into war crimes in Ukraine, and perhaps influenced criminal proceedings.