I know this will come as a shock to many of you, but scammers have once again succeeded in stealing a lot of money from cryptocurrency investors.
The Twitter account of American DJ and electronic music producer Steve Aoki, who is considered something of an "influencer" in the world of cryptocurrency, lies at the heart of the scam.
According to a tweet posted by self-proclaimed blockchain sleuth ZachXBT, a hack of Aoki's Twitter account cost cryptoinvestors thousands of dollars.
As ZachXBT described, Steve Aoki's Twitter account had posted a message saying that the DJ was backing the launch of a new cryptocurrency token, called PSYOP.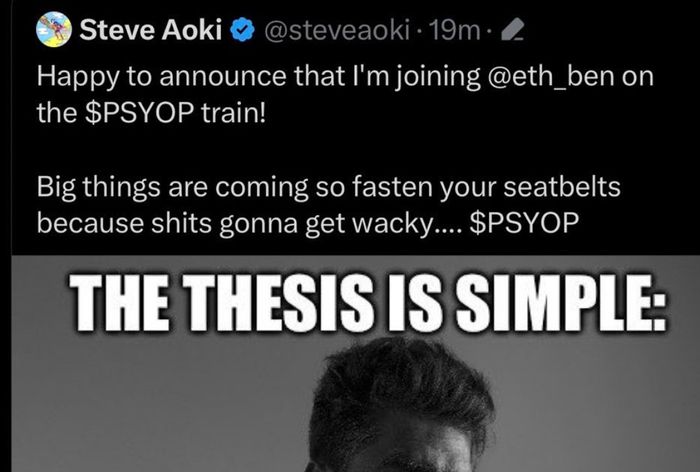 The person behind PSYOP, the pseudonymous NFT collector Ben.eth, was tagged in the message - presumably to ensure that they noticed the tweet.
One can only assume that Ben.eth believed the post to be a legitimate post from Aoki's account, and that is why they quote-tweeted the untrustworthy message, which no doubt encouraged even more cryptocurrency enthusiasts to follow the link and jump on the PSYOP train.
So, what we have here is a cryptocurrency influencer with eight million followers having their Twitter account compromised by hackers, in order to post a message that deliberately baited another cryptocurrency celebrity to retweeet it.  All with the aim of scamming cryptocurrency enthusiasts.
An estimated $170,000 worth of cryptocurrency was lost due to the scam.
When the problem was pointed out to Ben.eth, they deleted their quote-tweet and posted:
"I DID NOT KNOW AOKI WAS HACKED. HOW COULD I?"
In a subsequent tweet, Ben.eth invited those who had lost money in the scam to make contact via email so that their lost Ethereum could be replaced.
It's not currently known how Steve Aoki's Twitter account was compromised, but I don't think anyone would be surprised if poor password security practices or a lack of two-factor authentication laid at the heart of the problem.
For his part, Steve Aoki has deleted the unauthorised tweet but not posted an apology or warning to his many millions of followers.
To reduce the chances of their accounts being compromised by hackers, users would be wise to take the following steps:
Ensure that a unique, hard-to-crack password is used to secure the account.
Enable two-factor authentication to introduce a second layer of defence to your Twitter account.
Review what third-party apps have access to your Twitter account, and revoke their access to prevent them from making unauthorised posts on your behalf.