Renowned Austrian antivirus testing lab AV-Comparatives has published its Consumer Summary Report 2022, awarding Bitdefender the coveted Product of the Year award for the fifth time – more than any other vendor in the past decade.
AV-Comparatives' annual report covers the top consumer security products on the market, highlighting those that prove they offer solid protection against a wide variety of threats.
AV-Comparatives rigorously tested 17 consumer security products to gauge their ability to fend off real-world Internet threats, all-new malware, and advanced targeted attacks – all while avoiding strain on the PC's system resources.
Bitdefender consistently earned the maximum ADVANCED+ rating in various tests designed for home-use scenarios.
AV-Comparatives' prestigious award goes to the program with the highest scores across all the test types. It is a demonstration of top quality in all categories. The 2022 Product of the Year Award goes to Bitdefender.
-- AV-Comparatives Consumer Summary Report 2022
Bitdefender not only gets the overall highest rating in this year's tests, it has now won this coveted award five times – more than any other vendor in the past decade.
High benchmarks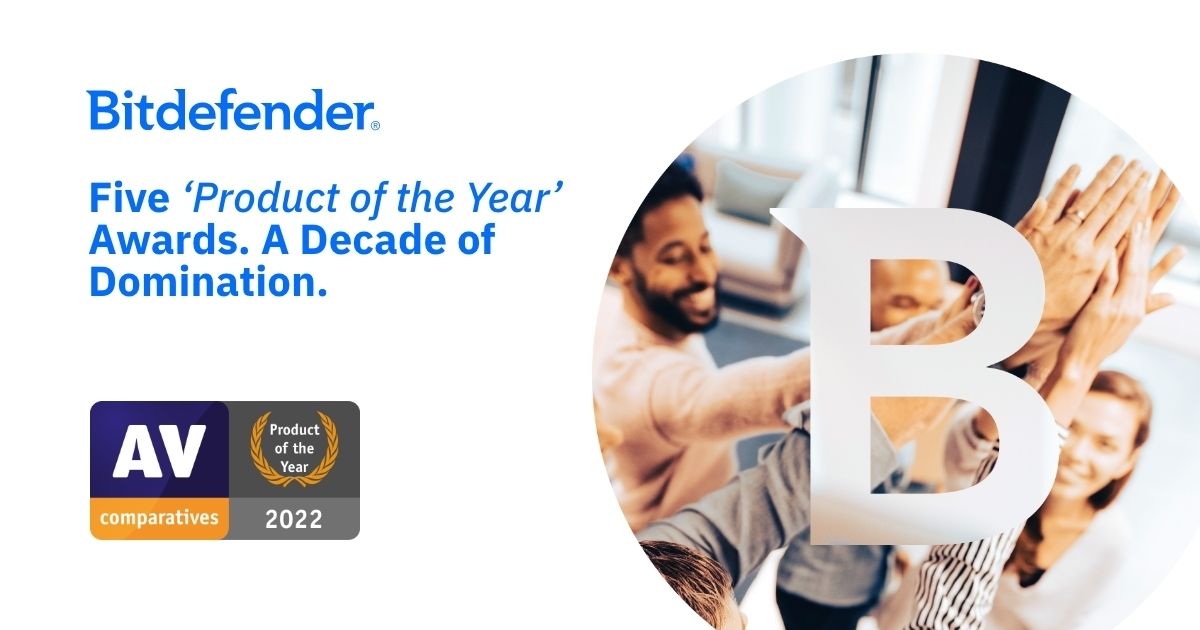 Our tested consumer product was Bitdefender Internet Security, a security suite for Windows PCs designed to protect users from malware, phishing, malicious websites, and other threats.
For instance, in AV-Comp's Advanced Threat Protection Test (ATP), Bitdefender Internet Security emerged as the top recommended product after its stellar performance in a wide range of targeted attack scenarios, from social engineering to malware to pure malicious code injected directly into memory (fileless attacks).
As the test lab remarked at the time, "a good burglar alarm should go off when somebody breaks into your house, not wait until they start stealing things."
Bitdefender was proud to accept the ADVANCED+ ranking – the highest possible – for detecting and blocking the vast majority of threats in the pre- or post-execution stages, with zero false alarms.
Reliable protection across time
Bitdefender has earned a long history of accolades from market-leading independent testing firms and tech publications for our products' superior abilities in detecting and stopping cyber threats targeting home users.
Our core antivirus technology consistently earns perfect and near-perfect scores in independent tests across various industry benchmark organizations. In addition to solid prevention capabilities, other key features include firewall, spam filter, password manager, file shredder, parental controls, and more.
Besides five Product of the Year awards from AV-Comparatives, we recently received PC Mag Reader's Choice 2023 award for Home Security Suites.
To learn more about Bitdefender solutions for home users, visit https://www.bitdefender.com/solutions/.