This month, Bitdefender Labs has spotted a wave of email-based scams exploiting the highly anticipated FIFA World Cup Championship to be held in Qatar in November this year.
The subject lines are as follows:
The FIFA World Cup Qatar 2022™
QATAR 2022 FIFA LOTTERY WINNER
WINNER: Email Owner
Scammers posing as the FIFA World Cup Committee are bombarding inboxes across the globe with phony messages that state you've won a hefty prize.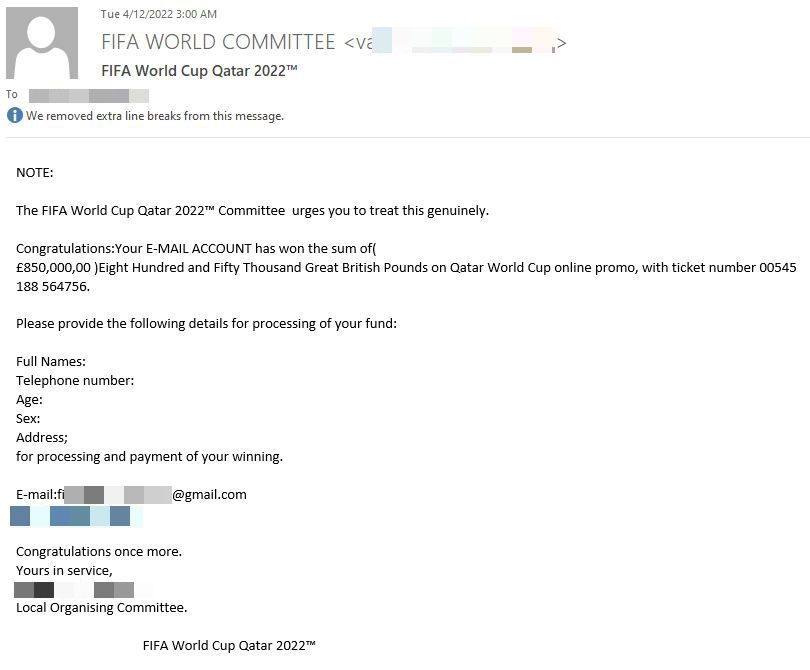 Most of the bogus emails originate from IP addresses in the US. Their main targets are recipients in the UK, Ireland, South Africa, Romania, Sweden and Denmark.
In one variation of this scam, recipients are told they are the lucky winners of $1.5 million.
Apparently, you were selected in the "QATAR FIFA WORLD CUP 2022 GAME PROMOTION Draw held in Istanbul Turkey through an open Computer ballot JAVA System".
"This Promotional Lottery Draws sponsored by the Hisense, Microsoft and the World Health Organization (WHO) in Collaboration with the Center for Disease Control (CDC) to help provide financial assistance to families across the globe while working hard with so many nations to combat this world Coronavirus pandemic and also to support the coming QATAR FIFA WORLD CUP 2022 GAME," the phony email reads.
Of course, no FIFA Lotto ticket is mentioned. The email states that you were automatically entered in the draw, "as Microsoft collected all the Active email users globally for this promotion."
The so-called winners are then asked to contact a claim agent using an email address or phone number provided by the scammer. The recipients need to send a list of personally identifiable information such as their full name, address, age, occupation and phone number.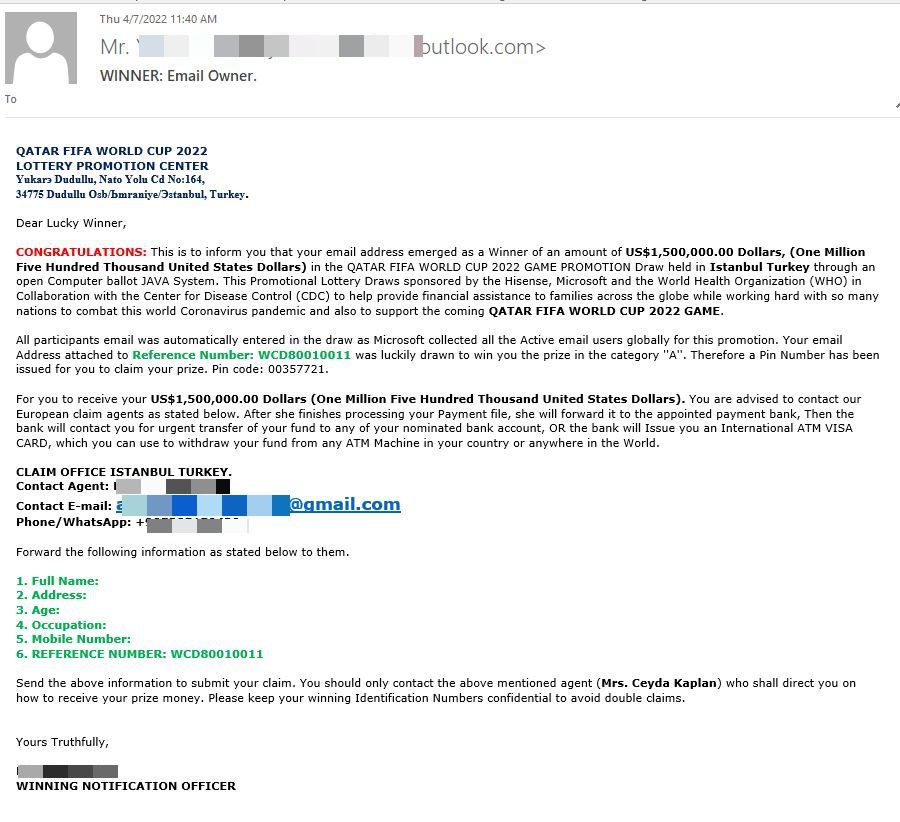 This email is actually a type of advance-fee scam, where the fraudsters usually end up making excuses for why they can't wire you the money, citing bank processing fees and other pretexts.
How to avoid lottery scams
Advance-fee scammers make money by stalling your supposed financial winnings. The best way for you to protect against lottery scams and similar ruses is to dismiss the correspondence entirely. Look for grammar mistakes and do some research on the so-called lottery. Legitimate organizations and online raffles thrive on publicity. If you haven't bought a ticket or entered an online competition, it's 100% a scam. Don't provide personally identifiable information to individuals who contact you out of the blue stating you've won millions of dollars, and never disclose your financial information or pay any processing fees to receive your prize.
Bitdefender protects your household devices from malicious and fraudulent activity of all kinds. To fend off phishing and nasty internet threats and benefit from unlimited VPN traffic alongside a cross-platform Password Manager, check out Bitdefender's new 3-in-1 full security suite. To prioritize your digital safety and check if your personal information was stolen or made public, add Bitdefender's Digital Identity Protection to your digital security toolkit. The digital identity and privacy-focused service offers a complete view of your online presence, data breach exposure and privacy risks.