A man has been sentenced to over 9 years in jail after he was found guilty of breaking into the email accounts of his classmates, and stealing their private nude photographs and videos.
26-year-old Michael Fish, of Albany, New York, has been sentenced to 111 months behind bars after being convicted of computer fraud, aggravated identity theft, and possession of child abuse material.
Fish had previously admitted hacking into the email accounts of more than 100 female classmates at SUNY-Plattsburgh, and later at Albany Law School, exploiting the information he discovered there to break into their social media accounts.
Having stolen nude photos and videos of his victims, Fish traded them online with others.
In addition, Fish created and shared collages which showed sexually explicit images of individuals alongside their innocuous graduation photographs, identifying them by name.
It's difficult to imagine just how much embarrassment, stress, and anxiety Fish's victims must have felt knowing that their private nude photographs and videos were so cruelly exploited in this way.  It's likely that many will be haunted by the experience for years.
When the security breach was discovered, SUNY-Plattsburgh spent thousands of dollars investigating the scale of the problem, reviewing computer and server access logs, identifying which accounts had been compromised, resetting passwords, and notifying pupils and their parents.
United States District Judge Mae A. D'Agostino sentenced Fish to 111 months in prison for his crimes, and also imposed a 15-year term of supervised release, which will start after Fish is released from prison.  In addition, Fish has been told to pay US $35,430 in restitution to SUNY-Plattsburgh.
Another man, Nicholas Faber, who admitted his involvement in Fish's hacking scheme and the trading of images, was sentenced to three years in prison in August 2021.
Late last year, Fish allegedly attempted to dupe the judge overseeing his case, by forging a letter.
The fake letter, which purported to come from an aide to United States Representative Elise Stefanik, did include portions of a genuine letter attesting to Fish's integrity and work ethic while he volunteered for Stefanik's election campaign in 2016 -  but is also alleged to have contained fabricated new material.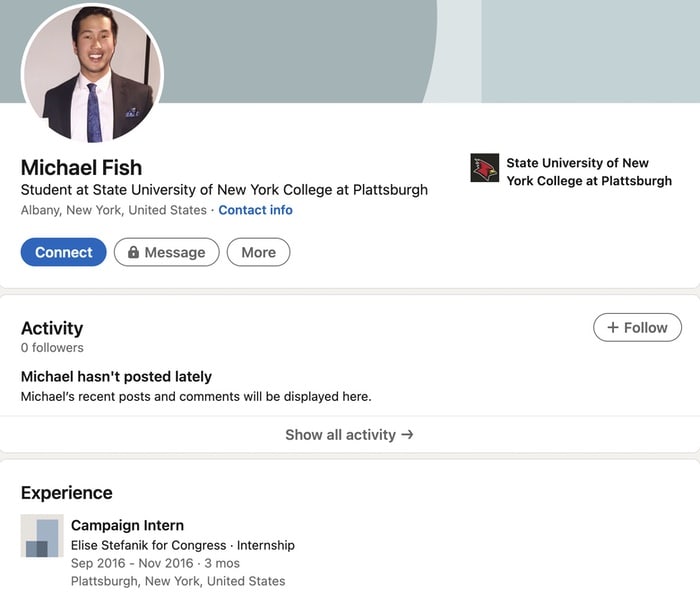 Fish, who had been free awaiting sentencing regarding the account hacking, was arrested in December 2021 for violating the conditions of his release - namely using "a computer without authorization in connection with fabricating a character letter that he caused to be submitted to the court in connection with his sentencing."