With Father's Day falling this weekend in the United States and UK, more people might be more willing than normal to believe the latest scam to be spreading via WhatsApp is true. But I'm afraid it isn't.
Sorry dads, Heineken isn't giving away free coolers of beer.
Messages circulating via WhatsApp are encouraging users to spread a scam that promotes a bogus competition, claiming that participants can win one of "5,000 coolers full of Heineken for your dad."
The truth is, however, that the scam is using the lure to trick users into entering their names, email addresses, and phone numbers into a website - with the intention, no doubt, of being later exploited by fraudsters.
Your prize is: Exclusive Cooker with 18 bottles of Heineken.
Follow the instructions below to receive it at your home.
Share with 5 groups / 20 friends on WHATSAPP (tap the 'WhatsApp' button below)
Tap 'CONTINUE' and claim your gift.
Heineken UK confirmed in a tweet to skeptical consumer Mark Crawford that the competition had nothing to do with them, and that the message should not be forwarded to other WhatsApp users or any links clicked upon.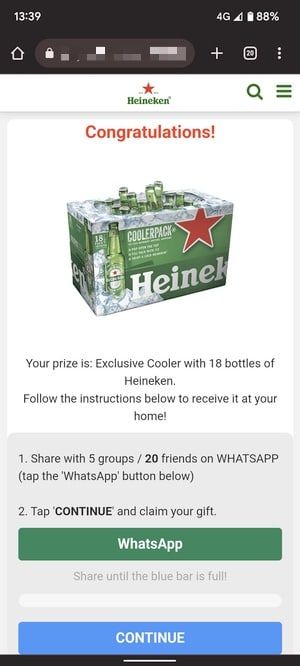 As potential victims may easily have received the scam forwarded to them via a WhatsApp friend, it's understandable that many users would mistakenly trust that the offer was genuine.
An obvious danger is (if you were so desperate for a Heineken that you entered your personal contact details) that the scammers could follow-up with an email or phone call that claims to be from Heineken asking for further details from you.  A wily social engineer might be able to easily trick you into sharing more than you intended if you truly believed that you had won a competition.
Similar scams have spread via social networks in the past.  Indeed, two years ago a similar scam offered a cooler full of 1000 Heineken beers to "celebrate summer", causing the brewer to post a warning online that advised drinkers to be on their guard against scams.
If you want to give your dad a gift this Father's Day, give him the gift of a scam-free Sunday.