This one made us giggle. "Meta Online International Promotions" is after your data in a new global spam campaign posing as a Facebook lottery validation email.
It didn't take cybercrooks long to exploit Mark Zuckerberg's announcement of Facebook's transition to the metaverse.
Researchers at Bitdefender Antispam Lab spotted a fresh lottery scam sent purportedly on behalf of Meta. What better way to start your day than receiving an email that says you're the lucky winner of almost a million dollars.
"The Entire Facebook team is very happy to inform you that your name appears on the FACEBOOK ONLINE INTERNATIONAL PROMO and we are giving out the total sum of US$950,000.00 ( Nine Hundred And Fifty Thousand United States Dollars ) which is what you have just won," the fraudulent email reads.
"Your name was selected in a raffle that was made for the FACEBOOK ONLINE INTERNATIONAL LOTTERY for the year 2021 with the lucky number (FB-225-7736) so we need your fast response so that we can proceed with the claim process of your winnings."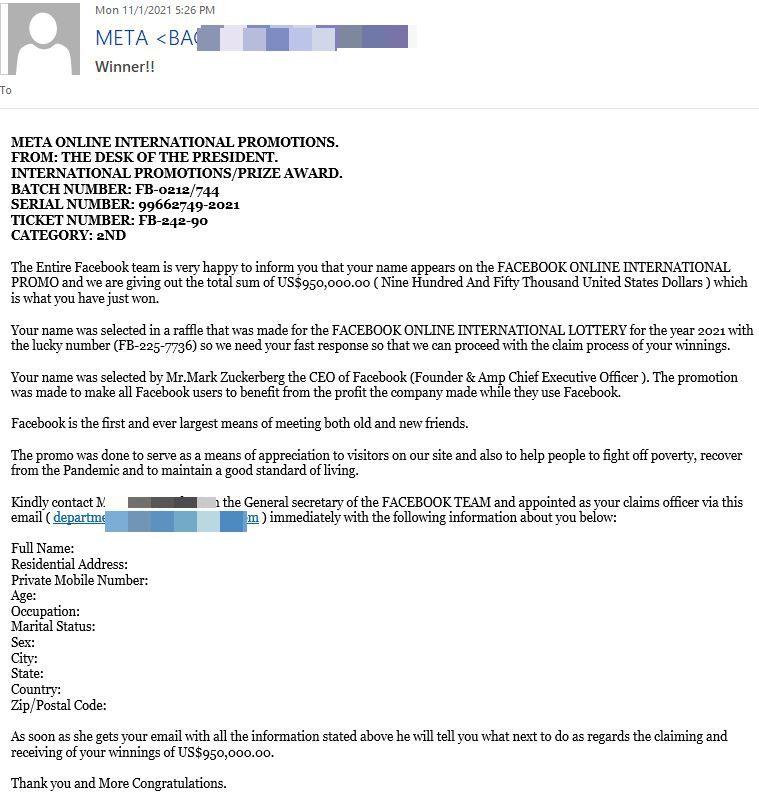 Zuckerberg himself selected your name, and he's now asking for your personal information to claim your fantastic prize. Who would have known!? The 2021 international promo that nobody ever heard of was initiated to help people financially recover from the pandemic and fight off poverty.
Recipients, who want the cash, need to act fast and provide scammers with the following details: name, residential address, country of residence, mobile phone number, age, occupation, marital status, zip code and more.
How convenient. The info alone is enough for cybercriminals to impersonate you and commit identity theft-related crimes. But that's just the beginning.
As soon you send the info, you'll receive more details about how you can claim your USD 950,000. The scam email ends with a security note. It's even FBI scam protected.

Shame on us for not heeding their warning to keep this notification from public notice until our prize money is processed!
As a kind reminder, we advise users to be suspicious of unsolicited correspondence that promises monetary prizes or goods, especially If they haven't participated in any online contest or giveaway.
Keep your personal information under lock and key at all times and maintain good cyber hygiene whenever you go online.
Stay Safe!