Bitdefender's TrafficLight browser extension scans the pages you visit for malware & phishing attempts, blocks dangerous websites, and flags dangerous links in your search results. Bitdefender TrafficLight supports the following web browsers:
Safari
Google Chrome
Mozilla Firefox
Once Bitdefender Antivirus for Mac is installed, follow the steps below to protect your internet browser by installing and enabling the Traffic Light browser extension.
Install Bitdefender TrafficLight
1. Start by bringing up Bitdefender Antivirus for Mac. To open the Bitdefender Antivirus for Mac app:
Click the B icon in the menu bar at the top right of your screen.
Select the Open Antivirus interface option.

2. Next, click Protection on the left-hand side of the Bitdefender interface.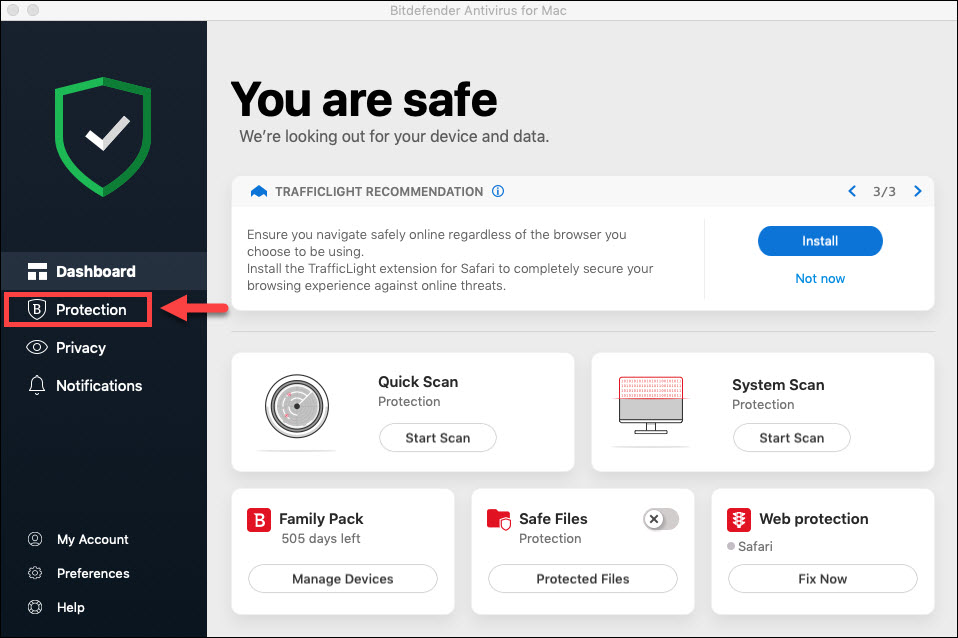 3. Open the Web Protection tab and click on Get Extension next to your web browser(s) – Safari, Chrome, Firefox. Only the names of supported browsers currently installed on your Mac will appear here.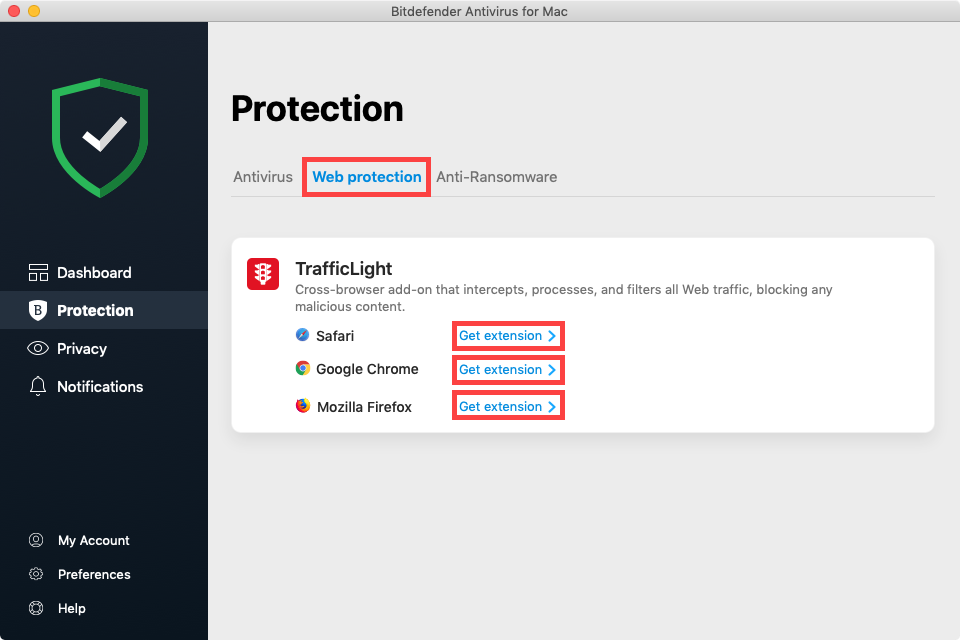 4. As the installation process varies from this point on for each browser, we have provided below a complete procedure to continue installing Traffic Light.
Safari
Chrome
Firefox
Troubleshoot Installation issues
Here's how to troubleshoot problems you might have when installing Bitdefender TrafficLight to your web browser:
The Free Download button doesn't work or doesn't redirect to the extensions gallery page.
An error such as 404 or Too many redirects appears.
On Safari you are redirected to the Extensions gallery, but there is no Install button.
Safari
Chrome
Firefox
After going through each of the steps outlined in this guide, if you are still unable to add Bitdefender TrafficLight to your web browser, contact our customer service team and attach the following data to your ticket:
a screenshot of the error you see on the screen when installing TrafficLight
a BDProfiler log (only if Bitdefender Antivirus for Mac is installed)
details about other browser extensions & security solutions installed on your Mac and your internet connection (if a Firewall or Proxy is active, etc.)