How to grant Bitdefender access to protected folders on macOS
This article shows you how to grant Bitdefender full disk access to protected folders on macOS. With the launch of macOS 10.14 Mojave, Apple has implemented a series of changes that also affected the way Bitdefender Antivirus for Mac functions. If you have macOS Mojave or later, you will have to manually allow Bitdefender to scan all locations on your device, in order to be fully protected.

Upon installing Bitdefender Antivirus for Mac on your devices, you will see a recommendation to enable Bitdefender to scan all locations. Bitdefender needs Full disk access in order to scan the following: Mail, Messages, Safari, Home, Time Machine.
To do this, follow the steps detailed below.
---
1. Open the main Bitdefender window and a new window with instructions will appear. Click the Open System Preferences button in the recommendation in which you're asked to grant Bitdefender access to all locations on your device.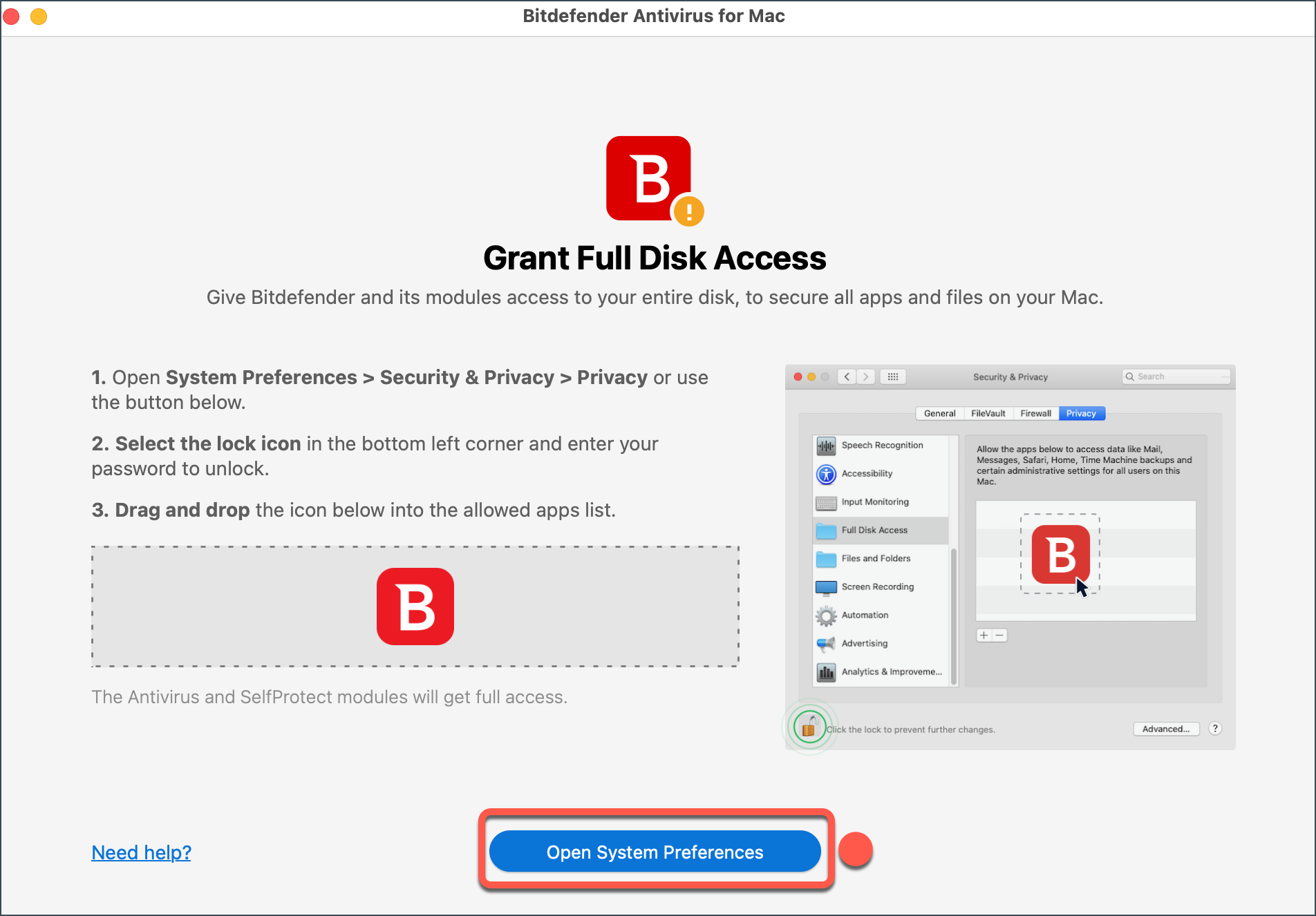 Alternatively, click the 'System Preferences icon' (cogwheel) on your dock, select 'Security & Privacy', go to the 'Privacy' tab, and select 'Full Disk Access' on the sidebar.
2. This will open the Security & Privacy window. Click the small lock icon in the lower-left corner to be able to make changes.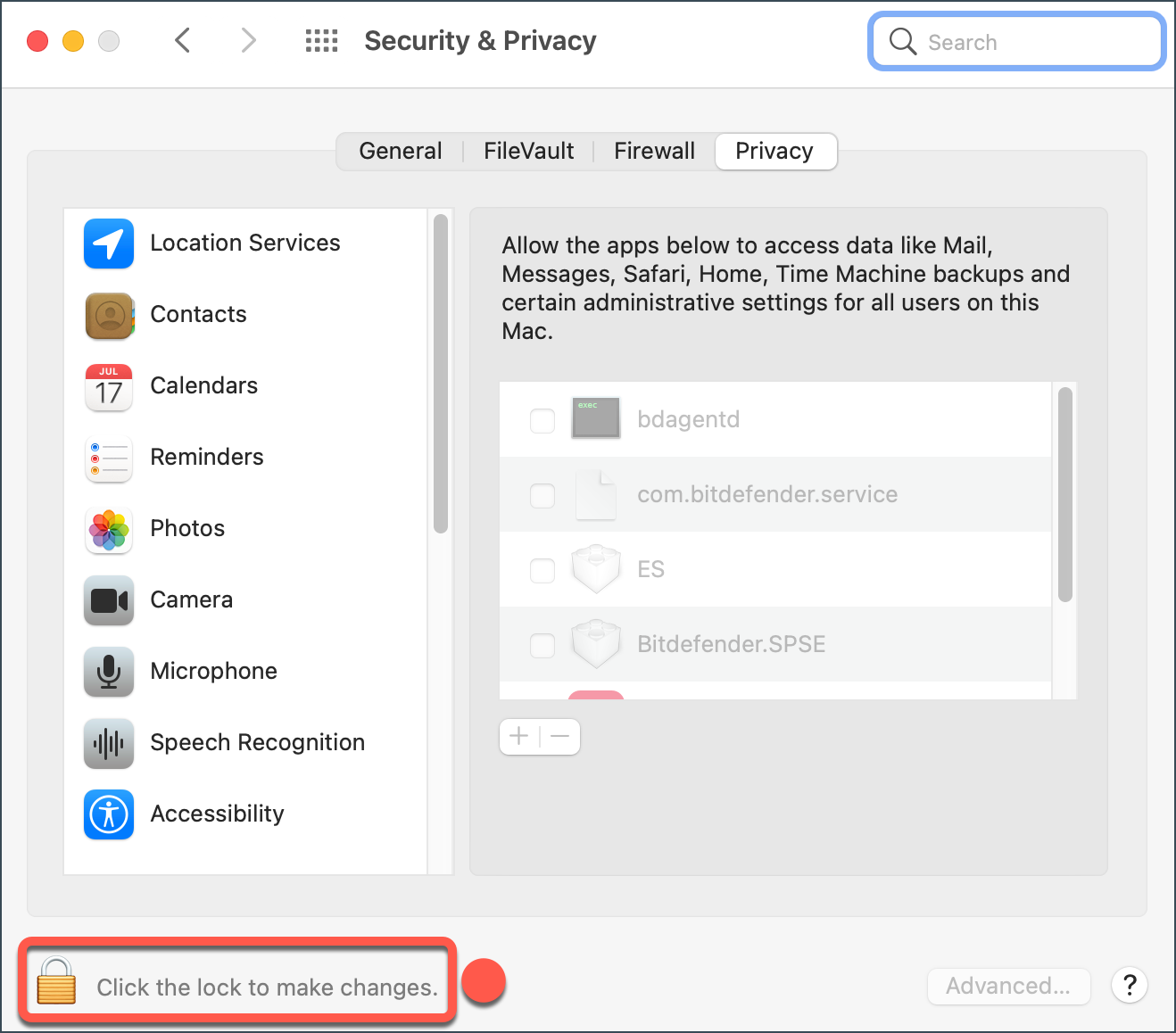 3. Enter your macOS administrator password, then press Unlock.
NOTE: The Username and Password typed here have to belong to an administrator account. If the account on which you are currently logged does not have administrator privileges, fill the boxes with the username and password belonging to an administrator.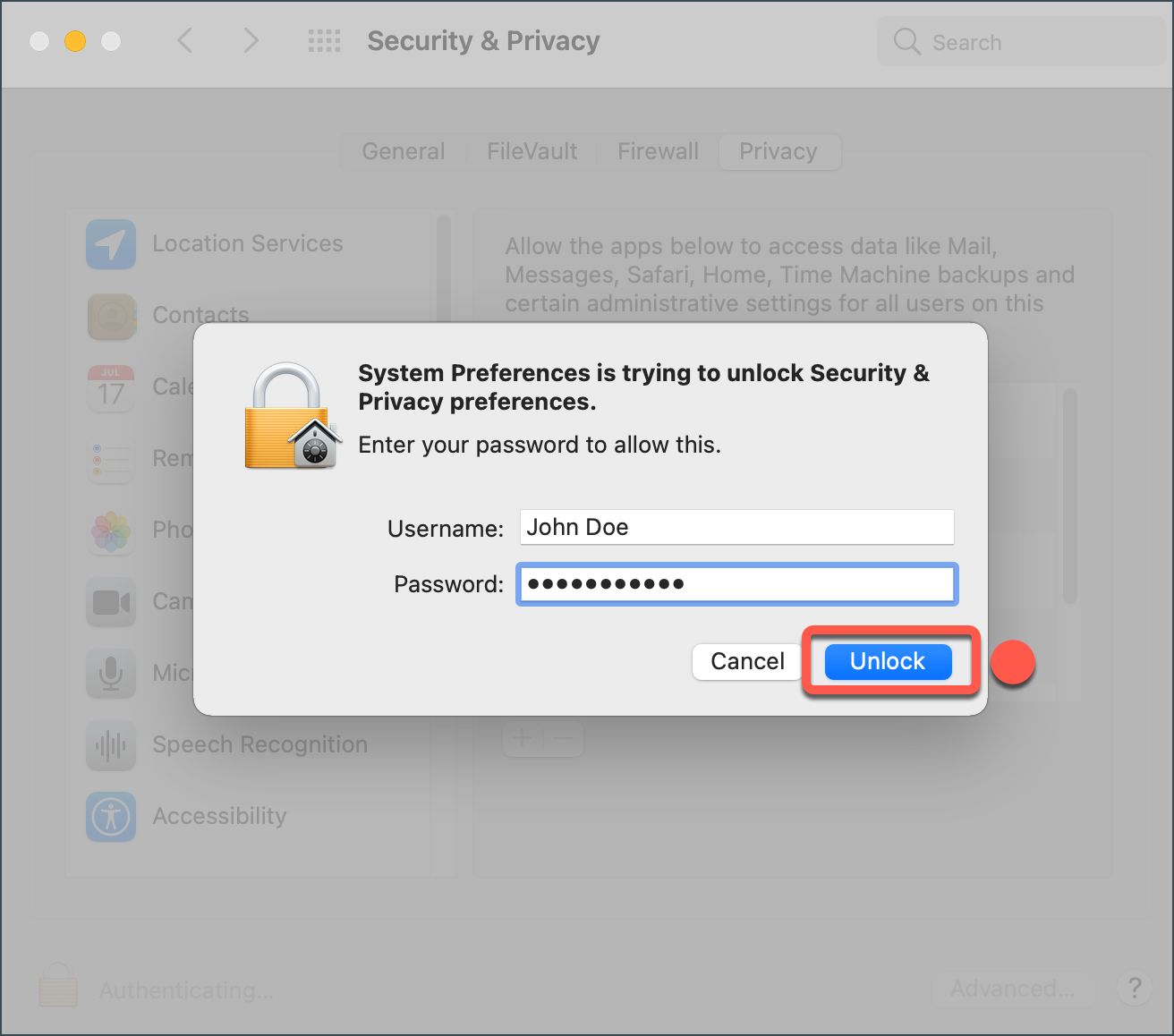 4. Check the box in front of these two Bitdefender entries from the list: 
• Bitdefender.SPSE
• Antivirus for Mac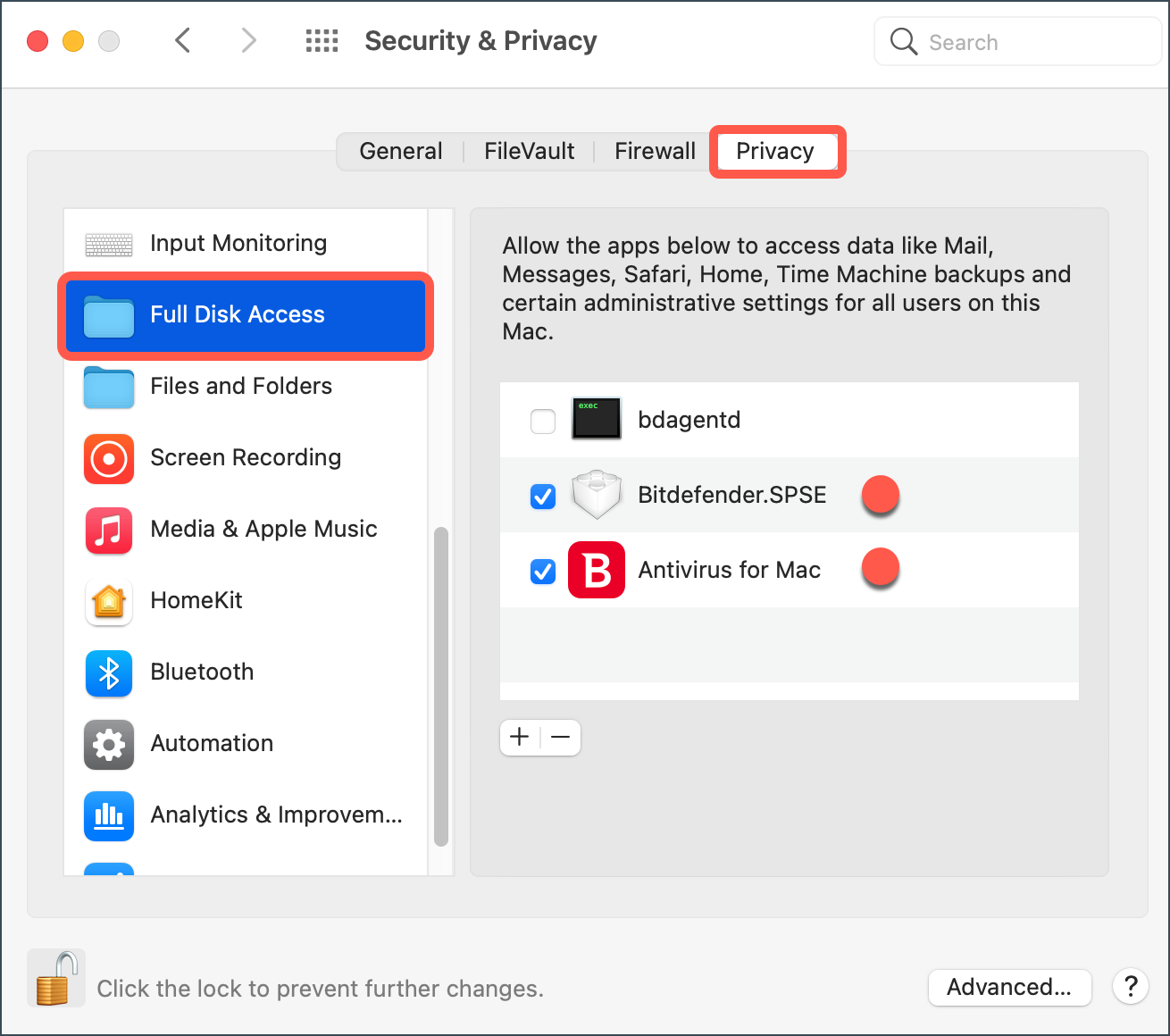 Alternatively, drag & drop the B icon from the instructions window to the Full Disk Access window.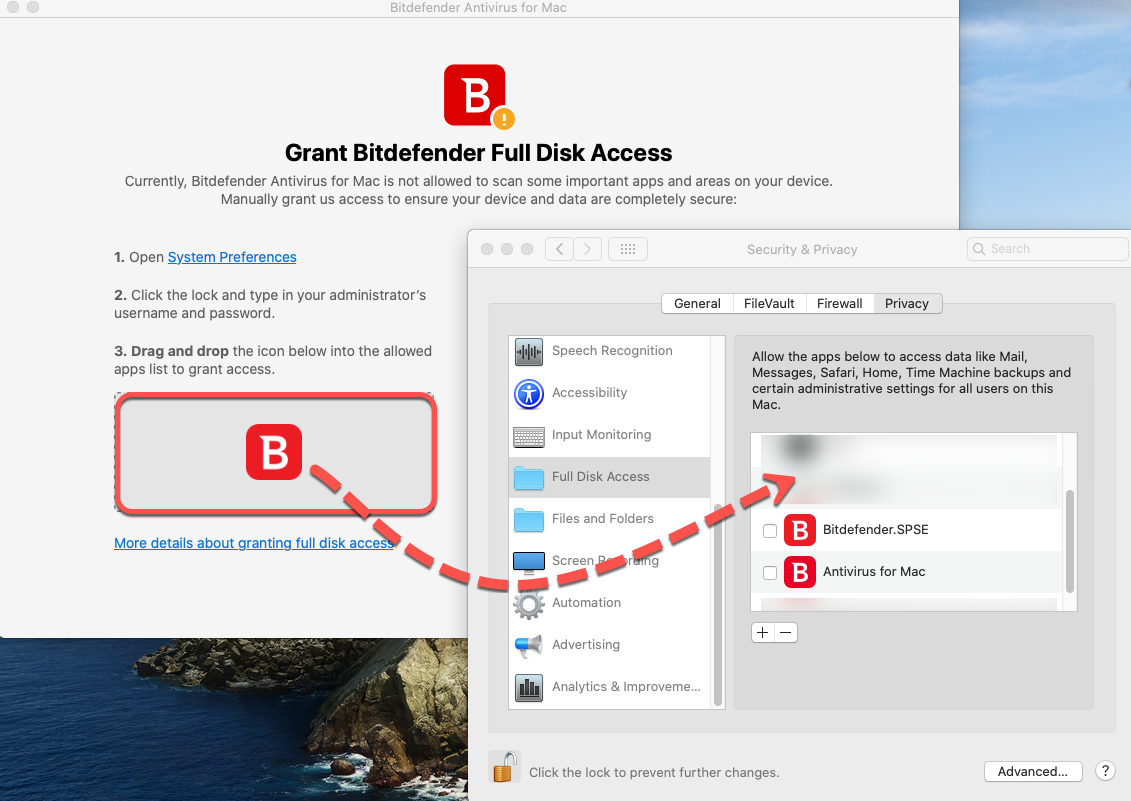 5. The following message appears: "Antivirus for Mac" will not have full disk access until it is quit. Press Quit & Reopen.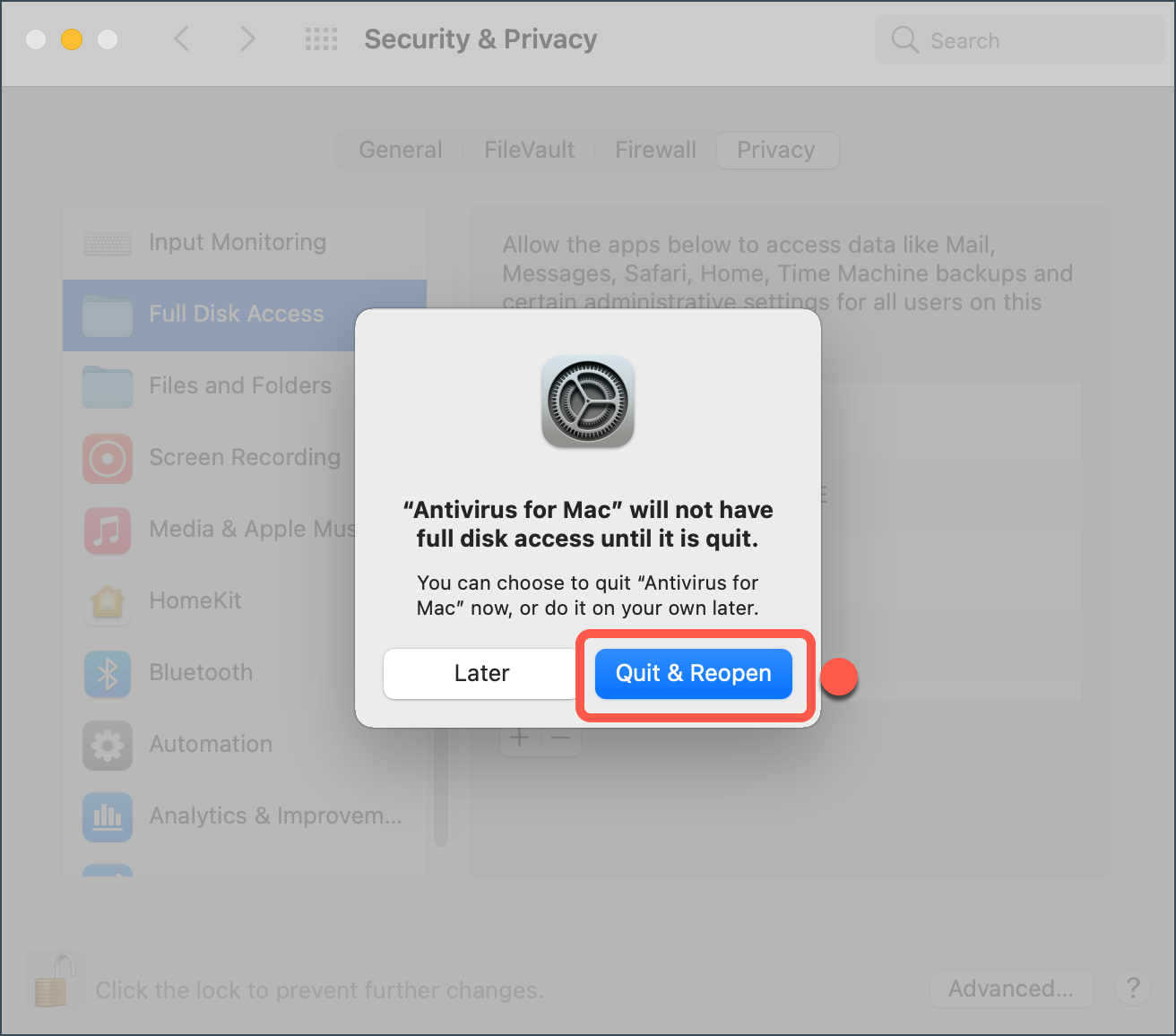 6. Finally, Bitdefender Antivirus for Mac will mark the recommendation as solved. The requested permission has been granted.