How to activate Bitdefender Premium VPN
Bitdefender VPN secures your online activity so that you remain protected each time you connect to unsecured wireless networks in airports, malls, cafés, or hotels. This way, unfortunate situations such as theft of personal data, or attempts to make your device's IP address accessible to hackers can be avoided. Restricted content can be accessed as well, no matter the country that practices internet censorship. With Bitdefender VPN, you benefit from a daily 200MB daily traffic quota per device (a 500MB daily traffic quota is included only in Bitdefender Small Office Security subscriptions). By upgrading to Bitdefender Premium VPN you get unlimited VPN traffic.  Once your purchase is finalized, you will receive two emails: one of them includes the invoice, the other includes a special link through which you can easily activate your new VPN subscription.
There are two methods to activate your Bitdefender Premium VPN subscription.
Method 1.
The easiest way is to open the purchase email and click the button ACTIVATE PREMIUM VPN (see the image below).
You will be redirected to Bitdefender Central, where you will have to sign in to your account if you are not already signed in. After login, the subscription is immediately added to your account and you will have instant access to Bitdefender Premium VPN features.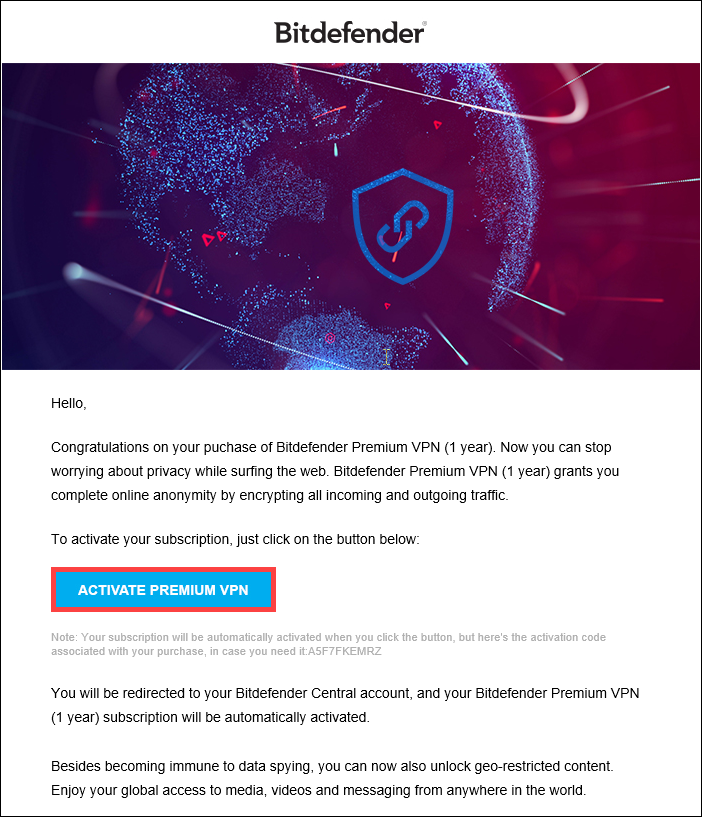 Method 2.
Alternatively, you can copy the 10-digit activation code written in grey beneath the ACTIVATE PREMIUM VPN button (in the above image, the code is A5F7FKEMRZ).
Then, sign in to your Bitdefender Central account (if you are not already signed in), go to My Subscriptions, and click on ACTIVATION CODE in the upper right hand corner. Paste the code in the appropriate field, click ACTIVATE and you are all set! The Premium VPN subscription is now added to your Central account.
Congratulations on your purchase!
Related Articles
Was this article helpful?