It was all going so well. At first.
Following a series of high profile cybersecurity attacks against Australian organisations, an online event yesterday by the Australian Institute of Company Directors (AICD) seemed well-timed.
Approximately 4,800 people registered for the event on LinkedIn, which would focus on principles and best practices for "Effective cybersecurity governance."
At the scheduled start time, some 2,500 people tuned in and waited for the video stream to begin.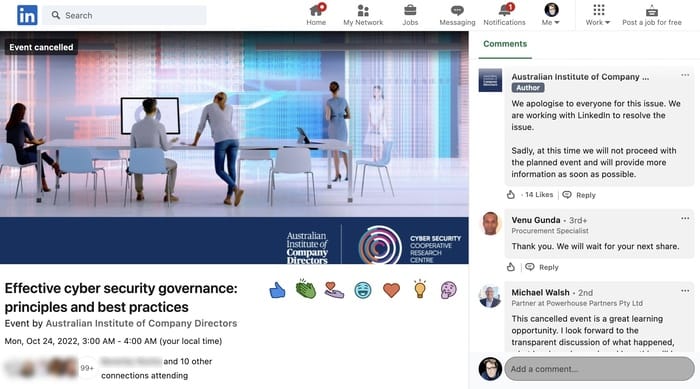 But... something went wrong.
"Technical issues" meant that the live event did not begin on time. After five minutes, members of the disgruntled audience became impatient and began to vent their frustration in the comments.
And it's at that point that somebody posted a link in the chat, which appeared - to at least some of the participants - to be an alternative link on Eventbrite where the cybersecurity discussion could be viewed.
But some of those people who clicked on the link asked a quite reasonable question. Why were they being asked to enter their credit card details?
Yes, IT directors and security professionals keen to attend the AICD's event were all-too-easily persuaded to click on a link posted by a random account.
The AICD itself leapt into the chat, confirming that they were experiencing difficulties and reminding attendees that they shouldn't trust links posted in the chat window.
Which is sensible advice under the circumstances, although - extraordinarily - the same AICD account then posted its own link to the chat window!
Oh dear.
Thankfully, some users instinctively knew not to click on the dodgy link.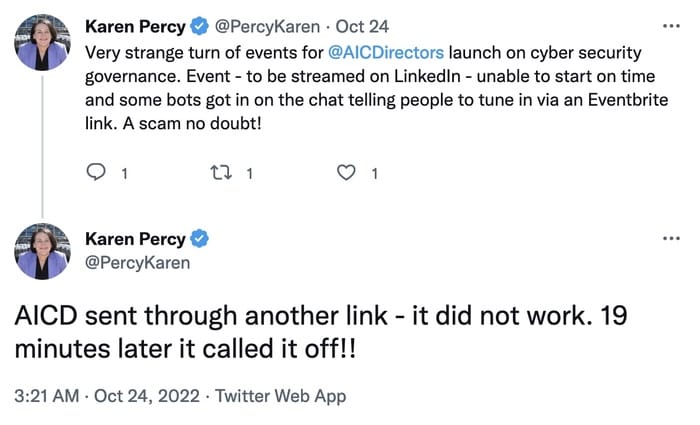 The AICD eventually cancelled the event, and later made a video of the event available to stream (complete with on-air apology for the "technical difficulties")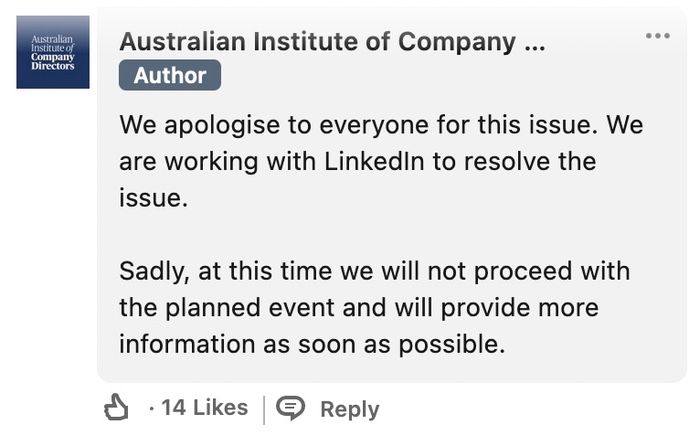 The organisation issued a statement to the press, advising anyone who entered their credit card details to inform their banks:
We strongly advise any participants who may have concerns to contact their financial institution as soon as possible.
"The AICD apologises sincerely for the unacceptable issues with the LinkedIn Live event," said AICD Managing Director and CEO Mark Rigotti. "We recognise this experience has fallen well below the high standards our members rightly expect of the AICD."