A study in the IoT realm makes a staggering prediction for virtual assistants like Siri, Google Assistant and Alexa: in four years, the install base for devices running them will surpass the number of people currently alive.
"Globally, the native digital assistant installed base is set to exceed 7.5 billion active devices by 2021, which is more than the world population according to the US Census Bureau on May 1, 2017," market research firm Ovum concludes, based on data gathered over the past few years.
A chart accompanying the report projects the following numbers in terms of market share for the most popular assistants in use today:
Google Assistant – 23.3%
Samsung Bixby – 14.5%
Apple Siri – 13.1%
Amazon Alexa – 3.9%
Microsoft Cortana – 2.3%
If the math doesn't add up, it's because we haven't yet mentioned Chinese assistants. Despite their late arrival, digital assistants of Chinese origin will account for an active install base of close to 1.2 billion devices in 2021. Baidu and iFlytek are fueling this trend with 43 million devices, as of last year.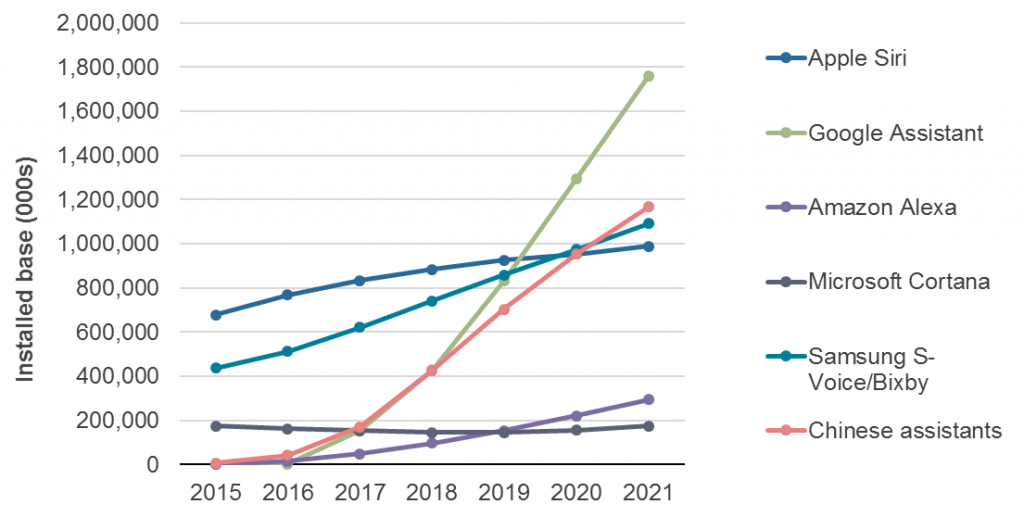 Vendors face heavy pressure to deploy and maintain digital assistants globally if they want a slice of the pie. The figures, again, speak for themselves: North America accounts for almost all the Alexa and Google Assistant installments, with a 95% share; Apple's Siri, on the other hand, is more evenly distributed across the globe, with a market share of just 24% in the US; considering that 47.6% of voice AI–capable devices in use in 2021 are expected to be in Asia and Oceania, Apple appears extremely well positioned to compete against rival assistants.
Smartphones and tablets take the lion's share of the voice AI-capable device market, with 3.5 billion active devices as of 2016. The assistants in these devices are, of course, Google Now and Siri. However, things won't likely stay like this for too long. Wearables, smart-home devices and TVs, though, may rapidly expand their share amid the increasing diversity and versatility of AI-powered devices. For this group of products, Ovum projects a tenfold increase from 2016 to 2021, or 1.63 billion active devices.
As hackers tirelessly develop new ways to capitalize on the Internet of Things, time will tell if these systems pose a real security risk for users. Knowing that most AI capabilities of native vendor-led implementations will reside in the cloud, users should be able to enjoy their benefits with some peace of mind. However, users should be aware that such digital assistants gobble massive amounts of contextual and personal data to feed to their AI engines and deliver their service. With 7.5 billion devices doing all this at once, it will be interesting to see how the future unfolds beyond 2021.
In its report, Ovum jokingly references Skynet – the antagonistic AI in the Terminator movies – as nothing to worry about any time too soon. Fair enough. However, the search-engine-powered AI from Ex Machina, Ava, is starting to sound a lot more plausible now.