Some common questions about Bitdefender Password Manager tend to recur. We have the answers! Here you can learn more about your Bitdefender account, importing passwords, data security protocols, and other topics important to our customers. If you don't find the answer to your question on this page, don't forget to check out the related articles below for more tips and step-by-step tutorials.
General questions about Bitdefender Password Manager
What is Bitdefender Password Manager?
Bitdefender Password Manager is a multiplatform service that auto-saves, auto-fills, automatically generates, and manages your passwords for all websites and online services with the help of a single Master Password. Password Manager comes as a browser extension for Windows and macOS. It supports Google Chrome, Mozilla Firefox, Microsoft Edge, and Safari. It's also available as a mobile app for Android and iOS.
This video covers basic information to help you get started with Bitdefender Password Manager. Do check it out:
How do I stop the Password Manager pop-up in my Bitdefender security solution?
The Password Manager notification displayed by Bitdefender Total Security, Internet Security, and Antivirus Plus can be dismissed by clicking the "x" button. The "Manage your passwords with Bitdefender Password Manager" window will randomly reappear a couple of times before disappearing forever. You can opt out of this promotional message by toggling Recommendation notifications to the off position in Bitdefender Settings.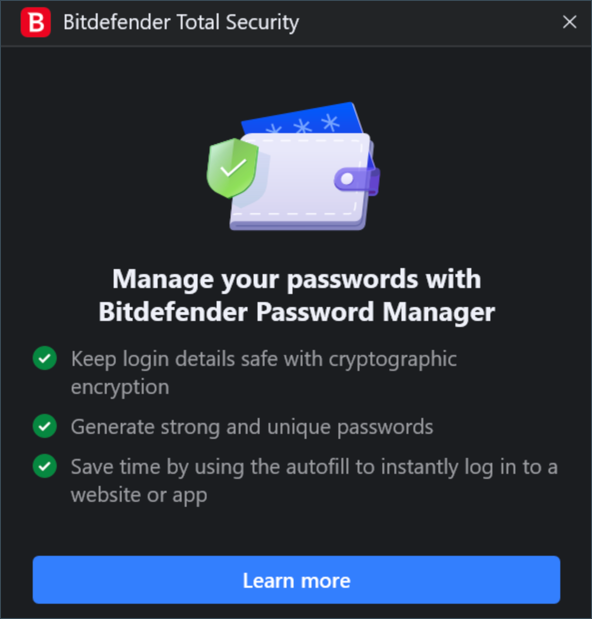 What is the difference between Bitdefender Password Manager and Wallet?
Bitdefender Wallet and Bitdefender Password Manager are not the same product. The main difference is the multiplatform password synchronization. Password Manager is a standalone software compatible with Windows, Android, macOS, and iOS, while the Wallet is a password manager module with basic functionality that comes with our paid security solutions Bitdefender Antivirus Plus, Bitdefender Internet Security, Bitdefender Total Security. The Wallet is available only on Windows and does not work on Mac, Android, or iOS devices.
Wallet integrates with the following Windows browsers: Chrome, Firefox,

Internet Explorer,

Bitdefender Safepay. Unlike Password Manager, Wallet does not offer master password recovery options: if you forget your Master Password you lose all your passwords. Wallet functions are limited to autosave & autofill, auto-lock, and a password generator. You can import data from other password management applications only in .db and .csv format.
Bitdefender Password Manager supports Chrome, Firefox, Edge, and Safari on Windows, macOS, Android, and iOS, while also offering seamless integration with Bitdefender's Safepay browser on Windows. If you forget your master password, you can always reset it and regain access to your data. It has a plethora of bonus features that increase your privacy: autosave & autofill, password generator, password quality check, search & delete password duplicates, (un)hide passwords as you type them, security reports, password leak alert, secure notes, remote logout, biometric unlock on mobile devices. You can import data from other password management applications in multiple formats: csv, json, xml, txt, 1pif, fsk.
Is Bitdefender Wallet discontinued?
Yes. On April 5, 2023 we began the End of Life (EOL) process for our legacy Bitdefender Wallet product in favor of Bitdefender Password Manager, our new, more advanced offering. Learn more
What is the difference between Trial and Premium Password Manager accounts?
A year's subscription to Bitdefender Password Manager lists for $29.99. It will ensure you are part of our Premium family for a full year, instead of protecting your passwords for only 90 days (trial). We're constantly improving our product to make your life safer and easier, so if you take the special offer you'll only pay once, but enjoy Password Manager for a full year. In the future, we plan to implement many special features for the Premium account, so it will be totally worth it.
What happens when Bitdefender Password Manager expires?
Once your Password Manager subscription expires and is no longer active, you will have a maximum of 90 days to export your passwords. Your passwords will be backed up for another 30 days. During those 90 days, you will only be able to export your data. You cannot continue to use Password Manager. The autofill feature will stop working, as well as the ability to generate passwords.
At the end of the 90-day grace period, you have 30 extra days to contact Bitdefender support and request to restore your passwords back to the live database. You will then be able to export your passwords from Bitdefender Password Manager.
Your data will be kept in the live database only until the end of the day it was restored on demand. At midnight the database is erased – and if you have not yet exceeded the 30-day extra period, passwords can be restored again from backup. Raw database data from the backup can be provided upon request to the user, but the database is encrypted and the information cannot be accessed.
How do I install Bitdefender Password Manager?
You can quickly install Bitdefender Password Manager on mobile phones, Windows, and Mac computers directly from your Bitdefender Central account. Just go to the "My Devices" panel, click + ADD DEVICE and choose "Password Manager" in the selection screen.
How do I import passwords from other apps and browsers?
Password Manager imports data easily from a multitude of password managers and file formats. You can retrieve your passwords from 1Password, Bitwarden, Bitdefender Password Manager, Bitdefender Wallet, Bitwarden, ByePass, Google Chrome, Claro, Dashlane, Microsoft Edge, ESET Password Manager v2, ESET Password Manager v3, F-Secure, Mozilla Firefox, Gestor de contraseñas – Claro, Gestor de contraseñas – SIT, Gestor de contraseñas – Telnor, KeePass 2.x, LastPass, Panda Dome Passwords, PassWatch, Roboform, Saferpass, SFR Cybersécurité, SIT, StickyPassword, Telnor, Watchguard. It supports many file formats: CSV, JSON, XML, TXT, 1pif, FSK, and password-protects your data exports. To learn more about importing accounts, see – How to Import Passwords from other apps & browsers into Bitdefender Password Manager.
What is a Master Password, and why do I have to remember it?
The Master Password is the key that unlocks the door to all the passwords stored in your Bitdefender Password Manager account. The master password must be at least 8 characters long. So create a strong master password, memorize it, and never share it with anyone. To create a strong master password, we recommend you use a combination of uppercase and lowercase letters, numbers, and special characters (such as #, $, or @).
How can I stop Bitdefender from asking for my Master Password every time I open the browser?
If you lock your device without closing your browser, Password Manager doesn't lock and you can access your data when you return. As a security measure, every time you open the browser you have to sign in with your Bitdefender Central account and then input your Master password.
To stop the Central sign-in prompt, go into ⚙︎ Settings and tick "Disable login tab on startup".
To stop the master password prompt for 72 hours, check the "Remember me" box on the Unlock your vault screen.
Why don't you store my Master Password, and what happens if I forget it?
The reason why we don't store your Master Password on our servers is so that only you can access your account. It's the most secure way. If Bitdefender Password Manager doesn't recognize your master password, make sure you type it correctly and the Caps Lock key is not active on the keyboard.
If you forget the master password, you can always use the Recovery Key to unlock Password Manager. During the sign-up process, Bitdefender Password Manager provides a recovery key that can be used to regain access to the account without losing your data. It's a 24-digit code. It should be placed in a very convenient and safe place that you can easily remember.
If you forget or misplace both the Master Password and the Recovery Key, as a last resort, contact a Bitdefender representative to reset your account.
ⓘ Important: Resetting your account will erase all your data and passwords saved in Bitdefender Password Manager.
Can multiple users share one Bitdefender Password Manager subscription? 
Yes, the ability to have multiple users on the same Password Manager subscription is available in Bitdefender Password Manager Shared Plan.
How do I add an account?
Bitdefender automatically saves accounts when you log in to websites. To manually add accounts open Password Manager and press the ⊕ Add account button. Enter your login information then click the Save button.
How do I delete an entry in Bitdefender Password Manager?
To delete saved passwords first press 


the edit icon next to the entry you want to remove. Scroll down then choose "Delete". When asked if you are sure you want to remove the account select "Remove".
What is Offline mode and how does it work?
Offline mode is automatically activated when the Internet connection drops while using Bitdefender Password Manager. If you are already signed in and have entered your master password, Offline mode lets you access your passwords when an Internet connection is out of reach. You basically have access to your passwords anytime, anywhere.
What is the Identities feature?
The Identities feature works just like a contact book that you can fill with names and contact details of yourself, friends and family, business partners, etc. If you want Bitdefender to automatically save contacts as you input them on various websites simply check the "Ask to save identities" box in Settings. Identities will then autofill contact information and keep your contacts organized. Password Manager can store multiple identities and automatically fill in your details in web forms before making a purchase. Quick, easy, and secure! All identities are encrypted locally on the user's computer or mobile phone so no one but you has access to this sensitive data.
How do I uninstall Bitdefender Password Manager?
To uninstall Bitdefender Password Manager:
On PC and Mac: remove the Password Manager extension from your web browser. Right-click on the Bitdefender icon and select "Remove". Learn more about uninstalling Bitdefender Password Manager.
On Android: tap and hold the Password Manager app, then drag it to the top of the screen where it says "Uninstall".
On iPhone and iPad: tap and hold the Password Manager app until all apps on your screen begin wiggling, then tap the X to the top left of the Bitdefender icon.
---
Privacy & Security questions about Bitdefender Password Manager
How secure is Bitdefender Password Manager? What encryption algorithm does it use?

The highest data security is assured through the latest, military standard, cryptographic algorithms – AES-256-CCM, SHA512, BCRYPT, HTTPS, and WSS protocols for data transmission.
Password Manager is using an end-to-end encryption system, which means all data is encrypted and decrypted only locally on your device. This guarantees that no one except the account holder who knows the master password has access to the passwords.
Password Manager never stores or transmits the master password, which means no one else can access your vault in the unlikely event of a data breach.
Bitdefender Password Manager is ISO 27001 and GDPR compliant.
Could Bitdefender employees see my passwords?
Absolutely not. Your privacy is our top priority. This is the main reason why we do not store your master password on our data servers: so that no one has access to your account, not even company employees. Every password and account are highly encrypted with the strongest data security algorithm, and the code we see simply looks like a random string of numbers and letters jumbled together.
What would happen if Password Manager servers were hacked?
Each password is encrypted locally on your device before it gets anywhere near our servers, so if hackers were to break into our system, they would only get pages of random letters and numbers without your key to decrypt them. This means that you and your account details are always safe with us.
What is the Notes feature?
Notes act just like a secret notebook where you can store sensitive data, sort it and use color-coding to better visualize it. Use the "Notes" feature to write down software activation keys, your Wi-Fi passwords, router settings, passport information, addresses, secrets, or anything else you want. Password Manager keeps them safe, private, and accessible exclusively to you.
What is the Secure Me feature?
Enable the "Secure Me" feature to remotely log out of Bitdefender Password Manager on your computer, phone, or tablet. You can also remotely log out of all websites you are signed in to or clear your browser history with just a few clicks. It's handy if you share a device with other people or if you leave your computer open at work, school, or anywhere else.
How do I view my security report?
Click on the small shield at the top of the Bitdefender Password Manager application/extension or go to the top left menu ≡ and access "Security report" to view your security report. The password security summary shows you at a glance all weak passwords and offers tips for improving the security of your passwords.