Importing and Exporting a Wallet in Bitdefender 2018
It's not easy to remember the password for each of your online accounts. And if you are not careful while browsing online, your private information, such as e-mail addresses, or instant messaging IDs, can be compromised.
The Password Manager feature in Bitdefender 2018 helps you keep track of your passwords, protects your privacy and provides a secure browsing experience. Using a single master password to access your credentials, Password Manager makes it easy for you to keep your passwords safe in a Wallet.
Bitdefender gives you the possibility to Export or Import a Wallet.
NOTE: For the Export Wallet link to become available, you need to open the wallet first.
If you wish to Export your Wallet, you have to follow these steps:
1. Click the Privacy icon on the left sidebar of the Bitdefender interface.
2. Click the VIEW FEATURES link.
3. In the PASSWORD MANAGER module, select My Wallets.
Each of your wallets will be displayed in a box.
4. In the box corresponding to the wallet you wish to export, click the button situated in the upper right corner, and select Export.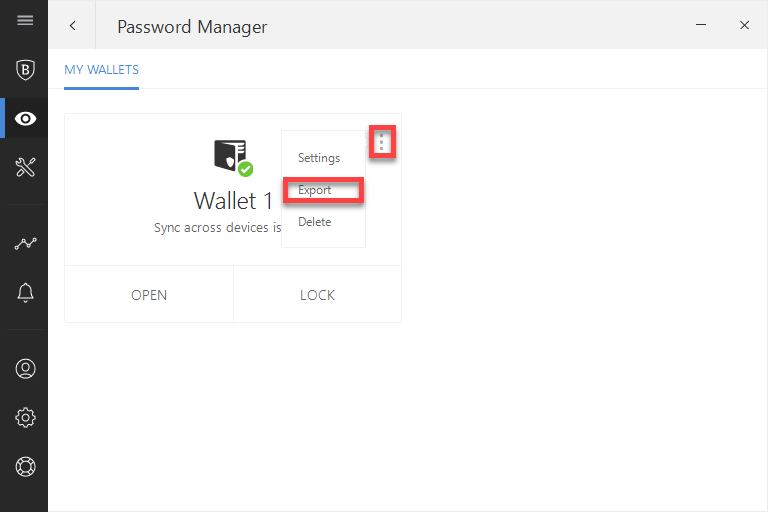 5. Select the folder you wish to export the Wallet to and the click Save.
You can also Import an existing database, if you previously used Wallet on your system.
NOTE: A database is represented by a .db file. In order to successfully import it, you need to remember the password you used for the specific Wallet in the past.
To Import an existing database, you need to:
1. Click the Privacy icon on the left sidebar of the Bitdefender interface.
2. Click on VIEW FEATURES.
3. In the WALLET module, click Create new Wallet.
4. Click the From target button.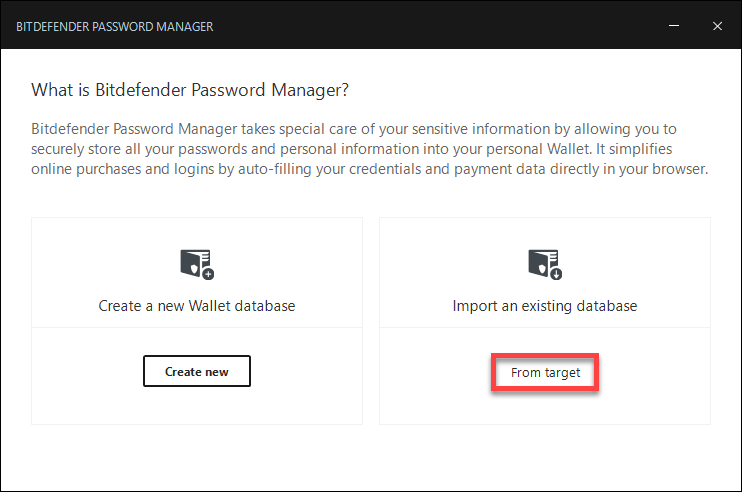 5. Search the location of your wallet database and select it (the .db file).
6. Click Open.
7. Give your Wallet a name and type in the password assigned when it was created in the first place.
8. Click Import.
9. Select the programs you want the Wallet to import credentials from, and then click the Finish button.
Related Articles
Was this article helpful?