This article helps you overcome Bitdefender Antivirus for Mac installation issues where the message « Allow Bitdefender SRL » does not appear in the Security & Privacy window.
This article applies to macOS High Sierra, Mojave, Catalina and newer versions.
When you install Bitdefender Antivirus for Mac for the first time, you should receive the notification below.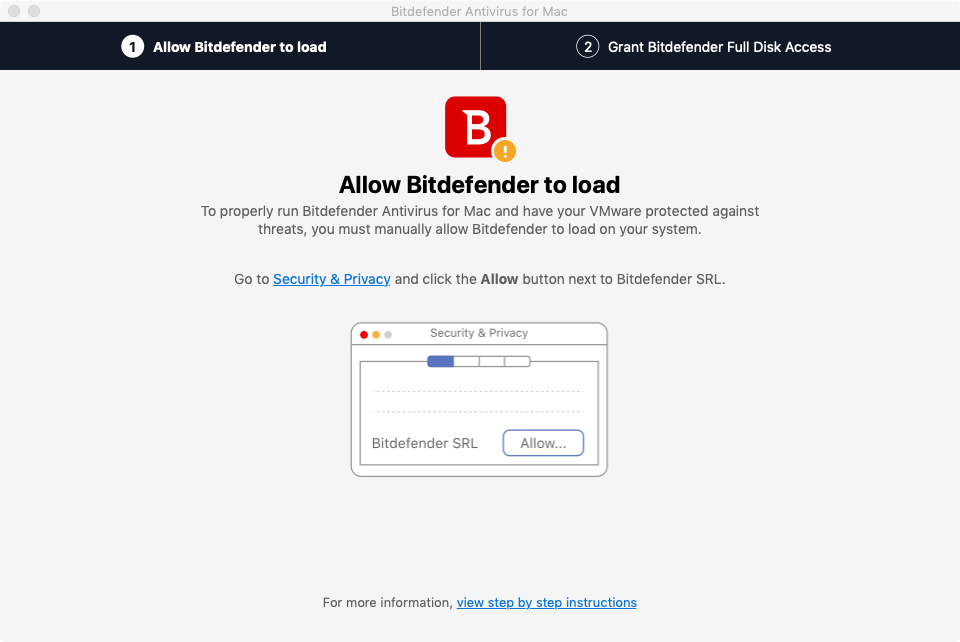 The notification appears because of a new security feature introduced with macOS 10.13  High Sierra (additional info available here)
Thus, whenever a third-party application that uses kernel extension is installed, a system notification will be displayed informing the user that the kernel extension was blocked. This applies to the Bitdefender installation as well.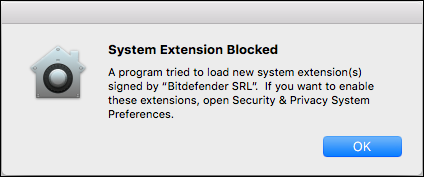 Bitdefender will display its own window that will guide the user through all the necessary steps to approve the Bitdefender kernel extensions. These Bitdefender kernel extensions are essential in protecting your data.
Following the instructions in the window displayed by Bitdefender, you will reach the window below, which presents you with the option to Allow the Bitdefender kernel extension. By clicking Allow, you will complete the Bitdefender installation steps, and you will benefit from the full Bitdefender Antivirus for Mac protection.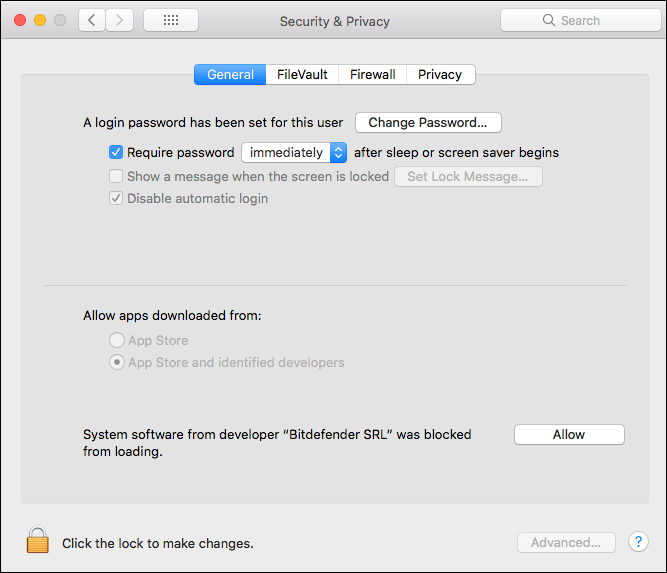 In some cases, you might encounter one of the situations below:
A. You click the Allow button, but nothing happens.
B. There's no message and no Allow button.
This usually happens after an unsuccessful OS update/upgrade. An important note here is that these situations may occur with any 3rd party application, not just with Bitdefender. This means that the troubleshooting steps will address the system, not the application per se.
How can we be sure that it's not a Bitdefender-related issue, but a system situation?  We're going to need to type in a few commands in Terminal, a very useful utility that comes with macOS. This can be found at /Applications/Utilities. Don't worry if you're not familiar with the Terminal, we will get you through each command:
Step 1
Step 2
Step 3
Step 4
Step 5