How to create a wallet in Bitdefender
In this article, we will show you how to create a wallet in Bitdefender.
It's not easy to remember the password for each of your online accounts. And if you are not careful while browsing online, your private information, such as e-mail addresses, or instant messaging IDs, can be compromised.
The Password Manager feature in Bitdefender helps you keep track of your passwords, protects your privacy, and provides a secure browsing experience. Using a single master password to access your credentials, Password Manager makes it easy for you to keep your passwords safe in a Wallet.
For an easier browser experience, you can create a Wallet database as follows:
1. Click Privacy on the navigation menu on the Bitdefender interface.
2. In the PASSWORD MANAGER pane, click Settings.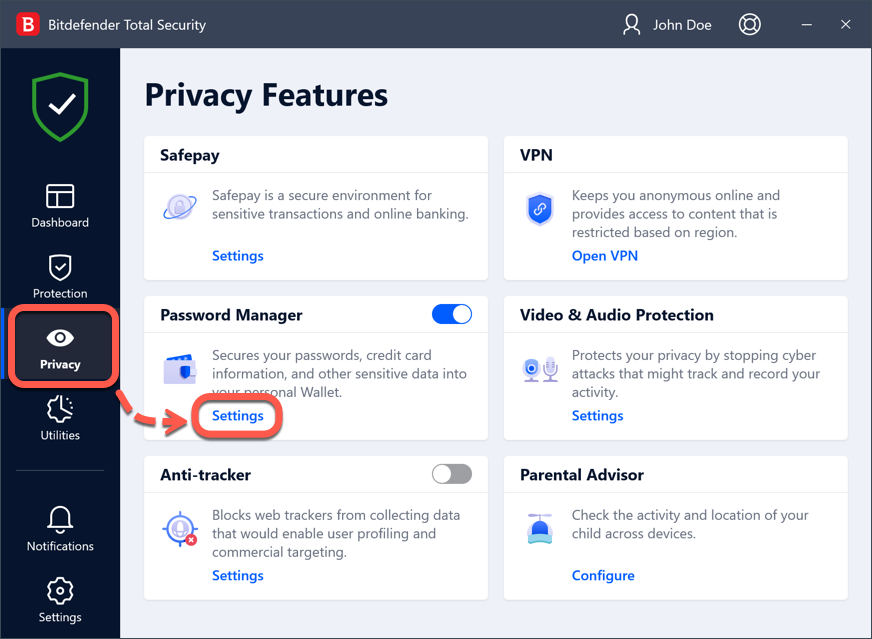 3. In the My Wallets window, click Add wallet.
4. Click on Create new.
5. Type the required information in the corresponding fields.
• Wallet name – type a unique name for your Wallet database.
• Master Password – type a password for your Wallet.
• Hint – type a hint to remember the password.
6. Click Continue.
7. At this step you can choose to store your information in the cloud, by activating the switch next to Sync across all my devices. Choose the desired option, then click Continue.
8. Select the web browser you want to import credentials from.
9. Click Finish.
Related Articles
Was this article helpful?