If your Mac is very slow since you installed Bitdefender Antivirus for Mac or the Activity Monitor indicates that BDLDaemon is consuming an excessive amount of RAM or CPU resources, here you will find tips that can help get macOS run smoothly again.
This article is helpful to those who deal with a general system slowdown. If only your browser is lagging, check out this article instead – Slow Internet on your Mac? Learn how to boost your browser's speed.
What is BDLDaemon?
BDLDaemon is a process of Bitdefender Antivirus for Mac. Its main role is to actively keep your macOS safe from cyber threats by scanning and removing any harmful software that might be running in the background. Whenever a file is open or created, Bitdefender checks it for malware. BDLDaemon also takes care of updating the virus signature database to keep your protection up to date.
Depending on your macOS setup and the apps you have running, this background scanning can sometimes slow down your Mac. This happens because there are certain apps or system processes that are constantly using your Mac's resources, and Bitdefender keeps an eye on their activity.

Interpreting BDLDaemon's CPU usage correctly
Activity Monitor shows BDLDaemon's CPU usage in relation to the total number of processor cores. This means that if you're using a Mac with a 6-core processor, the CPU usage can potentially reach up to 600%. Similarly, 8-core processors can go up to 800%, etc.
Actual system usage is indicated at the bottom of the Activity Monitor window. In this image, despite the impression that the BDLDaemon process is consuming 99.7% of the CPU, the system is actually 67.53% idle.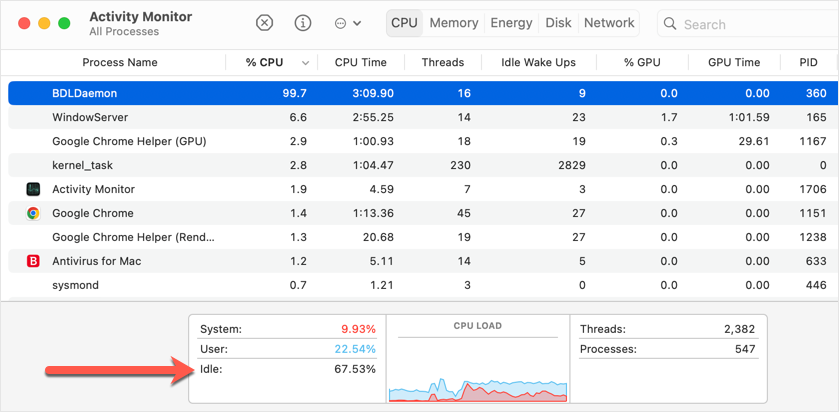 During an on-demand or background scan performed by Bitdefender, it is normal for CPU usage to increase. Scanning involves intensive processes that require significant resources to analyze files, folders, and system areas for threats. The temporary increase in resource usage that occurs during the system scan and quick scan is normal. It does not significantly slow down macOS and should not be interpreted as an issue.
Why is my Mac slow?
If your Mac is running slower after installing Bitdefender Antivirus, it's probably because of the background scanning done by BDLDaemon. To check if this is the cause, try turning off Bitdefender Shield. When you disable the Shield function, Bitdefender will only scan when you ask it to, instead of constantly running in the background. To turn off Bitdefender Shield:
Open the Bitdefender Antivirus for Mac interface.
On the left-side menu, click on Preferences.
In the Protection tab, toggle Bitdefender Shield to the off position so that it turns gray.
Click the OK button after choosing how long you want to stop the Antivirus for Mac shield.
Enter your Mac administrator name and password when requested, to allow the action.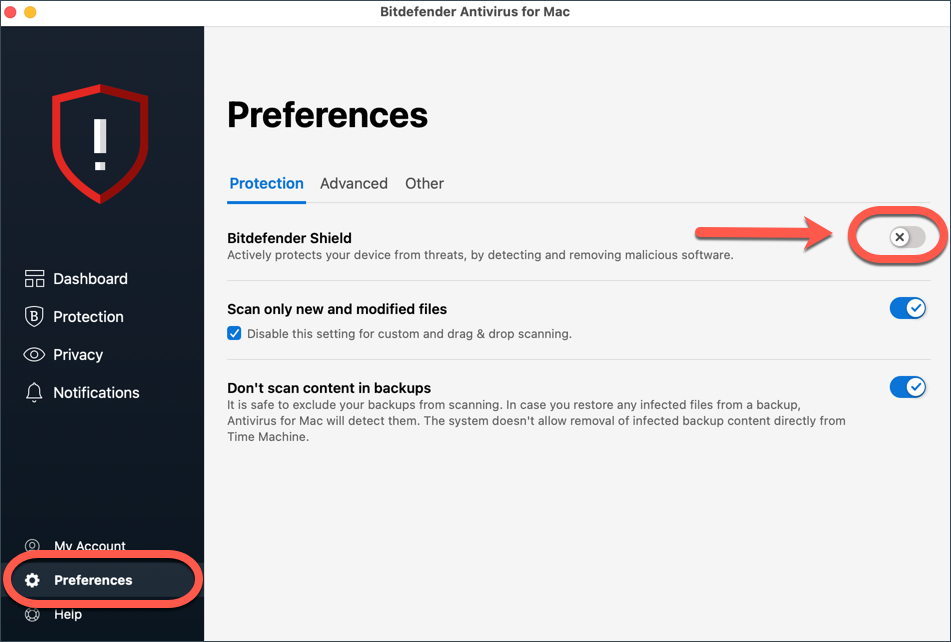 Now, take the steps below based on whether the slowdown persists after you turn off Bitdefender Shield:
Disabling Bitdefender Shield makes no difference
Disabling Bitdefender Shield speeds up my Mac