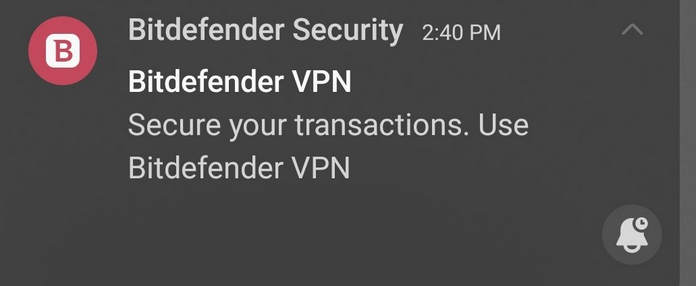 Every time you access a banking website on your Android smartphone or tablet, Bitdefender Mobile Security will send you a notification to remind you to use Bitdefender VPN. This notification will appear in the Android status bar with the message: "Secure your transactions. Use Bitdefender VPN"
To ensure the safety of your data from potential security breaches, we advise you to utilize Bitdefender VPN whenever you access a banking page.
If you don't want Bitdefender Mobile Security to send you messages about using Bitdefender VPN to secure your transactions, do the following:
First, tap the ∴ More icon in the bottom right corner of Bitdefender Mobile Security for Android.
Next, select ⚙︎ Settings in the menu.
Finally, to disable banking-related VPN notifications, toggle Extra privacy for banking pages to the off position.