The Account Privacy feature in Bitdefender Mobile Security for Android checks if your email account has been compromised in a data breach.
About data breach
A data breach, also known as a data leak, is a cybersecurity incident in which sensitive, confidential, or protected information is accessed, disclosed, stolen, or used by unauthorized individuals or entities. Data breaches can occur due to various reasons, including cyberattacks, hacking, human error, system vulnerabilities, or insider threats. When a data breach occurs, it often results in the exposure of personal, financial, medical, or proprietary information.
Using Account Privacy for Android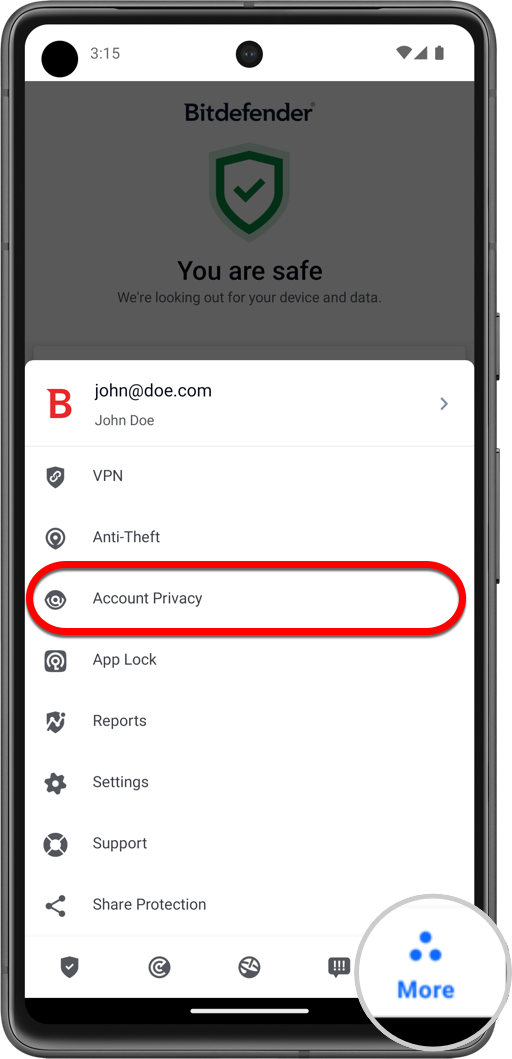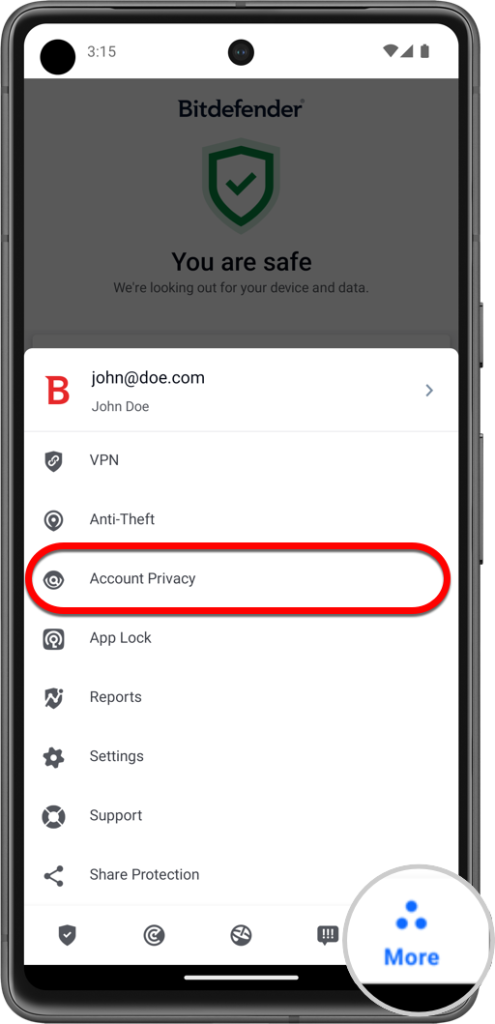 To check if your email address has been compromised in a data breach, you can follow these steps using the Bitdefender Mobile Security app for Android:
1. Open the Bitdefender Mobile Security app installed on your Android device.
2. Tap the More ∴ option located in the bottom right corner of the app.
3. From the menu that appears, select Account Privacy.
4. Then tap on ADD ACCOUNT to begin the process.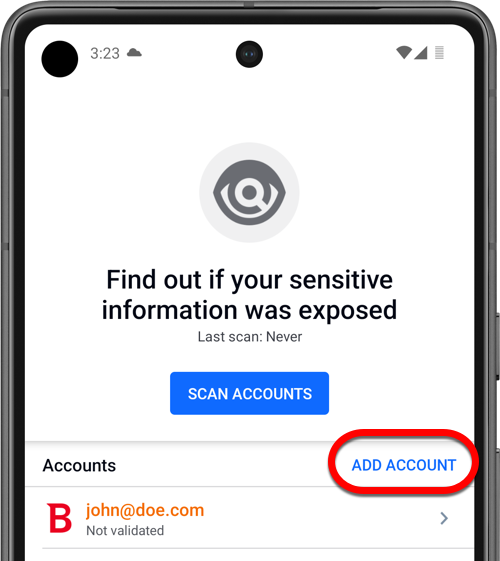 5. Type in the email address you want to check for leaks, and then tap Add.
6. Bitdefender will check your email address to make sure it's valid. You will receive an email with a code to the email address you provided.
7. Open your email inbox and look for the email from Bitdefender. It should contain a validation code. If you can't find the validation email, check your Spam folder too. What to do if you don't receive the validation code
8. Go back to the Bitdefender app, enter the validation code you received, and then press Validate.
9. After entering the code, tap the SCAN ACCOUNTS button in the Account Privacy window. Bitdefender will then check if your email address has been compromised.
Take Action
If leaks are found in any of your email accounts, it's recommended to change the password for that account as soon as possible. Here are some tips for creating a strong and secure password:
Make it at least eight characters long.
Use both lower and upper case characters.
Include at least one number or symbol, such as #, @, %, or !
Remember to follow best practices for online security, such as using strong and unique passwords for each account, enabling two-factor authentication where available, and regularly monitoring your accounts for any suspicious activity. Learn more about What is a Data Breach? Tips for Data Breach victims