Scam artists have been highly opportunistic in exploiting global events, such as the COVID-19 pandemic and, most recently, the war in Ukraine.
According to Bitdefender Labs researchers, in the past couple of weeks, spammers have been targeting internet users with a mixed bag of online dating opportunities such as mail order bride services and dating platforms where single western men can meet Ukrainian women.
Despite the ongoing conflict on Ukrainian soil, many dating platforms are still up and running. Since June 10, tens of thousands of spam emails promoting perfect matches between men and beautiful Ukrainian women targeted the inboxes of users from across the globe.
The spam emails originate from IP addresses in Turkey. Sixty-six percent of messages arrived in inboxes in the US, 10% in Ireland, 3% in Sweden, Germany and Denmark, and only 2% in the UK.
Subject lines vary, and include:
· Enjoy Dating Hot Ukrainian Singles
· Ukrainian Beauties for Love and More
· New Private Message from Your Ukrainian Girl
· Beautiful Ukrainian Girls Are Waiting to Meet You
· Date Easy with English Speaking Ukrainian Girls
Most of the communication analyzed by Bitdefender redirect users to online dating platforms such as ukrainianbrides4you[.]com and charmdate[.]com.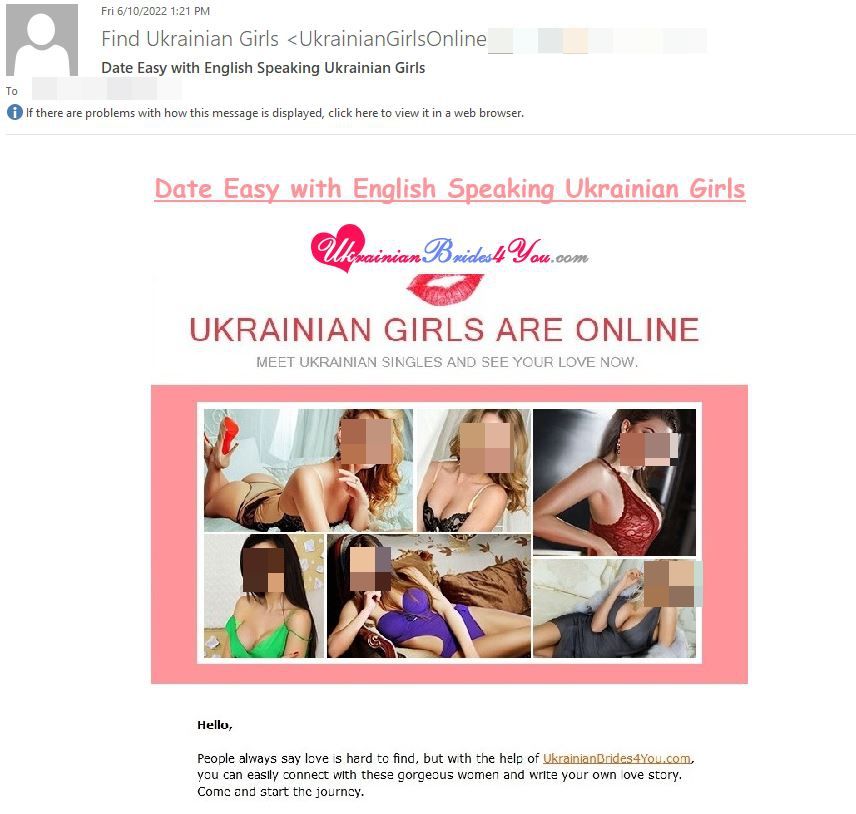 Clicking the link embedded in the email redirects recipients to unsecure dating platforms where they are asked a series of questions, such as their date of birth, preferred body type and gender, and they're even asked to set up a password.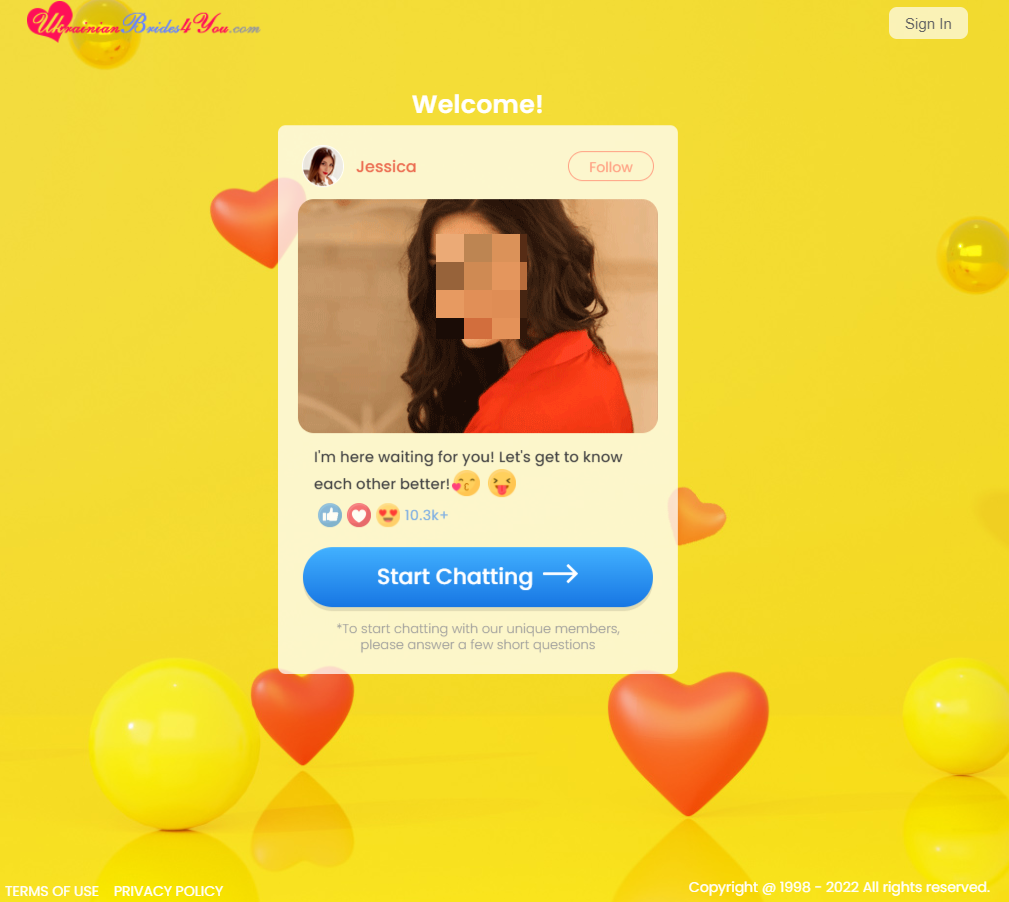 Upon filling out the requested information, users are directed to another online dating platform, where they can immediately start chatting with beautiful women. But there's a catch. Interacting with single ladies on the platforms isn't cheap. Packages can run into the hundreds of dollars and include sending emails, a limited amount of chat time, and unlocking all profile photos of single Ukrainian women.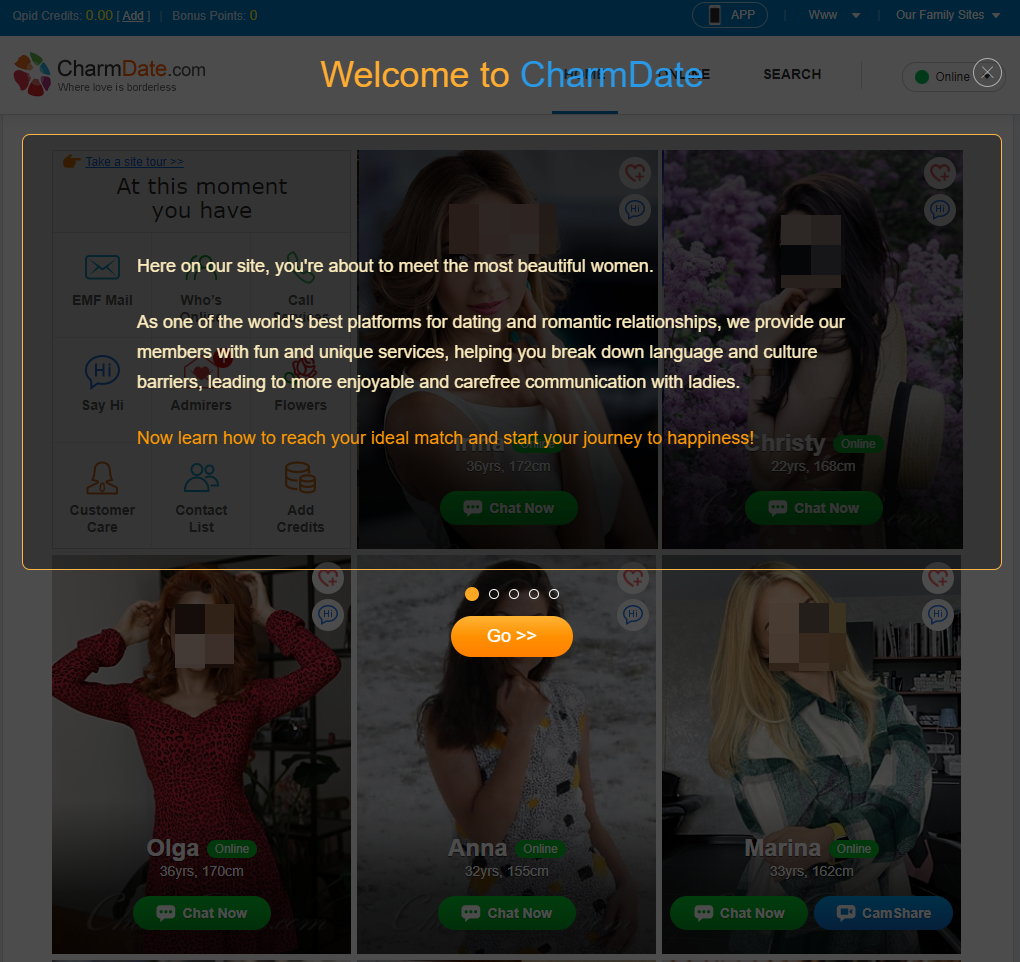 What are your risks?
Every year, romance scammers steal hundreds of millions of dollars from unwary internet users who attempt to find love online.
With losses surpassing half a billion in 2021, online dating scams are increasingly popular among fraudsters targeting lonely hearts across the globe.
Bitdefender Labs has been keeping an eye on adult content and dating spam campaigns for some time now. Spam topics relating to online dating, notifying recipients of potential dating partners, have been consistent throughout 2021 and 2022, with a similarly large campaign popping up since mid-December.
Behind all the smoke and mirrors, users risk a lot of money in searching for their soul mate. Moreover, the likelihood of actually communicating with a Ukrainian woman is slim. Dating platforms such as these are notorious for using bots to facilitate communication with as many users as possible. Profiles seem too good to be true and many customer reviews reveal that despite breaking the bank to set up a real-life meeting with the women active on the website, none have shown up.
The correspondence resembles a marketing romance scam, and although it does not align with the situation in Ukraine, it does profit from human emotional drivers and the lack of personal connection experienced by millions of individuals during the pandemic.
There may not be any immediate dangers in interacting with the spam email. However, we do not recommend you access and confirm your email address, date of birth, or other personal information via the platforms. Approved payment methods for members include credit cards and PayPal, and given the lack of security measures adopted by such platforms, the risks of financial compromise and fraudulent activity are considerable.
Are you in need of help prioritizing your digital safety? Check out our comprehensive all-in-one plans to protect all your devices from malicious and fraudulent activity no matter what device you're using. Bitdefender all-in-one plans provide award-winning antimalware protection and advanced anti-fraud and anti-phishing filtering systems that warn you whenever you visit a website that may try to scam you. You also get a powerful VPN with unlimited traffic for your PC, smartphone and tablet plus a handy Password Manager to help you store your sensitive data passwords, among many other features depending on the chosen plan.
Note: This article is based on information courtesy of Bitdefender Labs.