The story so far...
On 2 December, popular managed cloud computing company Rackspace announced that it was investigating a problem at its Hosted Exchange Server, which had caused a massive outage amongst its customers who were no longer able to access their email.
Some customers reported that they had spent over eight hours waiting on the phone to speak to Rackspace customer service about the issue before giving up.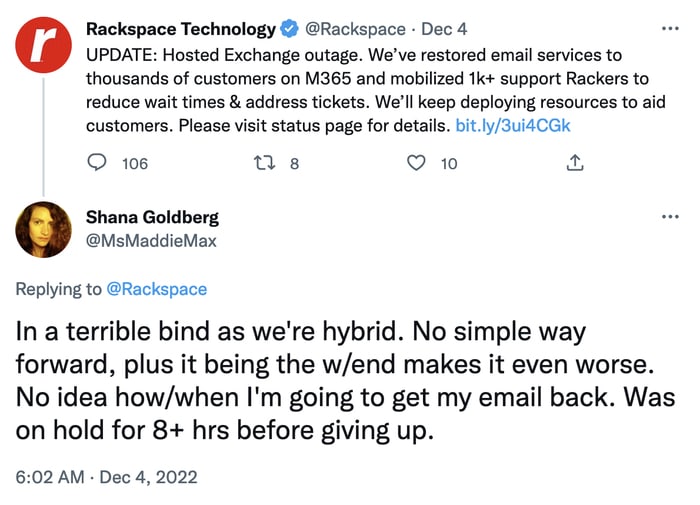 It became apparent that small and medium-sized businesses who were reliant on Rackspace might have to spend days offline as a result of the failure, with the firm suggesting that clients migrate their email systems to Microsoft 365 while Rackspace scrambled to fix whatever had gone wrong.
By December 6, Rackspace admitted that the cause of the problem was what many observers had suspected: ransomware.

The firm also said that it had mobilised one thousand support staff in an attempt to reduce the wait times, as it tries to handle a flood of calls from customers.  You can't help but feel sorry for the staff who are working on Rackspace's customer service hotlines right now - it isn't their fault that this has happened, but they're on the front line dealing with an endless stream of furious clients.
By 5 December, Rackspace said it had engaged third-party experts to look into the ransomware attack, and declined to confirm whether it had paid, or might be prepared to pay, the ransom to its extortionists.
In its latest update, posted on Thursday 8 December, Rackspace said it was "continuing to work diligently to get everyone back up and running and making all resources available to provide support to customers, including by deploying a Microsoft Fast Track team to supplement our workforce. Please be assured we will continue to work around the clock to limit the impact our customers are currently experiencing."
It also warned clients that cybercriminals and scammers might exploit the situation by sending out emails pretending to come from Rackspace, or even posing as them on the phone. The company says that it will let customers know if it finds evidence that the attackers gained access to sensitive data.
It's clearly a big headache for Rackspace's customers, as well as Rackspace itself.
Some of Rackspace's customers have already posted publicly that they have left the service, and others aren't holding back on venting their frustration as they continue to experience problems.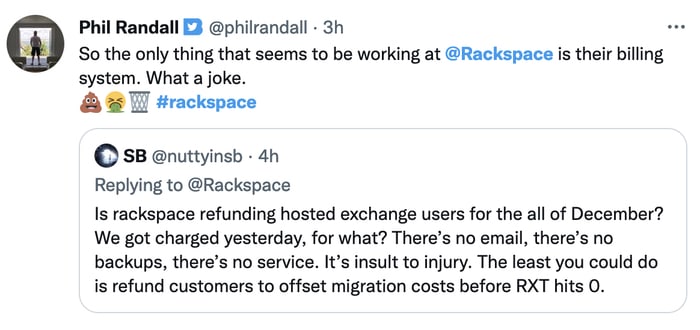 And the damage to Rackspace's reputation is compounded by the fact it regularly promotes its expertise when it comes to securing networks.
And now multiple class-action lawsuits have been filed, claiming that Rackspace failed to properly protect customers' data.
The truth is that no company can be 100% confident that it won't ever suffer an embarrassing security failure. Before any of Rackspace's rivals feel too smug about the firm's troubles, they should ask themselves whether they might be next.
As ever, what matters most is not so much whether an organisation gets hit or not by a ransomware attack, but how well it handles the aftermath and recovery. The problem for Rackspace right now is that so many companies are so reliant on its service to do their own business, and their patience will be running short if more progress isn't made soon.