Andorra.  Most of us have heard of it, but few of us will ever go there.
The Principality of Andorra is famous for being one of the smallest countries in the world, nestled in the Pyrenees between France and Spain.
You would be right to think that Andorra doesn't often make headlines in the world of cybersecurity, but last weekend that changed.
Andorra Telecom, the tiny microstate's only internet service provider, tweeted that a barrage of distributed denial-of-service (DDoS) attacks had impacted the country's internet and 4G service.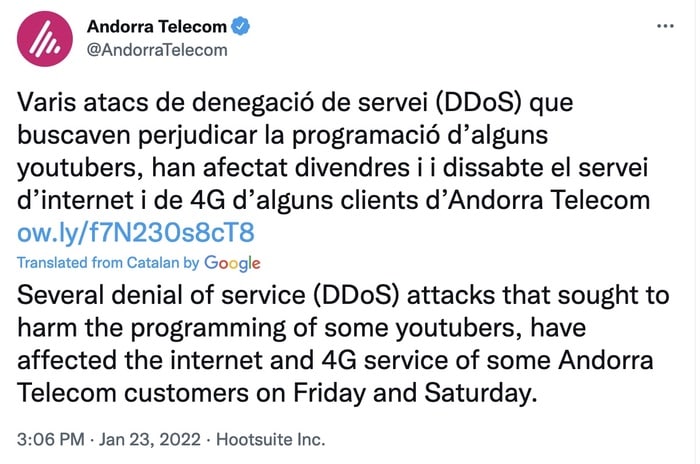 But why would anyone want to try and blast Andorra off the internet?
According to reports, the DDoS attackers' true targets were participants in a Spanish-speaking online gaming tournament that was being streamed live on Twitch.
The Twitch Rivals Squidcraft Games is a Minecraft tournament for streamers, played on a customised version of Minecraft inspired by the popular Netflix TV show "Squid Game."
Some 150 of the most famous Spanish-speaking game streamers competed in various mini-games over five days, and were eliminated one-by-one as they battled to win the grand prize of  $100,000.
The online event proved to be immensely popular, attracting "more than a million viewers" on just its first day.  But, inevitably, some on the internet may have thought that just watching the activity wasn't as much fun as disrupting it.
And so it was that some players living in Andorra were targeted with attacks designed to knock them offline as they played the "hot potato" game.
According to reports, players suddenly left the game and their Twitch broadcasts abruptly stopped.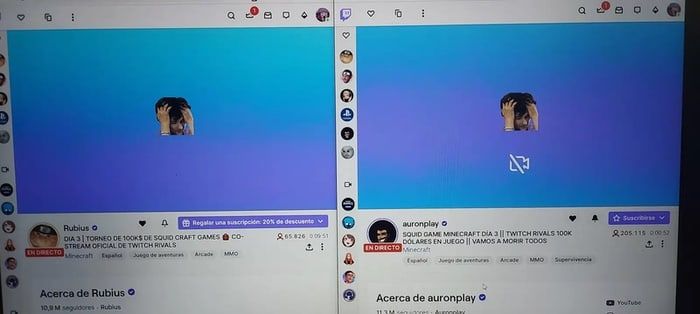 For close to an hour, users in Andorra experienced problems using the internet.  Internet monitors from outside the country shared evidence of the temporary disruption that had been caused before Andorra Telecom managed to mitigate the attack.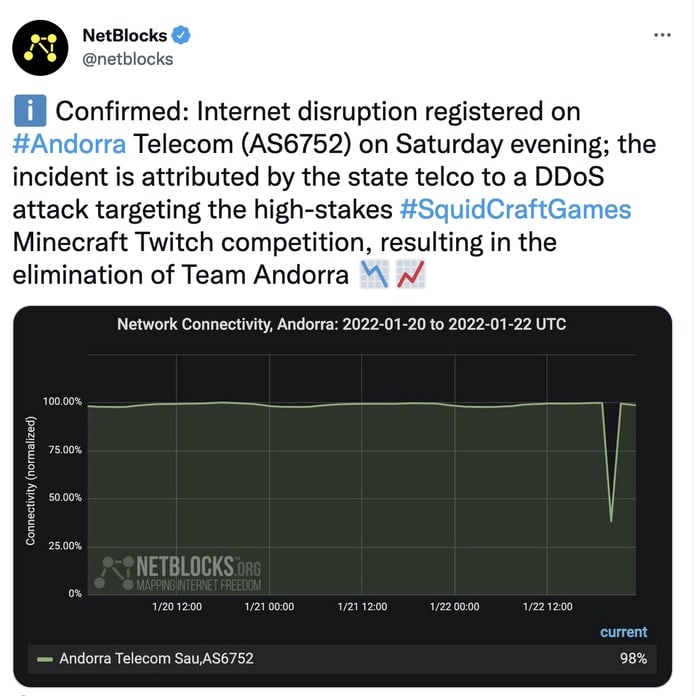 By the way, Andorra may actually be a pretty good choice of a place to live if you're interested in esports and competitive online gaming, as it claims to be the first nation in the world to achieve 100% fibre-optic internet coverage.
(If you're interested, you can watch the Twitch Rivals Squidcraft Games final here. Personally, I found it incomprehensible.)