APTs, Ransomware and Spear Phishing Top US CIO Concerns for 2015,
Bitdefender Study Shows
A Bitdefender study carried in the United States show that targeted attacks, spear phishing and ransomware are the most feared types of incidents in corporations. The study was carried in partnership with research company Millward Brown on a pool of 300 CIOs working in medium and large businesses throughout the United States.
The study finds that, in terms of importance, APTs are having the edge: 19.7 percent of the questioned managers perceive them as very difficult to tackle.
Ransomware is mentioned second in the top CIO concerns for medium and large companies. According to the findings of this study, 13.7 percent of the interviewed companies perceive ransomware as a hard-to-tackle threat. The study also shows that ransomware and rootkits are perceived as particularly difficult to tackle by companies with limited experience in malware attacks.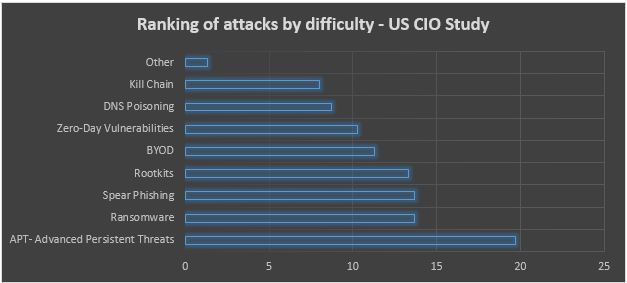 Spear phishing (carefully crafted messages directed at specific individuals within the organization) threats rank third among CIOs' concerns and are mentioned by roughly 13 percent of the respondents. However, spear phishing is still one of the most frequently used techniques to breach the company's security and deliver malicious payloads such as those mentioned above.
Incidents generated by mobility (BYOD) and zero-day vulnerabilities are fewer than those caused by APTs and ransomware. 11.3 percent of those interviewed see BYOD as potentially risky for their company, while 10.3 percent of managers think that zero-day attacks would pose any threat to their company's security.