Bitdefender Awarded Approved Business Product
AV-Comparatives has given their "Approved Business Product" award to Bitdefender GravityZone in their Business Security Test (August-November 2022). To achieve this award, products must score 90% or better in the Malware Protection Test while having zero false alarms, and 90% or higher in overall Real-World Protection Test, also with low false positives. This is the latest set of results from the ongoing Business Security Test which AV-Comparatives produces twice per year.
As detailed in their comprehensive, one-hundred page report, AV-Comparatives provides a detailed assessment of centrally managed business security tools. AV-Comparatives strives to provide independent, third-party testing which goes above and beyond standard anti-malware testing to give organizations information about how solutions will stand-up to real-world conditions.
Latest Testing Highlights
Bitdefender has a consistent history of recognition from AV-Comparatives. In this latest Real-World Protection Test (August-November), Bitdefender tied for the second-highest protection rate of 99.8% out of eighteen solutions. In achieving this result, Bitdefender had only a single false alarm. The only solution that managed to score a higher protection rate did so while reporting 10 false alarms, while the other vendor to equal Bitdefender's protection rate of 99.8% did so with 3 false alarms.
On the bright side for all vendors, all tested solutions scored zero false positives with common business software. If you are one of the very rare organizations that is lucky enough to have only stock-standard software in your environment, you can rest easy. For most of you, that's simply not the case, so considering false positives in context is important.
In an ideal world, protection would be at 100% with zero false positives. That level of perfection is incredibly difficult to achieve, which explains why the only solution to score 100% protection experienced 10 false positives versus Bitdefender's single false positive. For scale, the highest number of false positives reported was a whopping 68.
High false positives create headaches for administrators which may sometimes feel like they rival the pain of false negatives (the misses in protection rates) but the reality is defeating attacks without impacting end-users is the most important measure. Speaking of end-users, the performance impact of security on systems is felt every single day. AV-Comparatives tested performance with a standard tool which gauged 100 as the Baseline PC Mark Score – the performance of a system with no security.
Even with the amazing Bitdefender Real-World Protection number, Bitdefender scored 99.0 in the PC Mark Score. Only a single vendor beat that score with 99.2. However, that same vendor ranked 11th out of 18 vendors on protection.
With all this information, it is important to dig into the comprehensive test results which AV-Comparatives provides. While we at Bitdefender are extremely proud of our high protection with low false positives and performance impact, we know the requirements of your organizations are unique, and not limited to empirical measurement, which leads us to management.
Management
Most small to medium enterprises require immediate options when faced with security incidents – there is not always available time and expertise to dig through output. Larger organizations also experience the same, though they may look for both C-level reporting along with deeper data which security teams can dive into in parallel or after an incident has been dealt with.
When it comes to incident analysis, then, all teams – large and small - are equal because they want actionable conclusions as quickly as possible, while also having the ability to drill-down later as part of forensic investigations. AV-Comparatives notes the Bitdefender GravityZone cloud-based console can be used by the SME sector upwards since it has a series of advantages.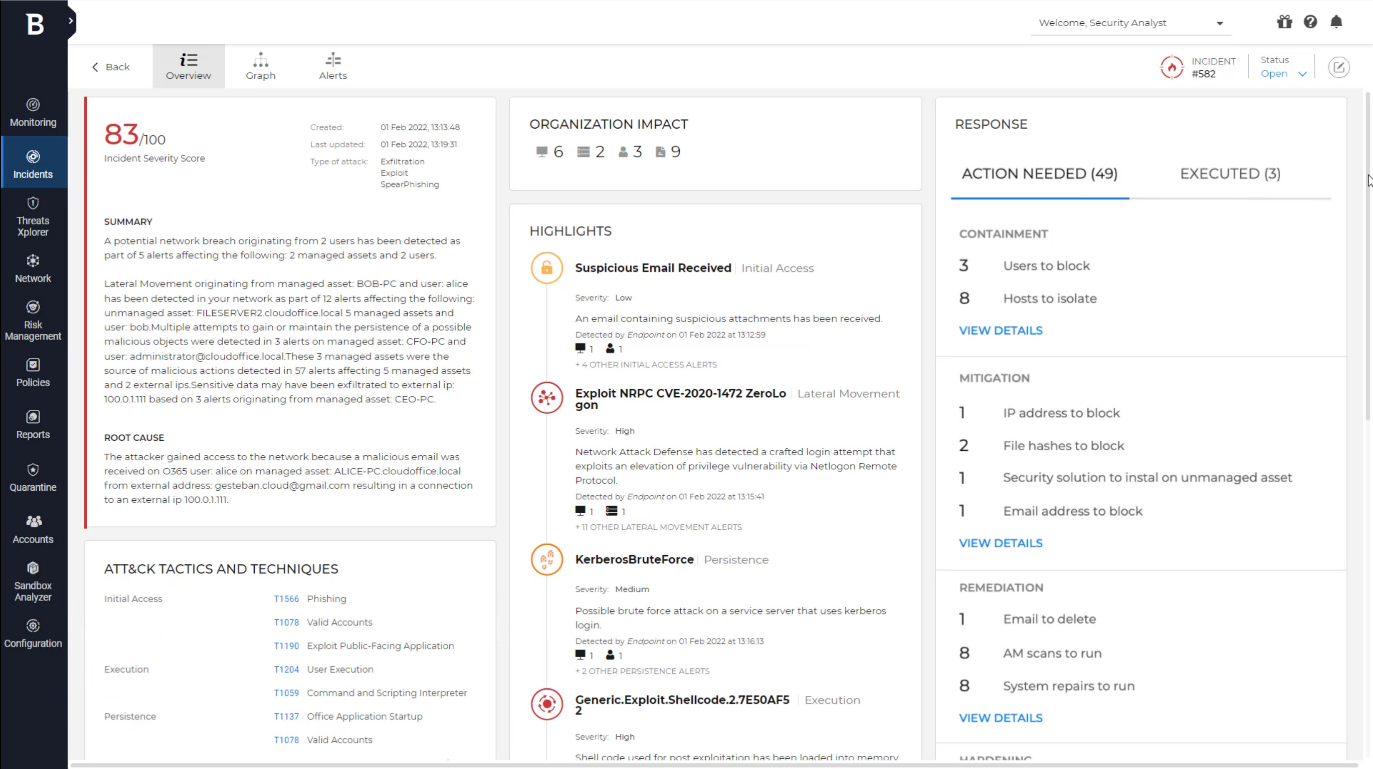 AV-Comparatives highlighted several advantages of Bitdefender GravityZone, including:
AV-Comparatives brought attention to the Incidents
section of GravityZone where you
can review and investigate detected threats
.

From there, you can pull-up a graphical representation of an event including details at each step, including remediation actions.
At the other end of the spectrum, AV-Comparatives highlighted the Risk Management Dashboard. While highly granular details of an incident are needed by investigators, being able to find the Company Risk Score is equally valuable for organizations, especially since there is also a break-down of Misconfiguration, App Vulnerabilities, and User Behavior Risks to help guide security efforts beyond the latest incident.
Conclusions
AV-Comparatives continues to provide valuable third-party testing of security solutions. They put a lot of thought and effort into testing, especially the Real-World Protection test, which they note is:
"A project developed jointly by AV-Comparatives and the University of Innsbruck's Faculty of Computer Science and Quality Engineering."
This level of rigor provides insightful test results which will help guide your security planning. At Bitdefender, we encourage cyber security teams to look at the effectiveness of security solutions across several measures:
Efficacy – detect and stop bad stuff

Accuracy – don't disrupting your business with false positives

Impact – ease of deployment and management with great performance on the endpoint
About the AV-Comparatives Business Security Test
This report is the second of 2022 in the AV-Comparatives Business Main-Test Series. It includes results of Business Real-World Protection Test (August-November), Business Malware Protection Test (September), Business Performance Test (October), and the Product Reviews. AV-Comparatives describes three parts of this testing:
The Real-World Protection Test covers attacks a business end-user might be subject to when on the Internet
The Malware Protection Test covers scenarios in which malware is already present on the target system, rather than having to arrive from another system

The Performance Test measures the impact on computing with a security solution present
For unmatched attack prevention and a better return on security investment, sign up for a

free trial of GravityZone

.