Bitdefender recently joined more than 26,000 attendees, 600 speakers and 400 exhibitors at the 2022 RSA Conference in San Francisco, the world's leading information security conference. As cyber-attacks continue to grow in frequency and sophistication, the annual RSA Conference plays an important role in bringing together practitioners and experts from across the public and private sector to share the latest cybersecurity research, exchange perspectives, and demonstrate the industry's leading technologies designed to address today's security challenges.
Bitdefender experts gave insightful presentations on a wide range of topics including exploring the value of extended detection and response (XDR), top ransomware myths and misconceptions, how cyber resiliency can help drive business growth, and more. Several hundred people visited the Bitdefender booth to learn more about the latest in threat prevention, detection and response, and hear new research on homograph phishing attacks and previously unknown vulnerabilities in Microsoft Office. Bitdefender demonstrated its award-winning solutions for XDR, endpoint detection and response (EDR), cloud security workload, and managed detection and response (MDR).
XDR is growing in popularity
One of the main trends that emerged from the conference was the rapid rise and growing popularity of XDR. In today's complex cybersecurity landscape, relying on point solutions is simply not enough. Organizations need unified protection across multiple environments and sensors, from physical and connected devices, to virtual and cloud platforms, to hosted workloads. That's why many are turning to XDR solutions like Bitdefender GravityZone XDR, which provides advanced threat detection and cross-event correlation across the entire business environment: network, endpoint, email, identity, and cloud.
Even as interest in XDR grows, it was clear at the conference that there remains much debate around the best approach: open XDR vs. native XDR. Open XDR is a vendor-agnostic approach considered to be more flexible and designed to integrate with all the security intelligence and telemetry sources an organization might have. Native XDR is a single-vendor solution with built-in integrations ready to be used out of the box. A native XDR approach as the benefits of providing a more automated and streamlined solution for security departments and faster time-to-value, enabling organizations to quickly become more cyber resilient.
Moving beyond point solutions
Another popular theme throughout the conference focused on how organizations can achieve greater efficiency and effectiveness in threat detection and response. The combination of increased cyber-attacks and a workforce shortage means that security teams face an overwhelming workload when it comes to investigating alerts and determining the appropriate response. By moving beyond point solutions, which can create technology-driven silos within an organization, and adopting a platform approach, security teams can become more efficient and effective, rapidly triaging and responding to incidents across the business environment from a single console.
Managed detection and response (MDR) services are another way organizations can augment and extend their security teams to become more efficient and effective. There was much interest in MDR at the conference, both in terms of managed service providers (MSPs) looking to incorporate new XDR technologies into their services, and from end-user organizations seeking MDR services. Small to midsize enterprises (SMEs) in particular, which often lack the security budget or staff size of their larger counterparts, can benefit from the 24/7 monitoring and response provided by these services.
Bringing the cybersecurity community together
Overall, it was refreshing to see the 2022 RSA Conference once again bring attendees together in person after more than two years of disruption caused by the pandemic. The conference served as a great opportunity for many people from across the global cybersecurity community to connect and get reacquainted.
Additionally, it was encouraging to see vendors evolving their technology and service offerings to solve the increasingly complex cybersecurity challenges that businesses face today. The single-console, single-agent experience delivered by the Bitdefender GravityZone platform was very well received by attendees seeking proven, unified protection across their entire environment.
Stay tuned as we share recaps of our most popular presentations from the 2022 RSA Conference in upcoming blog posts.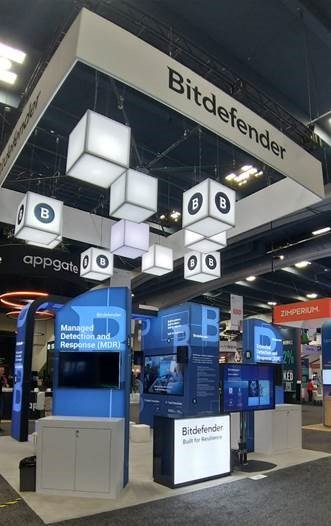 Be sure to subscribe to our LinkedIn and Twitter feeds to stay up to day.