Bitdefender has earned three prestigious Best Protection awards from AV-TEST, an independent IT security testing firm. Bitdefender's GravityZone Ultra, our unified endpoint security platform for endpoint protection, Endpoint Detection and Response (EDR) and advanced analytics was once again secured the top spot for "Best Protection for Corporate Users" in the category of security solutions for Windows users. Additionally, Bitdefender Internet Security won "Best Protection for Consumer Users" for protection against malware in consumer Windows products, and Bitdefender Mobile Security earned "Best Android Security for Consumer Users" for the best all-around protection of private mobile Android devices.
This marks the second consecutive year GravityZone Ultra has been named Best Protection for corporate users due to its superior threat prevention, detection and response capabilities, powered by Bitdefender's advanced threat intelligence.
Strong Cyber Resiliency is More Important Than Ever
As AV-TEST notes in its announcement of the Best in IT Security award winners, 2021 was a year marked by many cybersecurity challenges for organizations of all sizes and across all industries. Traditional work models continued to be completely upended due to the ongoing pandemic, with organizations continuing to work fully or partially remote and employees often using their own personal devices or home networks for work. This, combined with a sharp increase in malware variants identified by AV-TEST in 2021, makes it more important than ever for organizations to ensure strong cyber resiliency across their entire distributed environment and all endpoints in the face of increased threats and an evolving business landscape.
AV-TEST Methodology
To understand how leading cybersecurity solutions perform in real-life scenarios, AV-TEST subjects security solutions to a full year of rigorous and ongoing tests measuring their ability to recognize and block threats in the wild across multiple environments. AV-TEST GmbH retains one of the world's largest collections of malware samples and tests security solutions using zero-day malware, drive-by website attacks, downloads from websites, malware infected email, and more. Solutions in like categories are tested simultaneously and in identical and repeatable conditions, with the winners determined based on their protection capabilities, performance, and usability over the course of the entire 12 months of testing.
GravityZone Ultra's Superior Protection
Throughout the course of the testing, GravityZone Ultra's cross-endpoint event correlation demonstrated superior threat detection and visibility by combining the granularity and rich security context of endpoint detection and response (EDR) with the infrastructure-wide analytics of extended detection and response (XDR) technologies. GravityZone Ultra received a perfect score for protection, identifying 100% of malware samples tested.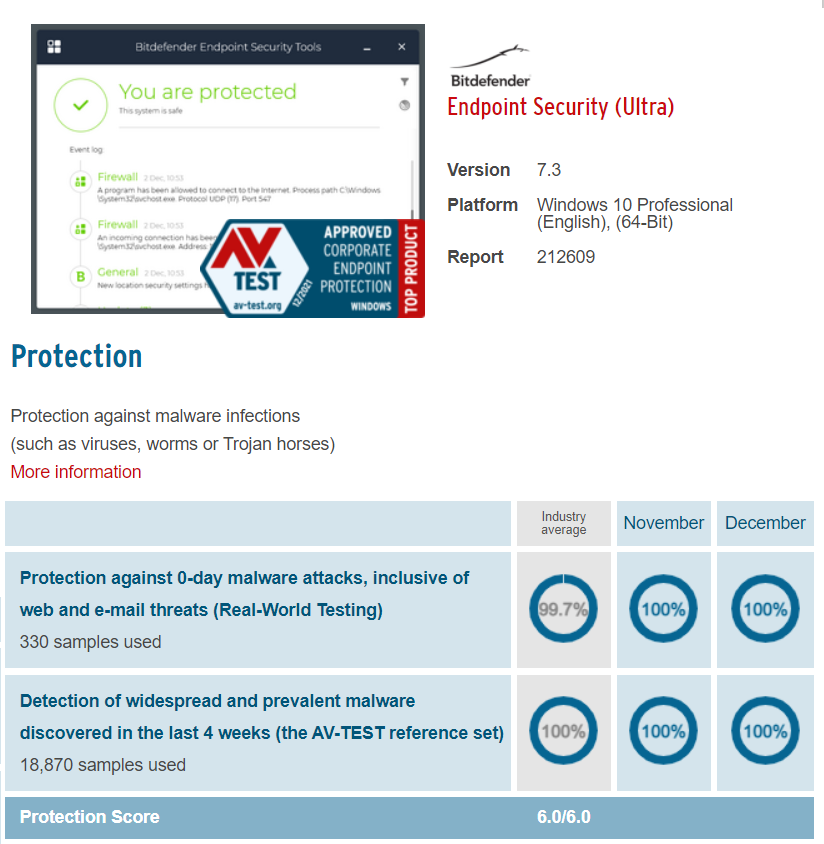 Powerful Threat Detection, Driven by Machine Learning
GravityZone Ultra, like all of Bitdefender's cybersecurity solutions, are powered by our advanced threat intelligence gathered from our global install base of hundreds of millions of endpoints, dark web monitoring services, web crawling systems, email traps, honeypots and monitored botnets, and extensive collaboration with international law enforcement agencies. In addition, experts in our Cyber Threat Intelligence Labs combine this data with the use of artificial intelligence, deep learning and anomaly-based detection to enable contextual, real-time insights for greater protection.
Dragoș Gavriluț, D

irector of Cyber Threat Intelligence at Bitdefender described why GravityZone Ultra earned the distinction of Best Protection:



"Bitdefender's GravityZone Ultra performs so well in the rigorous and ongoing AV-TEST testing due to powerful modules for detecting and blocking never-before-seen threats including advanced persistent threats (APTs) and advanced exploits. The machine learning models that underpin our threat detection capabilities are continuously being trained against new malicious samples, as well as known samples to learn how to identify characteristics that indicate they are likely malicious. Upon spotting a new, likely malicious threat in the wild, GravityZone Ultra is then able to quickly send it to Bitdefender Labs for further analysis. In this way, it's able to efficiently analyze and block new threats in real time."
Learn More
This year's awards are in addition to the four AV-TEST Awards Bitdefender won in 2021 for Best Protection. Bringing home so many top awards from one of the industry's most reputable and recognized independent testing groups is an accomplishment of which we are very proud. IT security professionals and consumers alike can use these test results to understand how leading security solutions perform in the real-world, and to help them make the right selection.
To try GravityZone Ultra for yourself, start a free trial.