Nowadays anonymity and online privacy are the exception rather than the norm. By using techniques such as browser cookies, spy pixels in emails and behavioral profiling, mass data collection has created a digital footprint for everyone.
So is online anonymity even possible when every bit of data about any individual is a potential source of profit? Let's see what cybersecurity experts have to say about it.
Privacy vs Anonymity: What is the Difference?
Although some use privacy and anonymity as synonyms, they are not the same. Knowing the difference helps you choose the right tools and adjust your online behavior to maximize your privacy or anonymity, as they reinforce each other.
"Anonymity is the concept of being completely anonymous online, whereas privacy is the capability to control who has access to your data and to which type of information belonging to you they have access.
I would imagine that, in current times, being able to be anonymous online is very important in some countries with a lot of conflicts, whereas privacy is not that absolute. Privacy is the capability to keep your data private and control who can see specific parts of your data."
Alex "Jay" Balan (Director of Security Research, Bitdefender)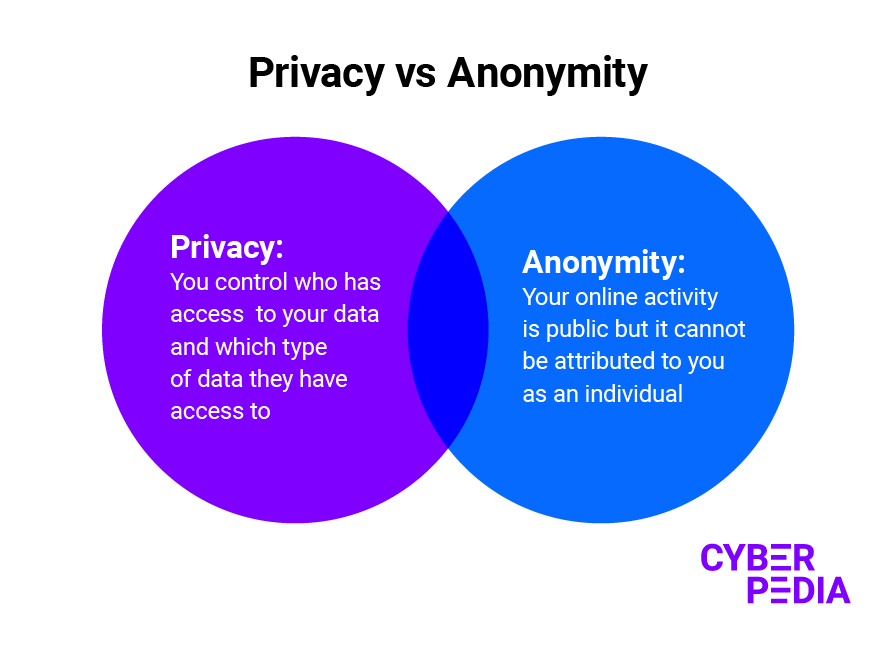 Being anonymous online means having a non-identifiable presence on the Internet. It involves not using your real name and never revealing personal information such as your phone number and address. Online anonymity also means being unreachable or untrackable (which, for the most part, is a difficult task to achieve).
Paying attention to your online privacy means disclosing information that is appropriate to the context and protecting your personal details from unauthorized parties. To increase your privacy on the web, you may limit access to your personal data or seek to have stronger control over your information. You will also want to have the option to withdraw it from public or private use.
Therefore, boosting your privacy and anonymity requires a combination of habits and tools that make it easy to reduce your digital footprint.
If you are seeking stronger anonymity as an Internet user, you need a strong setup that minimizes the amount of information connected to your real identity.
Using a combination of free and paid tools and services created by experts in cybersecurity and online privacy can make a significant difference in reducing the volume and type of personal data exposed.
These tools often complement each other and act as layers that protect your real identity from scammers, cyber-criminals, online identity thieves and social media impersonators.
Choose Encrypted Services for Email and Messaging
There are more options to use non-surveillance technology than ever before and the most trustworthy ones will always use strong data encryption.
Hackers try to track your online communication and exfiltrate as much data from it as possible. They are extremely skilled at turning this data into cash, whether through targeted cyber-attacks, extortion or by selling it to the highest bidder.
Therefore, using encrypted platforms for email and messaging adds an extra layer of protection that blocks a lot of automated mass surveillance. There is also the option of using temporary email addresses that self-destruct after a certain amount of time or several uses.
Use a Secure VPN to Hide Your Location
Encrypted email and messaging apps are useful, but they do not hide your location. This can provide essential information that connects your offline identity to your online activity.
The essential tool you need to hide your IP address and the range of information it reveals is a VPN that does not share your data with third parties.
The way a VPN works is that it encrypts your data and hides your true IP address, making it easy for you to browse the Internet without risking your identity or security. From keeping you safe from Wi-Fi surveillance on unprotected networks to giving you a reliable way to bypass geo-blocking, you really need a VPN if you need to stay anonymous online.
Be careful when choosing yours, because not all VPN apps are alike. Bitdefender Premium VPN uses the strongest security protocols available and shields your personal data from those who might try to harvest it.
Use a Password Manager to Reduce Your Data Breach Risk
Online anonymity relies on keeping the data bits about your digital self separate. If you use the same password for multiple accounts and one of them gets exposed in a private data leak, then all the other accounts will be vulnerable.
Do you think it is impossible to set and remember truly strong and different passwords for all your online accounts? You don't have to do it yourself. Let Bitdefender Password Manager do these things for you, and immediately increase your protection for all accounts.
Nowadays, password management apps are easy to use, work on every device, and make you more productive. No more forgetting passwords and having to interrupt your work to retrieve them. No more worrying about duplicate, reused passwords that leave your accounts exposed.
One of the strongest additions to your setup is having a tool that maps, monitors and helps you manage your digital footprint.
Bitdefender Digital Identity Protection keeps an eye on your personal information and provides advice on how to stay anonymous online. Bitdefender Identity Theft Protection continuously monitors your digital identity, privacy, and credit status against fraud attempts.
These services search for your online accounts and alert you in case your personal information is exposed in data breaches or exploited by social media impersonators.
8 Habits that Help You Stay Anonymous Online
Can you really stay anonymous online? While it is possible to delete some of your digital footprint (like social media or email accounts), there is some information you can never erase (like government records).
So, what can you actually do?
Be careful when using your real name and credit card. Choose to set up online accounts or make purchases only on trusted websites.
Delete any old accounts you no longer use.
Share less about you online. This helps reduce your exposure to cyber-criminal attacks and scams.
Check app permissions and browser add-ons and keep only the necessary ones.
Put your secure VPN on autopilot. Set it to start when you turn on your device and always run in the background. It will not slow down your connection and you will get all the privacy and anonymity benefits you pay for 24/7.
Set your browser to delete all cookies and browsing history when the session is over. Alternatively, you can select and delete your cookies manually.
Turn off location services across your devices. This will reduce the number of data points associated with you as an individual.
Use security solutions that protect all your devices. Install the software and let it run in the background, as it will protect you from phishing attacks, ransomware, malware of all sorts, and many other attempts at stealing your data and money.
As always, our cybersecurity experts encourage you to build your online protection in layers, from a provider you really trust. By using an all-in-one protection solution, you will get better integration and more effective protection, with no overlap or software conflicts.