Bitdefender VPN Regional Restriction: Countries where VPNs are illegal or banned
Sometimes, when you attempt to connect to Bitdefender VPN, you may get a warning that says « VPN Regional Restriction Your current location doesn't allow the use of VPN applications. For your protection, we've restricted connectivity in certain countries such as China, Iraq, UAE, Turkey, Belarus, Oman, Iran, and Russia. »
What should you do once you see this message appear?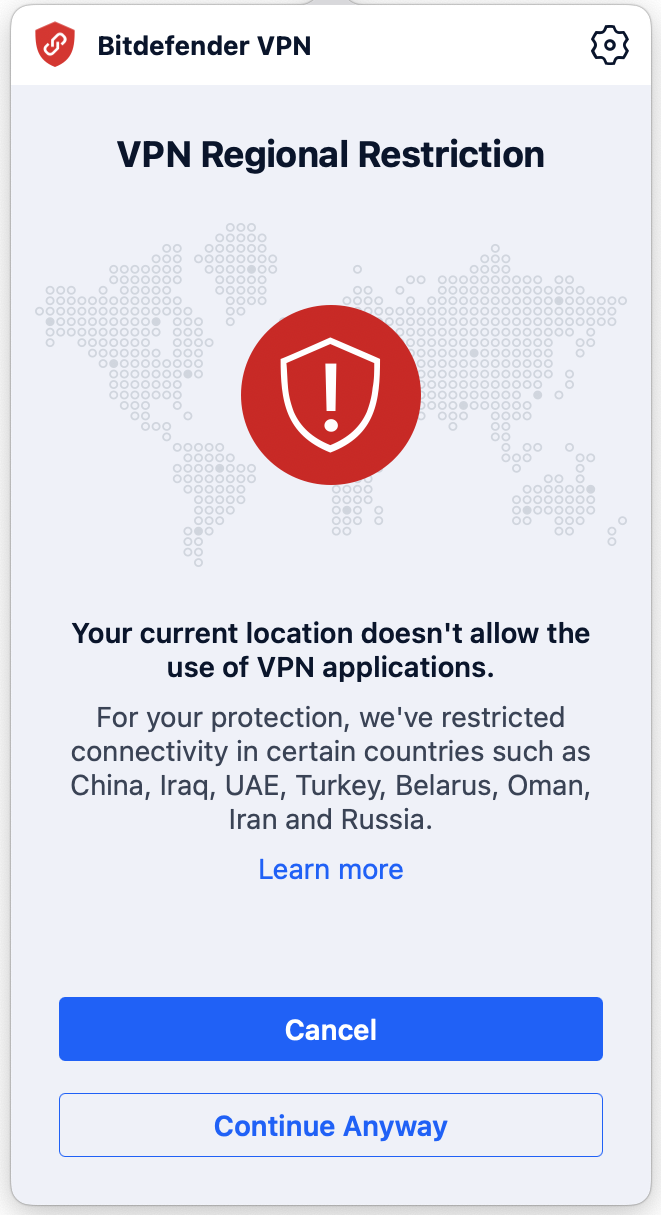 You may be wondering why you receive the VPN Regional Restriction message and what it means.
The Bitdefender VPN app is able to bypass geo-restrictions or government firewalls, which may be considered illegal in some of the locations where this app is available. As Bitdefender always complies with the local laws for any territory in which it is made available, the VPN feature has been geo-fenced while in use in certain countries. Scroll down to see the full list of countries where VPNs are illegal or banned.
When you attempt to connect to Bitdefender VPN while located in an area with restrictive regulations regarding the use of VPN services, you will receive a notification similar to the one shown in these pictures.
Here's how you can handle the issue:
• Option A. To dismiss the dialog, simply exit the VPN app or choose CANCEL. Bitdefender VPN will remain disconnected. 
Bitdefender VPN's functionality is automatically restored as soon as you leave a country that prohibits the use of VPNs.
• Option B. To disregard the warning and proceed at your own risk, choose the CONTINUE ANYWAY button. The VPN connection will be established.
Only perform this step if you're sure of what you're doing. Keep in mind that in certain countries, you risk serious consequences such as fines or even worse penalties for using a VPN. Please consult the regulations in force in the countries mentioned below before traveling there.
Note! The option to continue anyway is currently unavailable on iPhone and iPad. You have a RETRY button that will check if you are still in a country that applies restrictive VPN usage regulations, and connect only if you are not. The image to the right is an example of the warning that appears on iOS.
VPN Regional Restriction: The list of countries where VPNs are illegal or banned
We want to offer our VPN service to everyone. Unfortunately, in some areas, there is a regional restriction on the use of such a technology. For your protection, we have restricted Bitdefender VPN connectivity in these eleven countries where the use of VPN services is either illegal or banned, and you risk a fine for connecting to a VPN:
1. Belarus
2. China
3. Iran
4. Iraq
5. North Korea
6. Oman
7. Russia
8. Turkey
9. Turkmenistan
10. Uganda
11. United Arab Emirates
Related Articles
Was this article helpful?