This article will show you how to subscribe and upgrade from the free edition of Bitdefender VPN to Bitdefender Premium VPN on iOS and iPadOS.
With Bitdefender VPN, you benefit from a daily 200 MB daily traffic quota per device included in your subscription (a 500 MB daily traffic quota is included only in Bitdefender Small Office Security subscriptions). The feature helps you secure your connection every time you need, and connects you automatically to the optimal server location. To get unlimited traffic and unrestricted access to content worldwide by choosing a server virtual location at your will, upgrade to the premium version.
NOTE: The Premium VPN subscription is independent of the Bitdefender Mobile Security subscription, meaning you will be able to use it for its entire availability, regardless of the state of the antivirus subscription. In case the Premium VPN subscription expires, but the one for Bitdefender Mobile Security is still active, you will be reverted to the free plan.
---
How to upgrade to Bitdefender Premium VPN on iOS / iPadOS
To upgrade to Bitdefender Premium VPN and get unlimited traffic, follow the steps below on your iPhone or iPad:
1. Open the Bitdefender VPN app.
2. Tap the Upgrade button in the lower part of the VPN interface.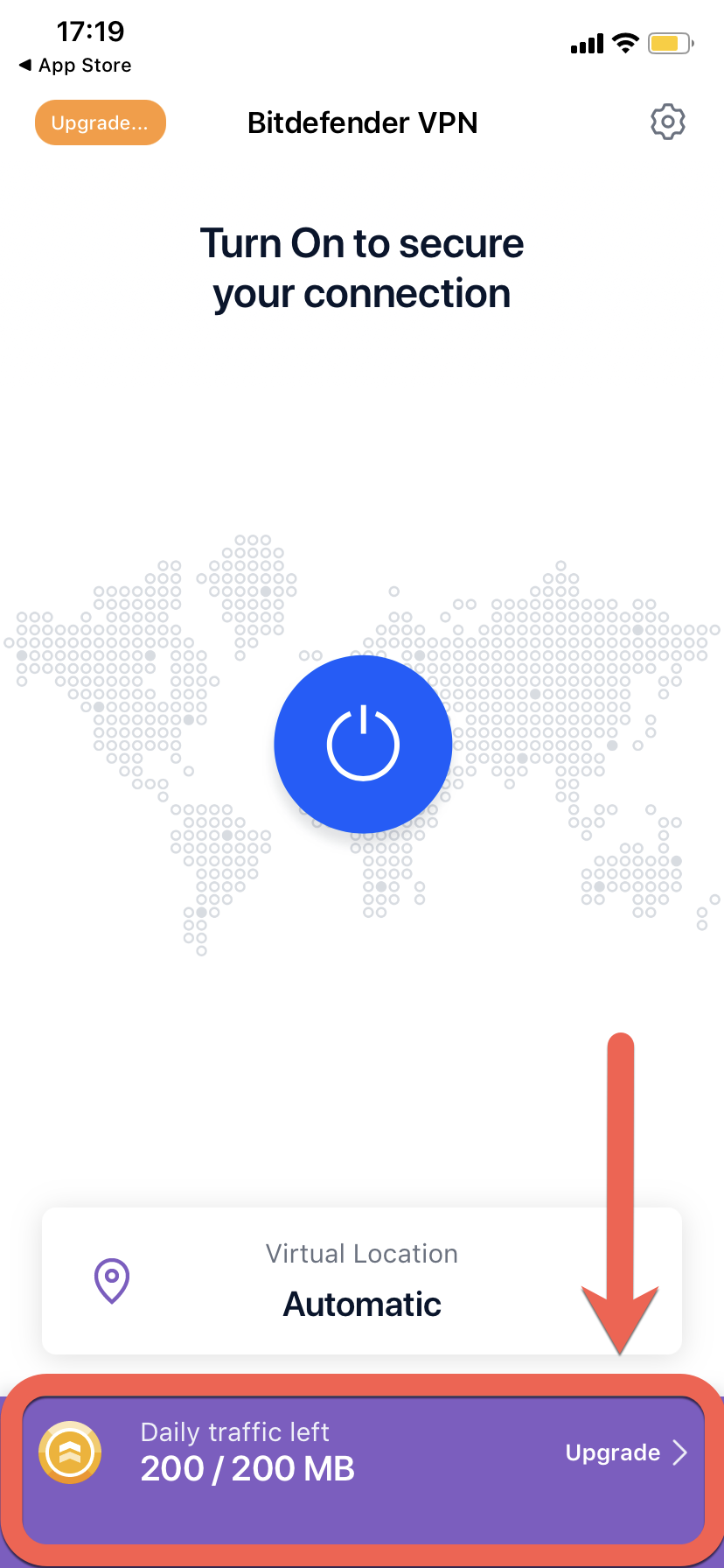 3. Choose between monthly and annual billing for your subscription plan in the window that shows the advantages of upgrading to Premium VPN.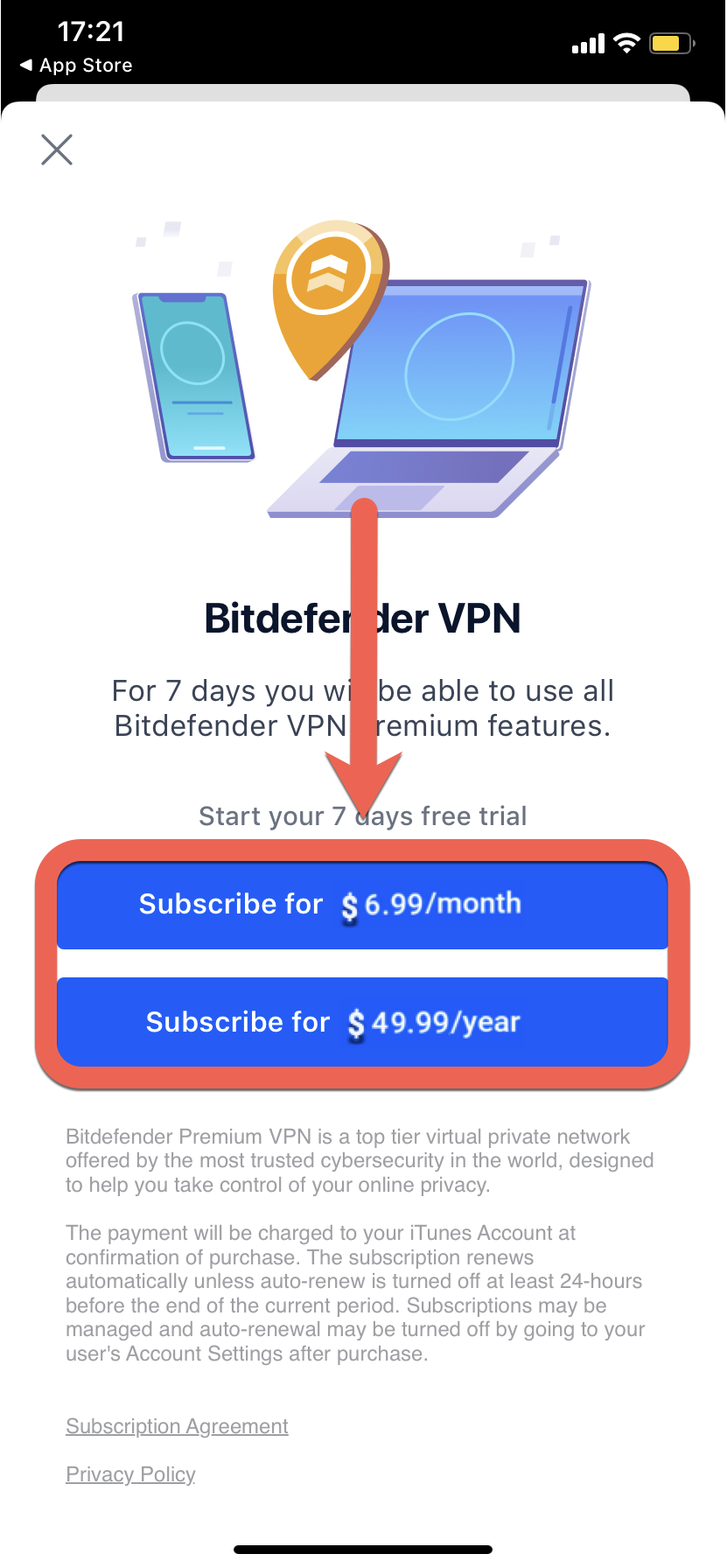 4. Check if all the information displayed is correct. Then follow the on-screen steps to make your in-app purchase on App Store.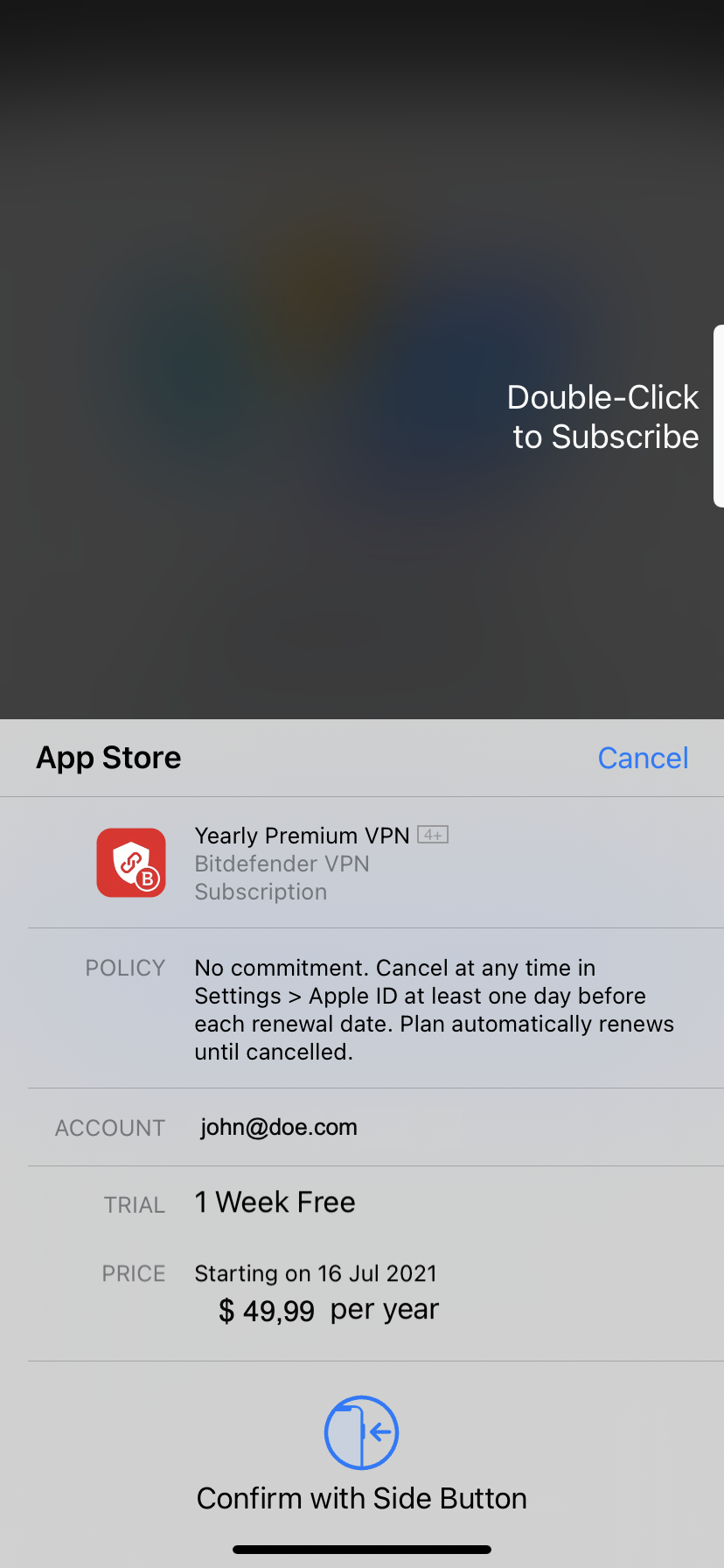 5. Congratulations! You've just purchased Bitdefender Premium VPN on iOS / iPadOS.
6. After finalizing the payment, you will receive a confirmation e-mail from Apple. The Bitdefender Premium VPN subscription will also be linked to your Apple ID, under Purchase History.
After upgrading to Bitdefender Premium VPN
The first time you open the Bitdefender Premium VPN interface after purchasing your new subscription, you will be greeted with a window informing you that all the features are now unlocked. At the same time, all upgrade references will be removed from the VPN app.