What is 2checkout and how do I access it?
2Checkout (formerly Avangate) is the authorized vendor of the Bitdefender products and services purchased from the official website www.bitdefender.com.
Your 2CO myAccount is created automatically when you first place an order through our page. It's a secured platform that centralizes all the shopping activity for the users who have purchased software or services from Bitdefender.
When accessing your 2CO account for the first time, you'll need to set up a password. You can do this by selecting the "Create New Account" option here https://secure.2co.com/myaccount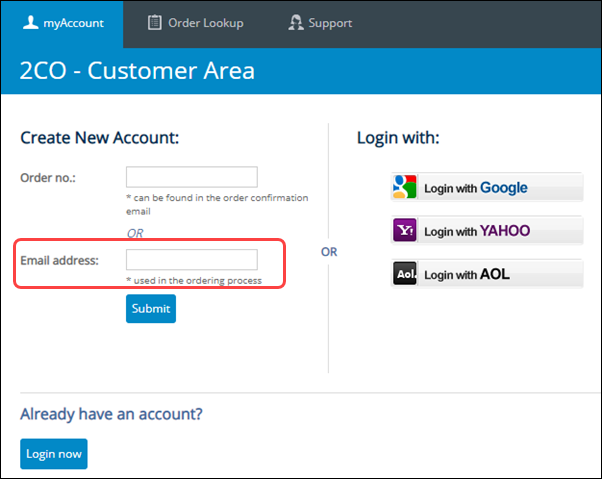 1. Enter the e-mail address that you have used to order Bitdefender or the order ID of the purchase. The order number can be found in the order confirmation e-mail.
2. Click Submit.
3. You will then receive an e-mail from 2Checkout containing a link to setup your password. Follow the instructions from this e-mail to choose a password for your 2CO account password.
4. Access again https://secure.2co.com/myaccount and press Login now to sign into your 2CO account.
5. You can use the 2CO myAccount to:
• view your complete order history
• download invoices
• retrieve activation codes
• renew your subscription
• stop the automatic renewal of your service
• find the support details for the purchased Bitdefender product
• edit all your personal and billing information
NOTE: At the moment, the e-mail address can be changed only by contacting 2Checkout or Bitdefender support.
Was this article helpful?