What is 2Checkout (2CO)?
2Checkout (formerly Avangate, now Verifone) is the authorized vendor of the Bitdefender products and services purchased from the official website www.bitdefender.com.
Your 2Checkout account is created automatically when you first place an order through our page. It's a secured platform that centralizes all the shopping activity for the users who have purchased software or services from Bitdefender.
How do I access my 2Checkout account?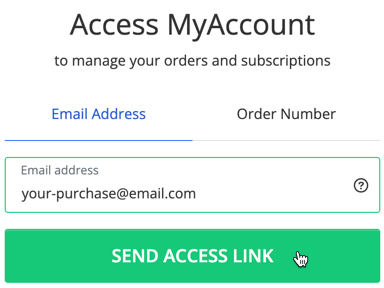 Go to https://secure.2co.com/myaccount/ in your web browser to access your 2Checkout (2CO) account. Type in the e-mail address used when placing the Bitdefender order or the order number, then click on "Send access link".
You will receive an email with an access link valid for 1 hour. Follow the link to access your 2Checkout account.
You can use the 2CO account to manage your Bitdefender orders and subscriptions:
ⓘ  Note: At the moment, the e-mail address can be changed only by contacting 2Checkout or Bitdefender support.