If you're unable to receive your Bitdefender Digital Identity Protection security code via SMS (text message), use the troubleshooting steps below.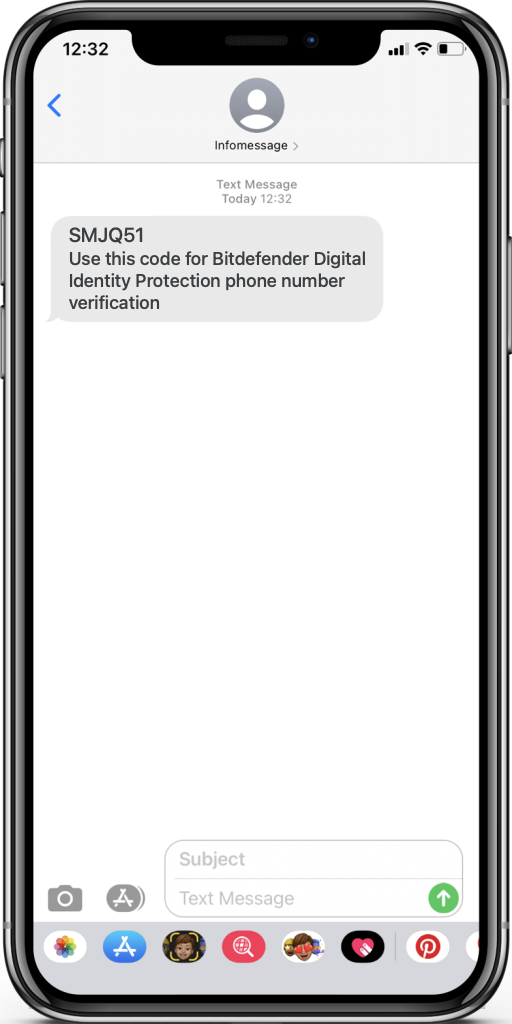 Overview
After entering a valid mobile phone number in the Bitdefender Digital Identity Protection onboarding process, you will receive an SMS with an alphanumeric code valid for 1 hour. You must enter the code in Bitdefender Central in order to verify your phone number. Soon afterward, Bitdefender Digital Identity Protection will be fully configured and will start scanning the web for unauthorized leaks of your personal data.
In special situations, the SMS verification code may not be sent to your smartphone. This article explains the main reasons why the security code might not arrive and how to address the situation.
All tips will work on iPhone, Android and any other mobile phone you may have.
6 Steps to help you get the Bitdefender Digital Identity Protection code by SMS
If you are trying to verify your phone number with Bitdefender Digital Identity Protection, but you are unable to receive the SMS security code to your phone, we have found that the following actions resolve the issue for most customers:
1. Did you select the correct country code?
A common reason for users not receiving their security code via SMS is not selecting the correct country code. You can change the code by accessing the drop-down menu shown in the picture.
Make sure you have set the country code you are currently in before typing your phone number and pressing the NEXT button to request the code.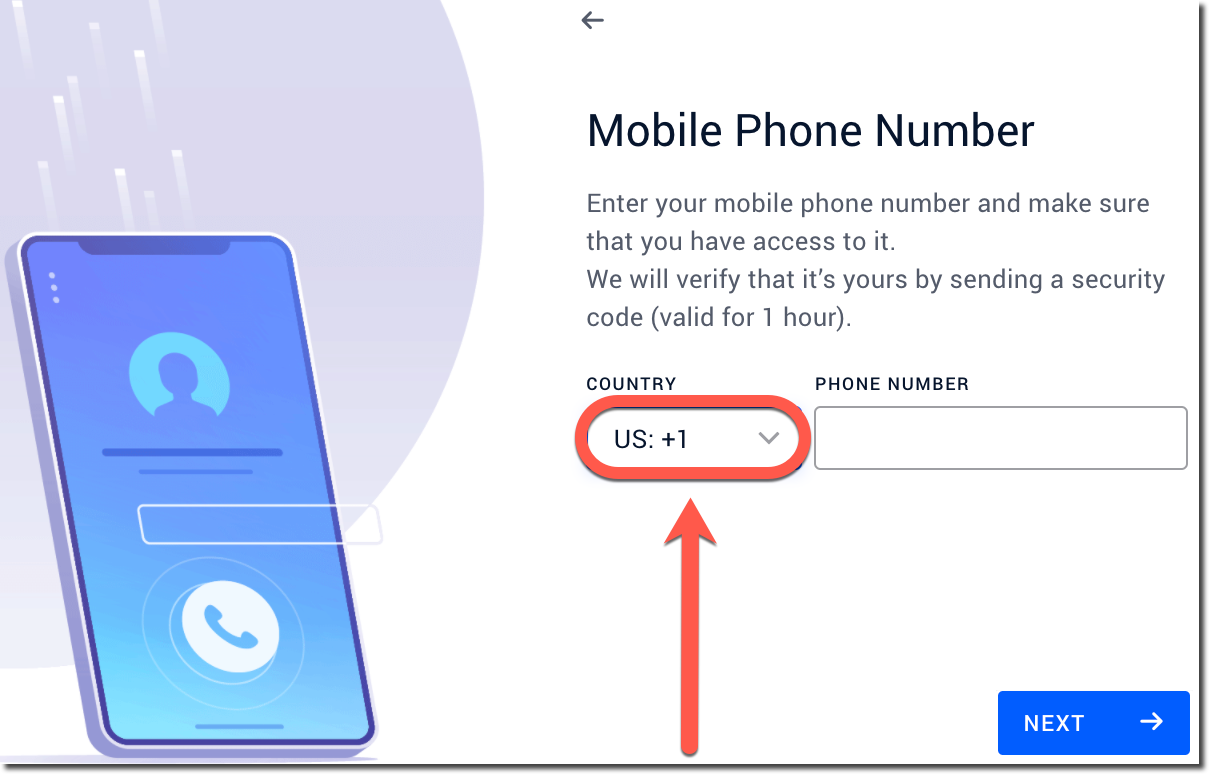 2. Use a valid phone number
When you are not getting the Bitdefender Digital Identity Protection code via SMS the phone number you provided may be incorrect.
To verify the phone number successfully, please make sure your number is entered with no country code and no spaces. Double-check that you have not typed the area code followed by the phone number in the PHONE NUMBER field.
For example, the US telephone system uses a +1 in front of USA area codes. If you live in the USA, you do not need to specify a country code (e.g. +1 for US numbers) as it has already been selected in the COUNTRY field. The same rule applies to any other country. Just type in your phone number normally.
3. Wait up to 30 minutes before requesting a new code
If you didn't get any results with the first two solutions, then wait at least 30 minutes. Text messages might not be sent instantly and can take up to 30 minutes or more to be delivered due to several factors. Network congestion, poor cell phone signal, temporary mobile network operator problems, or other technical challenges can all delay the arrival of text messages on your phone. So take a short break of half an hour while waiting for the SMS.
If you do not get the SMS within 30 minutes, request a new code. Repeat the process a few times and wait about half an hour after each attempt before requesting another code. If the situation is due to technical difficulties encountered by the phone operator, you should eventually receive the code.
4. Use the Landline option to validate your phone number
If you are still unable to receive the verification SMS for Bitdefender Digital Identity Protection, use the "Landline" option to validate your phone number:
Go back to the "Select phone number type" screen and press the "Landline" button illustrated in this picture instead of Mobile.
Carefully select your country code, then enter your cell phone number, and finally click on CALL ME. You will receive a call that will communicate your validation code in order to proceed.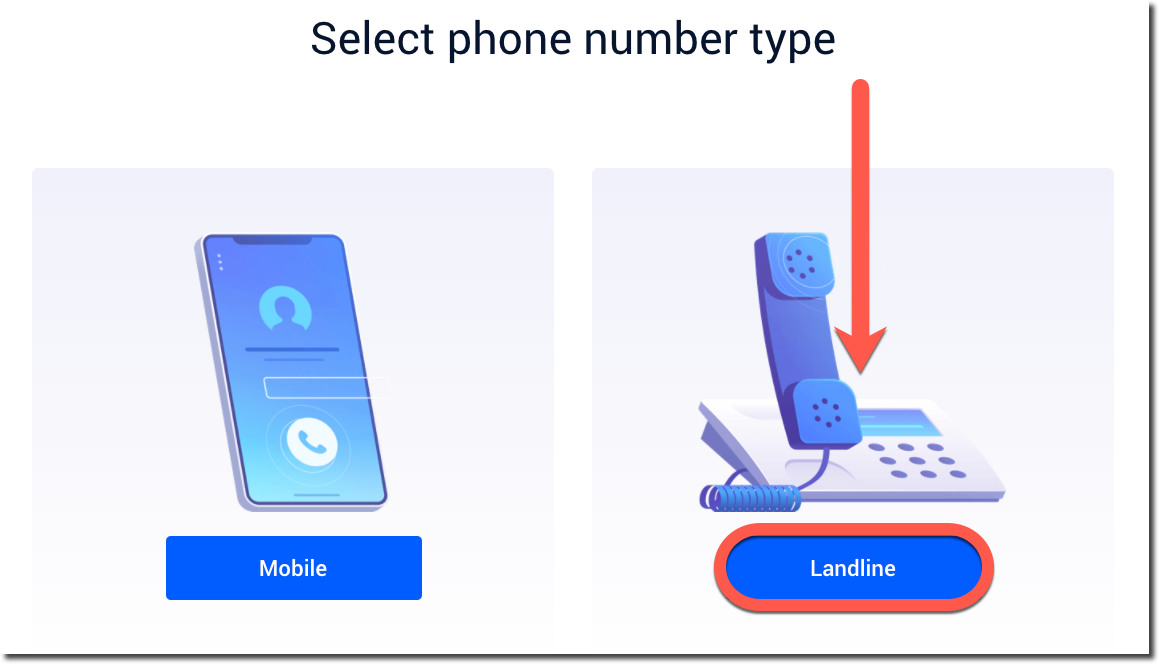 5. Contact your carrier operator to ensure automated SMS aren't being blocked
Does your phone provider block automated text messages? To test if you can receive other automated text messages, visit any website that has a 2-step authentication and sends out a text message with an access code. For example, try to activate two-factor authentication for your Bitdefender Central account. If you don't receive that message on your phone, but you do receive instead texts from family and friends phone numbers, it means that your plan won't allow you to receive verification SMS.
Reach out to your phone service provider to confirm that you do not have any SMS filtering services (short code blockers, spam blockers, toll-free blockers, etc.) enabled on your cellular account. If automated SMS are being blocked, these filters will need to be adjusted from your mobile account in order to receive the Bitdefender security code.
6. Contact Bitdefender support
If you have followed all the above steps and still can't verify your phone number, reach out to Bitdefender support and provide them with the following information:
The phone number to which the SMS should be delivered.
Your mobile carrier – the firm you pay for your cell phone service.