Cooperation between health professionals and IT staff has never been more important. The data shows it and real-life crises healthcare organizations go through prove it.
What makes healthcare such a high-value target for cybercriminals?
You'll find the reasons are a lot more nuanced - and even surprising - than you may think.
Industry profile
Healthcare has gone through many changes over the last decade and the main one is driven by technology. As medtech has evolved, hospitals and medical practices invested in upgrading their equipment to improve diagnostics, speed, and results in patient care.
However, security spending was bumped further down the list, even as vulnerabilities piled on with new tech becoming part of the ecosystem. That's because security wasn't directly tied to outcomes in patient care until a few years ago.
What's more, because of the urgency of health professionals' work, there was never enough time to dedicate to cybersecurity education. More often than not, there still isn't.
52%
of surveyed organizations agreed that lack of employee awareness and training affects their ability to achieve a strong security posture (2018 Impact of Cyber Insecurity on Healthcare Organizations).
Cybersecurity healthcare jobs are also difficult to fill. The ISACA State of Cyber Security 2019 report reveals that:
27%

of healthcare organizations are unable to find suitable candidates

14%

of healthcare organizations are unsure they'll be able to fill vacant positions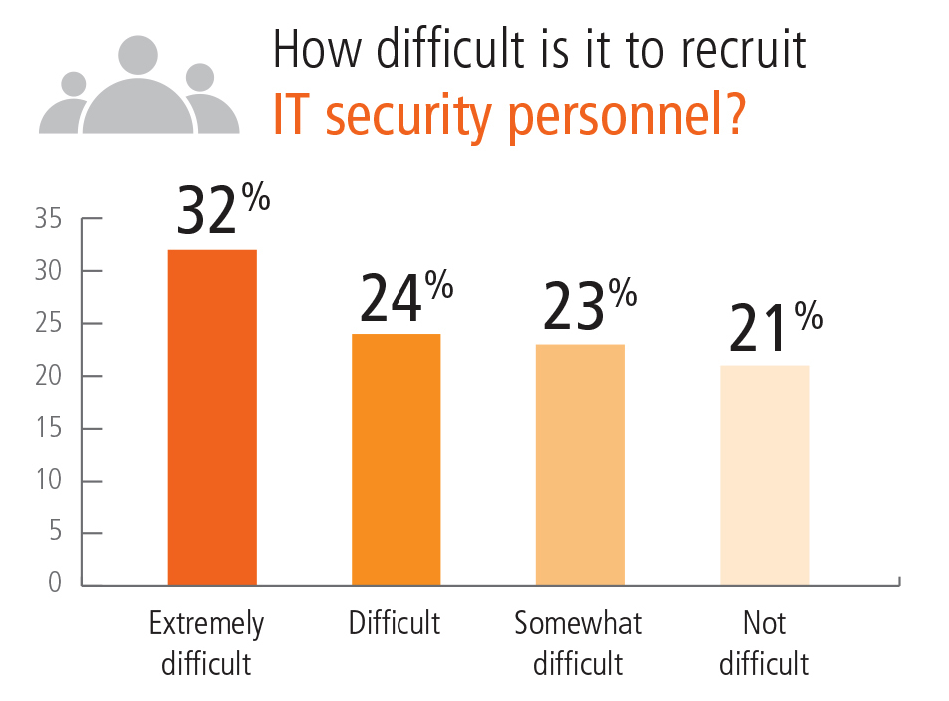 2018 Impact of Cyber Insecurity on Healthcare Organizations
The consequences of this chronic lack of investment in cybersecurity are today's widespread issues. We're now at a point where the risk can no longer be ignored.
Environment complexity
The increasing complexity of IT environments places healthcare security decision-makers in a difficult position. They must find a way to secure their infrastructures against multiplying attack vectors while using roughly the same resources.
The range of connected medical devices, systems & applications in healthcare
Devices
Desktops
Servers
Smartphones
Tablets
BYOD
Self-service kiosks
mHealth systems
Specialized medical equipment

Bedside computer terminals
Bedside medication verification
Medical imaging devices
Implantable medical devices (IMD), etc.

IoMT (Internet of Medical Things)
"Medical technology (medtech) companies manufacture more than 500,000 different types of medical devices, including wearable external medical devices (skin patches, insulin pumps and blood glucose monitors), implanted medical devices (pacemakers and implantable cardioverter-defibrillator devices) and stationary medical devices (home monitoring devices, connected imaging devices and scanning machines)."
Medtech and the Internet of Medical Things, Deloitte Center for Health Solutions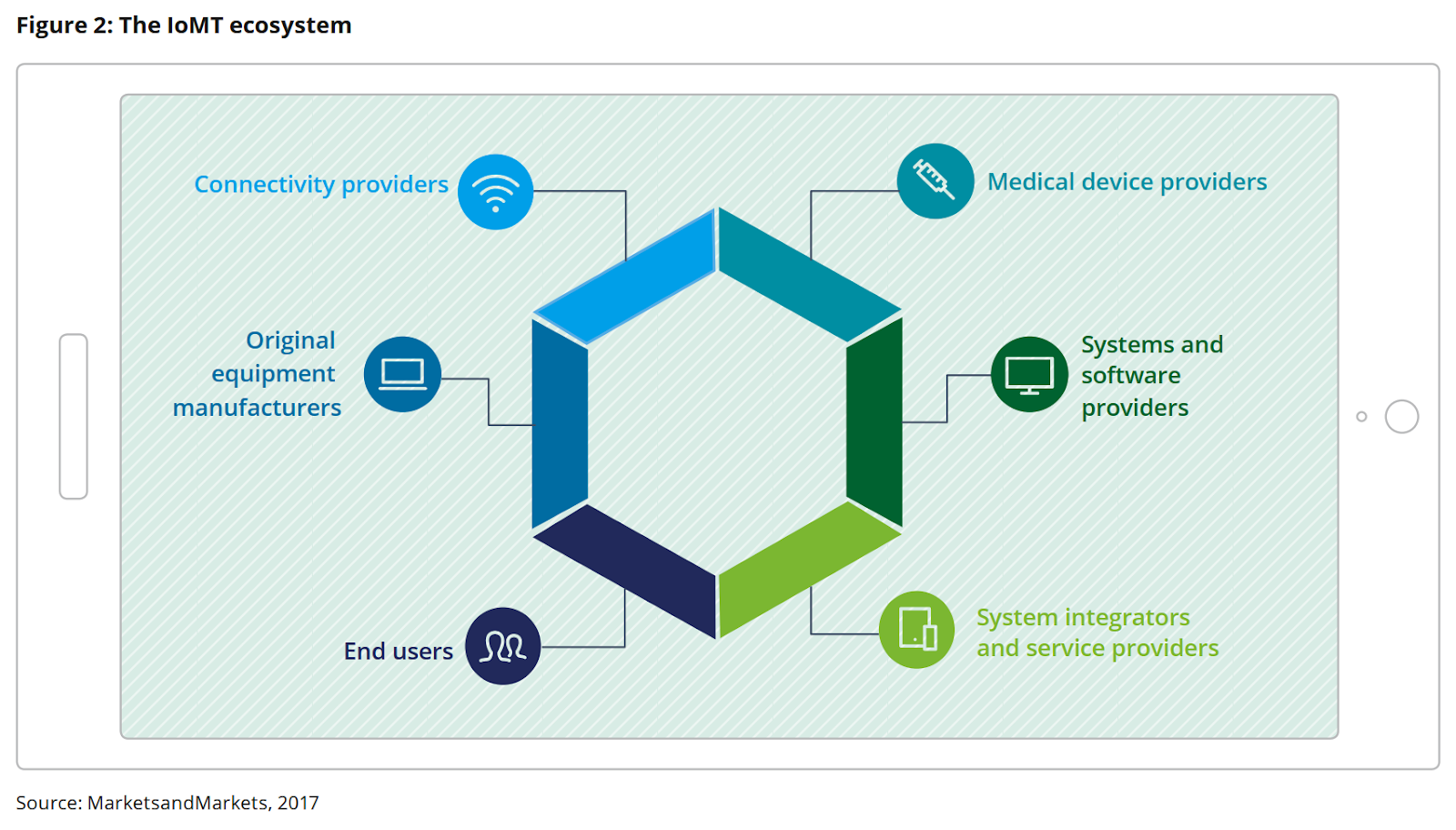 Medical software
EHR/EMR systems
Medical practice management software
PACS (Picture Archiving & Communication Systems)
Patient Data Management Systems
Patient scheduling systems
ePrescription applications
Telemedicine platforms
Patient portals
Medical billing systems with/without online payment
Third-party clinical systems integrations
Real-time locating services for tracking systems for instruments, devices & clinical staff
IT infrastructure
VDI (Virtual Desktop Infrastructure), public cloud or multi-cloud deployments
On-premises data centers
Hybrid infrastructures
Legacy systems
Internal networks connecting all devices, cloud deployments & medical equipment
What's more, it's not just internal systems that IT and security professionals must keep safe and compliant. Third-party service providers also introduce security risks in healthcare organizations.
In 2018, 42% of all exposed/stolen records resulted from business associate data breaches.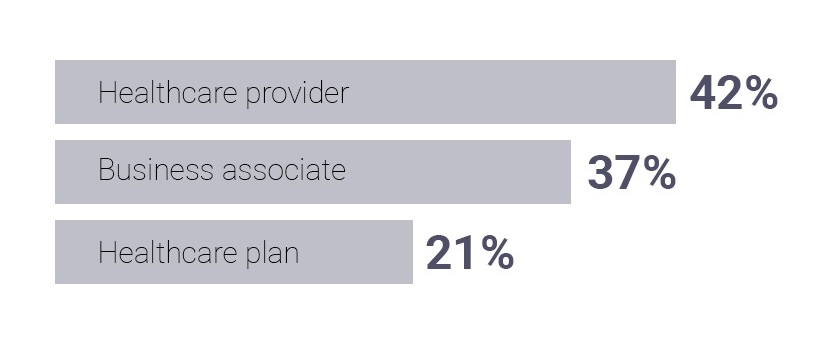 Although they cannot control business partners' security, there's a lot healthcare organizations can do to minimize their risk of being breached.
It's blatantly obvious that the attack surface in healthcare organizations is expanding exponentially.
With such a huge volume of data traveling across devices, channels, and platforms, keeping tabs on everything can be overwhelming. From specialized connected medical devices to patient portals, the diversity of assets requires a security setup that can protect them all and maintain visibility across this complex, vital ecosystem.
Risk profile
Speaking of risk, in healthcare, cyber attacks have different consequences than other industries.
Cybercriminals exploit this by trying to cripple hospitals' ability to function, forcing them to pay the ransom to resume normal activity. They can also do things like tamper with hospital elevators or encrypt radiology equipment essential for diagnosis.
On top of ransomware attacks, malicious hackers also target health data collection and data management practices. That's because a single Electronic Health Record (EHR) includes:
Name
Birthday
Medical ID
Social Security number

Personally Identifiable Information
Financial data
Email address
Physical address
1 Electronic Health Record = $250 on the black market
50x more than credit card details
EHRs are a goldmine because they include a lot of nonperishable and highly valuable information and, for a motivated attacker, they're also relatively easy to get.
But that's not all! Cybercriminals are also looking for other types of data:
Lab results they can use for extortion or identity theft
Medical licenses to impersonate doctors and forge medical documents
Health insurance company login details to fraudulently claim health insurance compensation
Connected medical devices to use for cryptocurrency mining or to hijack the device's functions
Administrative paperwork to issue fake health insurance cards, counterfeit prescriptions, and even forge drug labels.
The main attack vector they use to get this data are phishing emails and by exploiting vulnerabilities and misconfigurations in the network.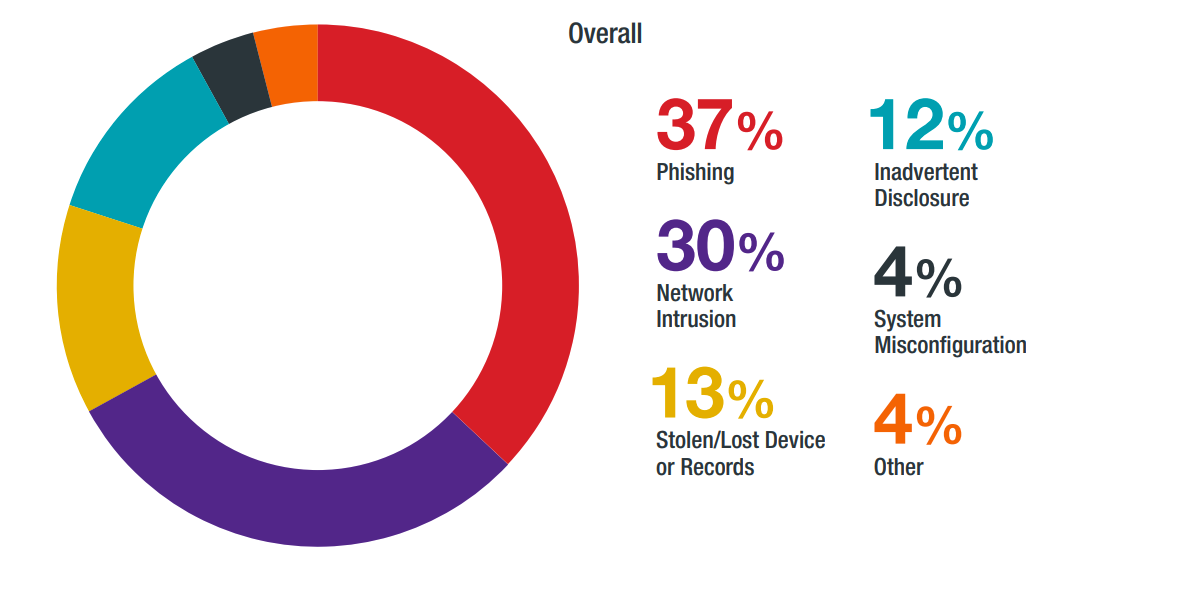 2019 BakerHostetler Data Security Incident Response Report
Once they're in, most attackers focus on gaining persistent access by compromising email accounts and also moving laterally through the network to harvest valuable data.

2019 BakerHostetler Data Security Incident Response Report
The technology, processes, and people involved in healthcare paint a very specific risk profile that requires a systemic approach.
Digital transformation
The industry's digital transformation is also adding layers of complexity and changing workflows. Each change introduced into the organization, from devices to processes, adds new items on security leaders' agenda.
Let's take a look at the typical range of components that work together in a healthcare organization in the context of digital transformation.
Benefits vs security risks for healthcare IT infrastructure elements
Technology layer

Healthcare benefits

Security risks

Specialized medical devices

(medical imaging devices, IMDs, etc.)

In-dept medical investigations
More accurate results
Better patient care

Exposed to targeted cyber attacks
Highly valuable target for their data and processing power

BYOD

More flexibility
Better data accessibility
Improved availability to medical staff

Insecure texting
Data leakage
Device theft or loss
Device fragmentation

IoMT

Improved patient care through real-time data
Better chronic disease and drug management
Useful health alerts

Unencrypted devices
No 2FA options
No regular security updates
No remote data erasure

mHealth systems

Enhanced access to patient data
Better patient compliance with medication/treatment
Statistical data to improve healthcare on mass population level

Unauthorized access to patient data through social engineering attacks
Mobile malware attacks
Device misuse such as connecting to unprotected public Wi-fi

EHR/EMR systems

More accurate diagnostics based on up to date patient data
Reduced rate of medical errors
Coordinated, more efficient patient care

Encryption blind spots
Phishing and social engineering attacks
Patient care disruption because of extended EHR unavailability caused by cyber attacks

Virtual Desktop Infrastructure

Improved accessibility to patient data
Decreased administrative costs
Can be used for BYOD deployment

Visibility loss because of faster desktop deployment
Increased IT governance complexity
Single point of failure

Hybrid infrastructures

Enhanced operational agility
Expanded storage environments
Virtualized and highly automated

Poor data redundancy
Unprotected APIs
Authentication failure
Weak IP protection
Data leakage
While this overview may look burdensome, there's a great reason to weather the challenges of constant adjustments and improvements. New digital health tools and technology bring fantastic benefits for patients.
Remotely monitored medical devices bridge the geographic divide and improve results with 24/7 availability.
Big data helps surface health trends and identify solutions that help vulnerable patient groups.
Treatments become more personalized, leveraging more of the patient's current context and medical history.
Doctors and other medical professionals make better decisions based on more data, correlated by faster, smarter algorithms that continue to improve as they learn.
However, to harness the power of digital transformation, IT and security leaders must also secure necessary legacy systems and the transition towards a more integrated approach to healthcare.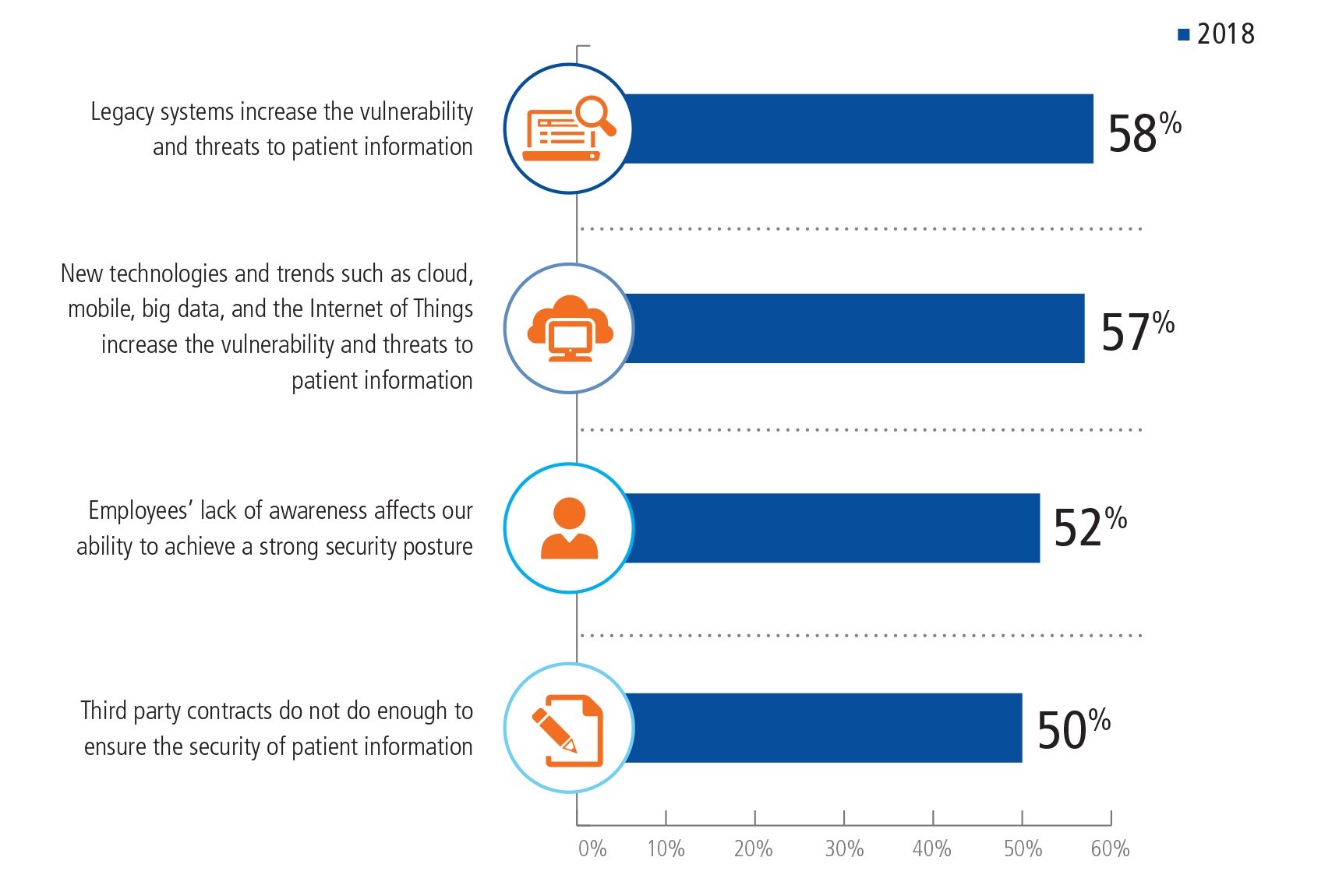 2018 Impact of Cyber Insecurity on Healthcare Organizations
One of the particularities of healthcare security is that specialists responsible for this side of the business must look farther than ever before for the implications of their work. Increased complexity calls for a deeper understanding of the ecosystem, which is why part three of this series is dedicated to putting critical security needs in perspective for healthcare organizations and their role as critical infrastructure.
---
Suppress cyber attacks targeting medical data with Bitdefender's industry-leading solutions. Learn more
---