How to configure BitDefender Security for Sharepoint to work with Microsoft Windows Server 2003 Service Pack 1
This issue occurs because the Windows Server 2003 Service Pack 1 introduces stronger defaults and privilege reduction on some services, such as DCOM, by requiring greater authentication for those service's calls. BitDefender for MS SharePoint 2003 uses DCOM to connect to its backend processes and by default it doesn't have enough privileges.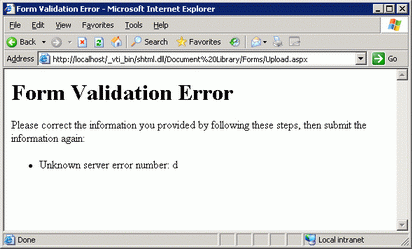 Figure 1. Microsoft SharePoint 2003 download/upload document error.
To solve this issue, you must make sure that the BitDefender services have the appropriate permisions to run. To do this, follow these steps:
Log in with the Administrator account.
Click the button, then click , type and then click , .
In the left pane, expand , then , then , then .
Right click service, and then click .



Figure 2. Changing the BitDefender services permissions, Properties menu

Click the tab.



Figure 3. Changing the BitDefender services permissions, Security tab

In the , click , and then click .
In the dialog box, list under and give it all .



Figure 4. Changing Launch and Activation Permissions

Close the dialog box
On the tab, in the , click , and then click .
In the dialog box, list under and give it all .



Figure 5. Changing Access Permissions

Close the dialog box.
On the tab, in the , click , and then click .
In the dialog box, list under and give it all .



Figure 6. Changing Configuration Permissions

Close the dialog box.
Close the dialog box. Properties